Chicory is a somewhat bitter tasting winter vegetable that offers a touch of vitamin-rich splendour and variety to our dining during the chillier and darker months. Chicory, Belgian endive and radicchio are differing varieties of the same plant, Cichorium intybus. Unfamiliar to many, chicory is an immensely versatile vegetable which is a pleasure to eat whether it's raw, braised or roasted. But what has chicory got to do with coffee? Read on to find out the answer to this and to learn more about our multi-talented chicory friend.
Plenty of tales abound relating to the origins of the chicory we eat today because edible chicory is the product of complex cultivation processes. These processes had to be discovered at some point and, most likely, they developed in 19th century Belgium. Today's cultivated chicory originates from the common chicory, a blue flowered plant that grows along the fringes of fields. When starved of light, this plant's roots send out shoots, and we have come to know these as chicory. Nowadays it's mostly cultivated in special growing containers filled with a solution of plant nutrients.
Although chicory is available in our supermarkets all year round, its main season extends from November through to April. The biggest producers are to be found in France, Holland and, of course, Belgium, in whose cuisine chicory is utterly indispensable!
Chicory – delicious and versatile
If you've never eaten chicory you will be surprised to discover just how versatile and tasty it really is. Chicory is great in combination with either fruit (think chicory-fruit-cheese salad) or cream (as in rich, luscious braised chicory) because both offer a fitting contrast to its slightly bitter flavour. Whether it's baked with ham and potatoes, or raw in a salad with fruit and nuts, chicory is always a real treat. As an added bonus, today's varieties are much less bitter than those of days gone by, and it's no longer absolutely essential to cut out the conical core at the root.
Simple chicory dishes to try for yourself
Recipe: Chicory, potato and ham gratin (serves 4)
Ingredients:
600g waxy potatoes
4 chicory heads
100 g ham
2 tbsp grated cheese (preferably Gouda)
7 eggs
2 tbsp freshly chopped parsley
80 ml whipping cream
1 tbsp olive oil
Butter for greasing casserole dish
Salt
Pepper
Nutmeg
Method:
First wash the potatoes, and then boil them in salted water for about 20 minutes. In the meantime, pre-heat the oven to 200°C and butter the bottom and sides of a deep casserole dish. Wash the chicory and cut it in half, lengthways. To remove some of the chicory's bitterness, blanch the halves for one to two minutes, rinse with cold water and drain well. Cut the ham into narrow strips and pan-fry in oil until crisp; dry on kitchen roll to remove excess oil. Cut the potatoes into slices, having first removed their skins. Mix the eggs with the cheese, parsley and cream, and season with salt, pepper and nutmeg to taste. Arrange the potatoes, chicory and ham in the buttered casserole dish and pour over the egg mixture. Bake for about 20 minutes in the oven and serve immediately. Tuck in and enjoy this deliciously satisfying dish!
Recipe: Chicory, orange and walnut salad (serves 4)
Ingredients:
4 chicory heads
40g chopped walnuts
2 oranges
3 tbsp white balsamic vinegar
1 tbsp honey
4 tbsp nut oil
Salt
Parsley to garnish
Method:
Wash the chicory and slice the leaves so that they are shaped and sized according to your preference. Peel the oranges, and carefully remove the pulp from the segments. Press the juice out from the pulp and use it to make a dressing, mixing it with the honey, balsamic vinegar and nut oil, and seasoning it with salt. Now mix the chicory with the remaining pulp and toss together with the dressing. Serve garnished with the chopped walnuts and parsley.
Bon appétit!
Chicory coffee – heard of that?
Coffee has been made from chicory root since the 17th century. Roasting chicory roots produces a caffeine-free coffee substitute, which has proved especially popular during times of coffee shortages (notably during the 1930s Great Depression and World War II). However, chicory coffee still has its devotees today, particularly in France and Belgium, and in the southern USA where it is known as "New Orleans style coffee". Chicory root can also be found in supermarkets as one of the constituents of instant, natural, caffeine-free, coffee-style beverages.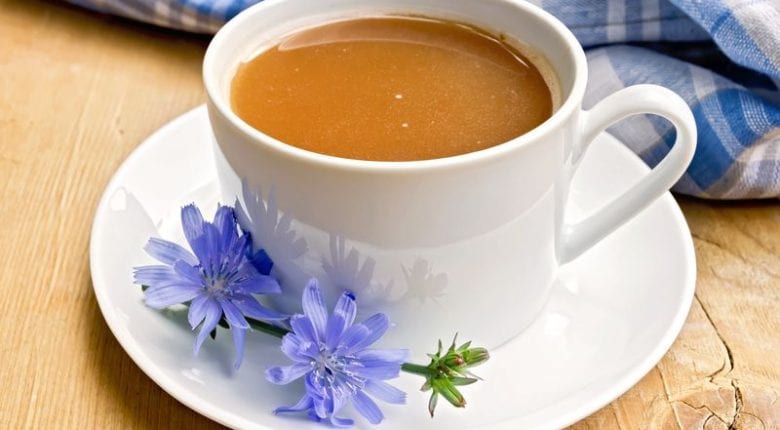 Vitamin-rich winter treat
Although chicory won't provide you with much energy, it does pack a hefty beta-carotene and potassium punch. Particularly during the colder winter months, it's a vegetable that provides a welcome vitamin boost. Beta-carotene benefits our eye health and vision, whilst potassium is important for the proper functioning of all our body's cells, especially muscle and nerve cells. Furthermore, the bitter substances (intybins) found in chicory assist our metabolism and digestion.
Tips for buying and storing chicory
Colour is the decisive factor in determining the quality of chicory; it ought to be white with yellow leaf tips; if the ends of the leaves are green it will taste bitter – it's all down to the effect of light during the cultivation process and chicory prefers the dark. For those who enjoy their chicory even less bitter, we have another tip: there is a chicory variety with red leaf tips, a hybrid created from two radicchio varieties, which has a milder flavour. After purchasing, you should store chicory in the fridge. In a normal refrigerator compartment, it will keep fresh for up to 18 days and in a Liebherr BioFresh compartment for up to 27 days.
What do you think about chicory? How do you enjoy this versatile veggie – as coffee, oven roasted, in a salad, or do you have other culinary ideas? Please feel free to use the comment function below this post to start/join in discussions with us on Facebook and Twitter.