Perhaps mixing coffee and cocktails seems a bit odd initially. But anyone who gets involved in the fusion of bar and coffee cultures will soon notice how unique and diverse the refined creations taste. Try our recipe ideas and find out which coffee cocktail meets your taste, whether fruity or bitter, cold brew coffee, coffee liqueur or espresso.
Strictly speaking, this trend has already been around for a while. The first coffee "cocktail" was invented in New Orleans in the 1890s, the "Café Brûlot". For this, cognac was ignited with sugar, orange and lemon peel and cloves and then poured into coffee. The drink is still very popular today, especially when the weather turns colder.
Modern coffee and bar culture today
Nowadays, modern coffee cocktails consist of coffee, coffee liqueur, cold brew coffee or espresso, usually combined with gin, rum or vodka. Cold brew coffee in particular is becoming increasingly popular. Although it has to steep for up to twelve hours and is, therefore, somewhat more complex to produce, the wait is rewarded with a particularly mild and fruity aroma with less bitter notes.
Non-alcoholic cocktails – or mocktails – with coffee are also steadily conquering the bar and barista scene. However, these unique creations should not be confused with coffee mixed with all different kinds of syrup. Although hazelnut, vanilla, cinnamon or chocolate go well with coffee, you can get a lot more out of the aromatic bean. For example, the fruity acidity of a lime or lemon, and all varieties herbs, harmonise perfectly with the bitter note of coffee.
A coffee cocktail at home
Are you getting a taste for it? Try your luck at mixing cocktails at home! Professional bartender equipment is not necessary: A simple shaker, a glass and a spoon are enough to get you started. Now just follow our favourite coffee cocktail recipes: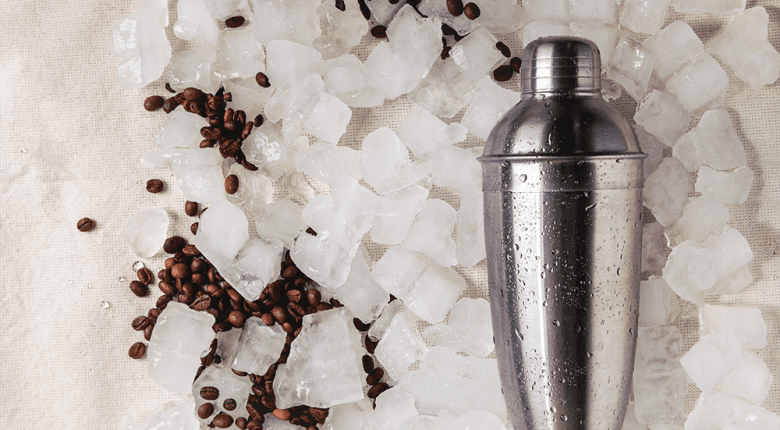 Ice cubes are a must for every cocktail. Tip: You can easily make ice cubes out of coffee yourself and use them for the cocktails.

Coffee Gin and Tonic
Ingredients:
– 20 ml gin
– 40 ml cold brew coffee
– 80 ml tonic water
– Ice cubes
– Lemon peel and coffee beans to garnish.
Preparation:
First, take your glass and fill it with ice. Then add the gin and pour tonic water into the glass. Finally, slowly pour the coffee into the glass so that it layers over the drink. Garnish with lemon peel and a few coffee beans and enjoy.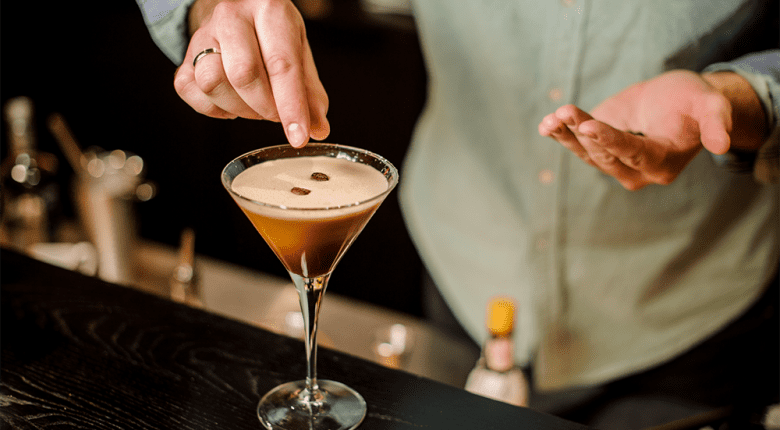 The decoration, as with any cocktail, is key!
Coffee Sangria
This cocktail is perfect for hot days and is a real pick-me-up.
Ingredients:
– 250 ml cold brew coffee
– 500 ml red wine
– Fruit of your choice, for example, lime, orange and green apple
– Sugar syrup
– Ice cubes
Preparation:
Mix all the ingredients together and leave to rest in your Liebherr refrigerator for two to three hours. After it has been left to stand long enough, you can sweeten the sangria with sugar syrup as required and serve it to your guests on ice.
Coffee Colada
The Coffee Colada – a fruity way to cool down.
Ingredients:
– 30 ml coffee liqueur (homemade or from the supermarket)
– 30 ml rum
– 20 ml coconut syrup
– 100 ml pineapple juice
– 20 ml cream
– Ice cubes
Preparation:
Put the liqueur together with the other ingredients in the shaker and mix well. Then enjoy on ice.
Have fun experimenting and share your creations with us on Instagram! Tag @liebherrhomeuk