A Tale Of Three Gins
While you'll typically find me pontificating on all things wine, it's World Gin Day! And I love me some gin. My home bar is currently stocked with three very different bottles of gin, and I am thrilled to share them with you today, along with serving suggestions, pairing tips and even some gin-themed trivia!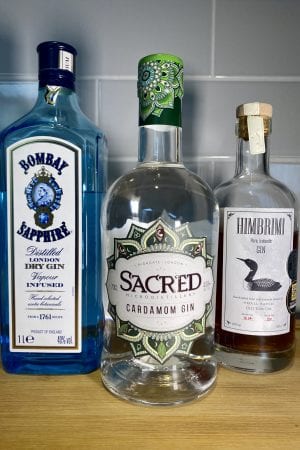 THE STANDARD
Bombay Sapphire London Dry Gin – My go-to 'everyday' gin, I tend to have a bottle of Bombay stocked in my home bar at all times. It's a sure thing for a simple G&T or a negroni, which is how I'm serving it today.

With improvements to the distillation process, most notably the invention of the Coffey still, London dry gin came to prominence in 19th century London. These new gins didn't need sweetening to disguise the taste so the botanicals such as juniper could take centre stage. Today, the term 'London Dry Gin' simply notes a style and is not geographically regulated to production in London.
Did you know? Most of the juniper used in the production of gin is foraged wild. Almost none is commercially cultivated!
Simple Chamomile Negroni – The classic Negroni recipe calls for a 1-1-1 ratio of Gin, Campari & Sweet Vermouth. However, if I have quality vermouth on hand I'll adjust the ratio to .75 Gin (lowers the alcohol), .75 Campari (lowers the sugar) and 1.5 Vermouth. Then, I add a touch of chamomile, introducing a lovely sweet floral lift – simply steep a teabag of pure chamomile while you stir, maybe 30 seconds to-taste, adding an additional layer of complexity to this classic.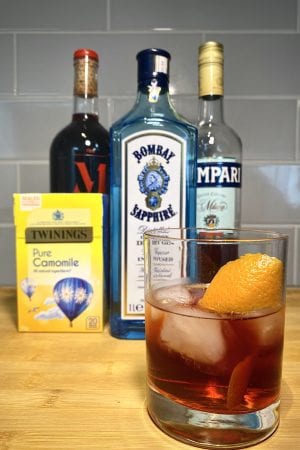 Where to Buy – As one of the world's most popular gin brands, it's available just about anywhere spirits are sold!
Vermouth Rosso by Partida Creus – available from Les Caves de Pyrene – www.lescaves.co.uk
THE LOCAL
Sacred Cardamom Gin – The team at Sacred Microdistillery in Highgate have knocked it out of the park with their Cardamom Gin – using organic green cardamom pods they've created a superior fragrant gin.

With the flavour of juniper being fairly polarising, the late 1990s saw the emergence of 'new-school gins', highlighting other botanicals over that of juniper in the flavour profile. Flowers, herbs, spices and even vegetables are quite common. (Love Hendricks? That's cucumber & rose!)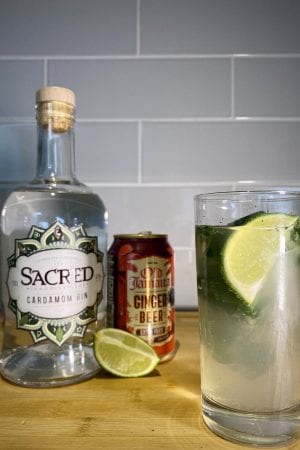 Gin Mule – There's so much flavour here, I try to keep things pretty simple and let the gin shine. I'd typically drink this gin over ice with soda water and citrus – pink grapefruit is a favourite. But, I'm all out of grapefruit! So instead, we'll have it today with mint, lime & ginger beer. Shake the gin on ice with the juice of half a lime and a few mint sprigs. (I froze some surplus mint into ice cubes and will use that for shaking & serving.) Serve over ice, top with ginger beer, and garnish with a lime wedge and a mint sprig. Spicy and fresh!
Where to buy – Sacred Gin available online at sacredgin.com
THE OUTLIER
Himbrimi Icelandic Old Tom Gin – Old Tom Gin! A throwback style. This one is sweetened with honey, aromatised with arctic thyme and angelica flowers and barrel-aged – from Iceland! This was a very kind birthday gift from an Icelandic buddy of mine.
There are several origin stories of the name 'Old Tom', The likely theory is that Old Tom gin got its name from the wooden plaques shaped like "Old Tom" black cats that adorned the outside wall of pubs in 18th Century England.
Gin 'On the Rocks' – this is some wildly drinkable gin. The proprietors suggest that the gin is "…to be enjoyed straight from the bottle while fly-fishing in a flowing river".
Well, I'm stuck here in central London, so no fly-fishing today! I think I'll just pour over ice and sip as an aperitif!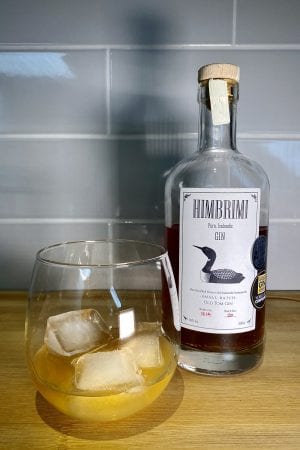 Where to buy –
PRO TIP – Pair gin (all kinds) with aged sheep's milk cheeses – like Manchego! Try Berkswell for an English original!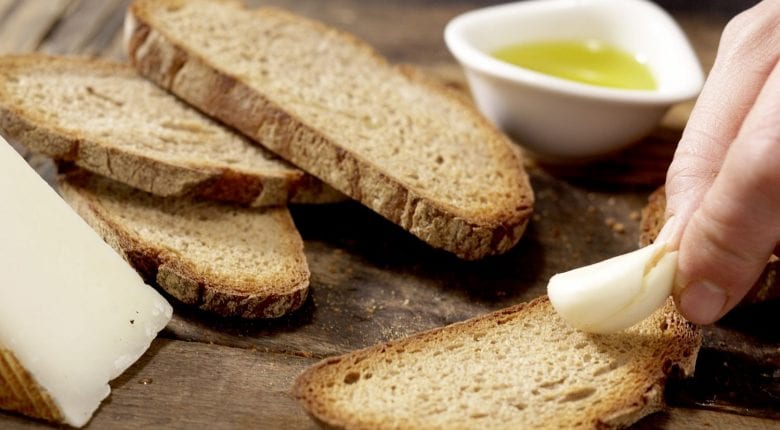 WORLD GIN DAY TRIVIA!
Sloe Berries, used to make Sloe Gin, are in the family of which fruit?

What is the name for the gin variation of a Bloody Mary?

Which country can claim the world's highest per-capita gin consumption per year?

Answer question 1: Plum
Answer question 2: Ruddy Mary
Answer question 3: the Philippines, with an estimated 25 million cases consumed annually!

We hope you enjoyed World Gin Day this year! Let us know on social media what Gin you have celebrated with this year?
#Gin #WorldGinDay