Creamy, earthy, nourishing and comforting… hummus has become a non-negotiable fridge staple for many of us. It's an excellent snack and a fantastic addition to so many plates of food – particularly vegcentric or vegan dishes thanks to the plant-based protein it brings to the table.
Shop-bought hummus can be expensive for what it is, and will typically come in a plastic pot… It's time to start whipping up your own, and playing around with flavours, if you so choose. Many recipes will suggest peeling the chickpeas before blending which is a fiddly, time-consuming job. This recipe offers the ultimate hummus hack – it's so speedy, almost effortless, and the results are incredible.
The secret? Boil your tinned chickpeas in their 'aquafaba' for 15 minutes. Read on.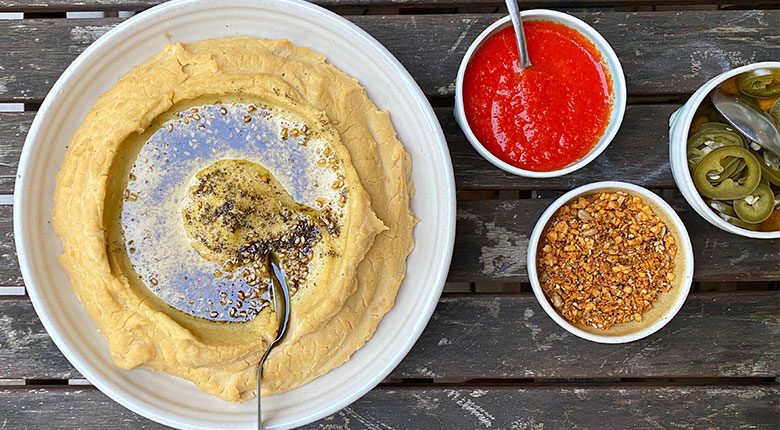 Recipe:
1 tin chickpeas
½ cup water
1 tsp sea salt
1 large clove garlic
4 tbsp tahini
½ lemon, juice only
¼ tsp bicarbonate of soda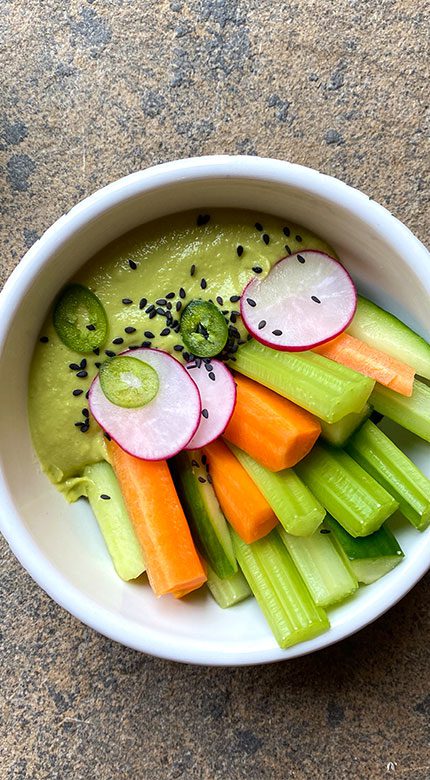 Method:
Tip the tinned chickpeas and their liquid into a small saucepan along with ½ cup of water and 1 teaspoon of flakey sea salt. Pop on the lid and bring to a gentle simmer for 15 minutes.
Allow the chickpeas to cool for 10 minutes, then tip everything – liquid included – into a blender. Add 1 clove of minced garlic, 4 tablespoons of tahini, the juice of ½ a lemon, and ¼ teaspoon of bicarbonate of soda which will lighten the hummus.
Whizz on highest power for 1-2 minutes until ultra-smooth and creamy. Taste and adjust the seasoning if you wish.
If you fancy getting playful with flavours try adding a teaspoon of lightly toasted cumin powder to the mix for some gentle spice, a few diced boiled beetroot for something sweet and earthy, a few roasted red peppers with a pinch of cayenne and paprika for something rich and smokey, or even half an avocado for something extra indulgent.
Once you've perfected your homemade hummus the applications are endless… Here are just a few suggestions.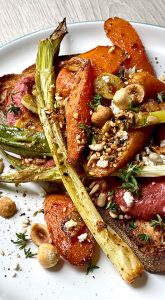 Beetroot hummus & roasted veggie bruschetta. Whizzing vac-packed cooked beetroot through your chickpea mix creates a wonderfully vibrant pink hummus with pleasing sweetness and an earthy flavour. Slather this onto toasted sourdough, top with sweet roasted carrots, and crumble over plenty of salty feta.
In a creamy salad dressing. Try whizzing 2 tablespoons of hummus with 4 tablespoons of olive oil, the juice of 1 lemon, 1 minced clove of garlic, 1 tablespoon of capers, 1 teaspoon of Dijon mustard, salt & pepper, and some chopped tarragon or parsley. This makes a fantastically creamy, vegan 'Caesar' style dressing.
Dolloped on a baked sweet potato with salad. You can't beat the sweet comfort of a piping hot baked sweet potato dolloped with creamy and cooling hummus. A simple, vegcentric supper that delivers on all fronts – comfort, flavour and nourishment!
With any and all grain based salads. Hummus will add some satiating fat and plant-based protein to grain based salads. We recommend a generous dollop or two on the side of nutty brown rice, quinoa and pearl barley dishes.
Hummus lunch bowl with roasted tomatoes and rocket. Toss halved tomatoes with sliced garlic, a few tablespoons of balsamic vinegar, salt & pepper, and a pinch of sugar. Roast in a moderate oven for 20-30 minutes until caramelised and concentrated, then toss with chopped basil. Pile the tomatoes on a base of classic creamy hummus, followed by peppery rocket and plenty of olive oil.
By @joeyandkatycook – Got any Hummus tips for us? Let us know on social media!