Quality. Design. Innovation. It's at the core of everything we do, the Liebherr ColourLine series displays this ethos perfectly and will add a pop of colour to any modern kitchen.
At first glance, Liebherr ColourLine appliances instantly impress primarily due to their appearance. The colourful surface, combined with the angular Hard-Line door, and the side recessed handle, creates a harmonious and sleek aesthetic, guaranteeing optimal integration into your kitchen environment whilst at the same time making a bold colour statement.
Find out more about the newest editions to the ColourLine series, the 55cm SmartFrost fridge-freezer range or call 03330 147 888 (Option 1, Sales) for details of your nearest displaying retailers. Prices vary by model and retailer.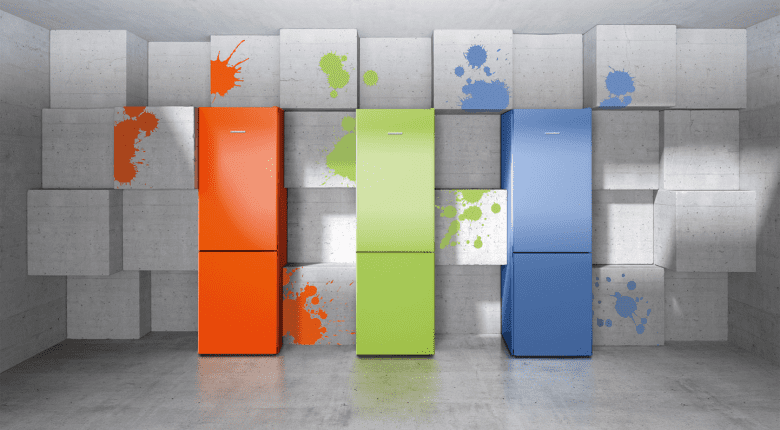 Models in the Liebherr ColourLine series
ColourLine:
NeonOrange – CNno 4313 and CUno 2831
KiwiGreen – CNkw 4313 and CUkw 2831
FrozenBlue – CNfb 4313 and CUfb 2831
Also available:
White – CN 4313 and CU 2831
Stainless Steel look – CNel 4313 and CUel 2831

An aspirational appliance range
The CNxx 4313 range features in our article on the conversion of a former Victorian Warehouse into modern apartments. Neil Thornton, director of Etc Urban Developments, said: "Our appliances had to work perfectly with this industrial canvas and the Liebherr ColourLine range matches our aspirations perfectly. Although we have chosen the NeonOrange for our show apartment, some buyers prefer the KiwiGreen or the FrozenBlue, so they are free to choose from the range."
You can view the product pages for the current ColourLine models here.
CNxx 4313 key features
The visual aesthetic isn't the only thing that makes these Liebherr ColourLine appliances stand out. The true strength lies inside. The CNxx 4313 ColourLine range of appliances will save you money, being in the energy efficiency class A++, and have the following impressive features:
NoFrost
The NoFrost system from Liebherr provides rapid, fan-assisted, frost-free freezing for the safe, long-term storage of food. NoFrost technology allows a much larger storage capacity and keeps the freezer constantly frost-free.

DuoCooling
Accurate and independent temperature control of the fridge and freezer compartments is facilitated by DuoCooling: two separately adjustable cooling circuits. There is no air exchange between the fridge and freezer compartment, meaning odours cannot be transferred and the stored food is prevented from drying out.
LED lighting
The LED ceiling light creates a high-class ambience within the refrigerator. Its beautifully designed, space-efficient housing is centrally positioned to provide delightfully even illumination throughout the appliance.
Ergonomic handle
The ergonomic opening of the door is ensured thanks to the recessed grip on the side, providing a sleek appearance.

Bottle Shelving
The bottle shelves allow for additional storage of beverages, designed to safely hold each one and allowing more room for other items to be held in the door shelving.
If you have any questions about the Liebherr ColourLine series or any of our other appliances please feel free to contact us on on Facebook, Twitter, Instagram or Pinterest.