The latest Liebherr 55cm SmartFrost fridge-freezer range is here in the form of the CUxx 2331/2831/3331, as well as the CTxx 2131/2531/2931 top mount series. The CUxx 2831 is also available in ColourLine – bold and bright colours guaranteed to make a statement in your kitchen.
Following the success of Liebherr's ColourLine range, originally launched in 2015, more lines have since been added and are among our most popular appliances. For more detailed information on individual models, please visit our product pages.
Liebherr ColourLine & 55cm SmartFrost series
Liebherr's ColourLine range is available in NeonOrange, KiwiGreen, and FrozenBlue. The 55cm SmartFrost series and CNxx 4313 range also offer White and Stainless Steel look finishes.
ColourLine:
NeonOrange – CUno 2831 and CNno 4313
KiwiGreen – CUkw 2831 and CNkw 4313
FrozenBlue – CUfb 2831 and CNfb 4313
Also available:
White – CU 2331/2831/3331, CT 2131/2531/2931 and CN 4313
Stainless Steel look – CUel 2331/2831/3331, CTel 2131/2531/2931 and CNel 4313

You can read more about the CNxx 4313 and the ColourLine series here and you may also be interested in our feature on the conversion of a former Victorian Warehouse into modern apartments, each featuring a Liebherr ColourLine fridge-freezer.
55cm SmartFrost fridge-freezer range key features
Whichever finish you choose there is plenty of technology to benefit from, following years of ongoing research and development. Each model in the range is handle-less, providing clean lines for the contemporary kitchen and, with Liebherr, you can be absolutely certain that design never overshadows functionality. An A++ energy efficiency rating will help save you money, whilst the generous capacity (196 – 270 litres, depending on model) offers plenty of space for all of your groceries. What's more, you can stock up on fresh fruit and vegetables thanks to the transparent and organised storage bin(s) which are also especially easy to clean.
Other key features of the 55cm SmartFrost fridge-freezer range:
SmartFrost
Liebherr's SmartFrost technology freezes food faster and reduces ice build-up, making defrosting simpler and quicker. No more spending several hours defrosting your fridge-freezer. It also provides a more flexible storage area with greater capacity and improved energy consumption for lower running costs.
VarioSpace
Each model in the 55cm SmartFrost fridge-freezer range features drawers and intermediate removable glass shelves underneath them, known as VarioSpace. This practical and flexible system means that additional space can easily be created, even for larger frozen food items such as multi-tiered cakes or that Christmas turkey.
FrostSafe
The extra-high and removable drawers are fully enclosed so that the cold does not dissipate as quickly when the freezer door is opened. What's more, the transparent front of the freezer compartments guarantees an optimum view of the items contained within.
Reversible door hinges
Liebherr's appliances are factory fitted with the door hinges on the right but, for the vast majority of our ranges, this is completely reversible. This is the case for the 55cm SmartFrost range too, offering flexibility on your appliance's location in the kitchen now and in the future, should you relocate it.
Bottle rack
When there's no space in the door, or you prefer to store bottles in main section of the fridge, the carefully crafted bottle rack is tailor-made for the purpose. Shaped to perfectly support and safely store bottles of your favourite beverages.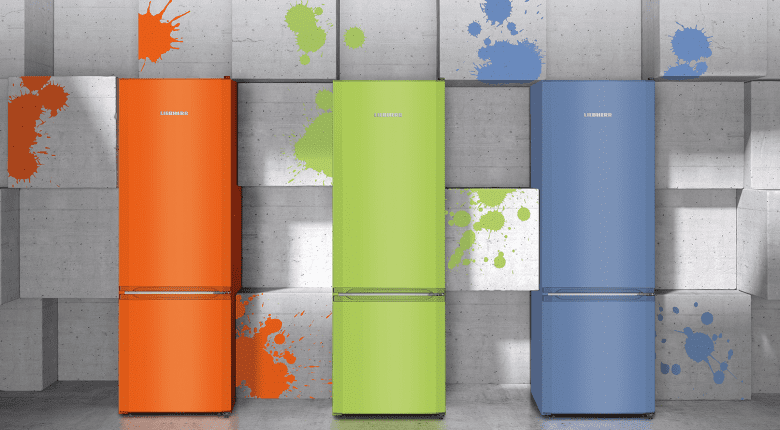 What's your favourite colour from the ColourLine series? Or do you prefer the stainless steel look or classic white finishes? If you have any questions about the features described in this article do get in touch with us – we're on Facebook, Twitter, Instagram and Pinterest.