This pudding could be described as a labour of love but the results are certainly worth it. Creamy, velvety, custard, lightened with whipped cream, swirled with a deliciously tart berry coulis and studded with sweet, crunchy meringues… heaven! It's a true crowd pleaser and made entirely in advance which makes it a great option for entertaining. This recipe serves 10 people, and any left-overs can be kept in the freezer for up to 4 months.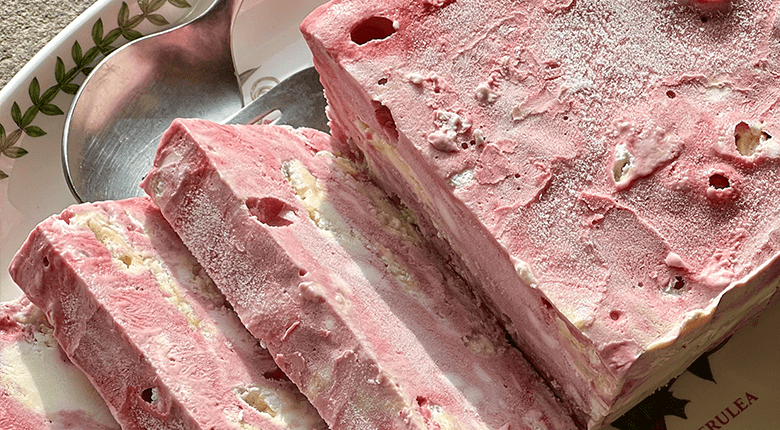 In terms of technique, this recipe will talk you through how to make a crème anglaise and meringues.
And in terms of wine pairing, a Riesling Eiswein is a fantastic choice. This dessert wine is made with grapes which have been left to freeze on the vine. The grapes are pressed while still frozen, to yield a lusciously sweet and concentrated grape juice as much of the water content is left behind in the form of ice. The concentrated flavour of eiswein is clean, bright and totally pure; with sweetness and zing in equal measure it's a great accompaniment to the creamy, semifreddo and the tart and fruity flavour of the summer berries.
Prep time: 75 minutes, plus cooling time
Freezing time: 6 hours, or overnight
This recipe serves: 10-12, and requires a large loaf tin approximately 24 cm by 14 cm by 7cm
Ingredients for anglaise:
300 ml whole milk
200 double cream
50 g sugar
6 egg yolks
1 vanilla pod
Ingredients for meringues:
6 egg whites
360 g caster sugar
Ingredients for berry coulis:
350 g frozen berries
2 tbsp lemon juice
50-75 sugar depending on sweet tooth
To make the semifreddo:
300 ml cream, whipped
150 g meringues, crushed
550 g (approx) anglais
240 g (approx) berry coulis
Method:
There are three key parts to this recipe which all need to be made a day in advance: creme anglaise, berry coulis, and meringues.
To make the anglasie.
Halve the vanilla pod lengthways and scrape out the seeds; add the seeds and the pod to a saucepan along with the milk and cream and stir well to disperse. Pop this on a gentle heat to warm.
Meanwhile, use an electric whisk to beat the yolks & sugar until super light and airy. Once your milk and cream are hot but not quite simmering, pour the milk mixture over the whisked egg yolks in a slow and steady stream, whisking as you do so. Adding the hot milk all in one go here will scramble the eggs. Once you've added all the liquid, pour everything back into the saucepan, remove the vanilla pod, then place on a very low heat. Use a rubber spatula to stir this mix constantly as it thickens over a low heat; don't be tempted to turn up the heat as you will have scrambled eggs in a flash! After approximately 6 minutes you will see and feel the custard thicken; it is ready when it coats the back of your spatula. Once cooked, pour it out of the hot saucepan immediately into a large mixing bowl and cool the custard as quickly as possible, stirring often. Store in the fridge for 6 hours or overnight; the yield should be approximately 550 g.
To make the berry coulis.
Thaw the frozen berries and combine with the lemon juice and sugar, then whizz gently in a blender to loosen the berries from their seeds. Pour the berry puree into a mesh sieve over a small saucepan and push through with a spatula to make a couli. Discard the seeds (or keep for breakfast with granola and yogurt). Place the saucepan on the hob and simmer very gently for 3-5 minutes, or until thick and glossy. A thicker coulis means a more concentrated berry flavour with less water content which results in a creamier, less icy semifreddo. Keep in the fridge until needed. The yield should be approximately 240 g.
To make the meringues.
Preheat the oven to 200 C. Line a large baking tray with non-stick baking paper with a fold in the centre. Scatter the sugar over the baking paper and heat in the oven for 8 minutes; this is a tip we learnt from Meringue Girls which gives the glossiest and smoothest meringue mix imaginable. After 8 minutes remove the sugar from the oven and turn the heat down to 100 C.
In a large, spotlessly clean and dry mixing bowl start to beat the egg whites with electric beaters. Once at 'soft peaks' add the sugar a spoonful at a time, whisking constantly as you do so – this may require an extra hand. Keep beating until the mix achieves 'stiff peaks' and looks very firm and glossy – this will take about 4-5 minutes. Either transfer to a piping bag, or spoon your mix directly onto the lined baking tray. Try to keep the meringues an even shape and size, then bake in the oven for 35-45 minutes; they are ready when they can be lifted off the baking parchment.
Please note, the above mix makes use of the 6 leftover egg whites from making the creme anglaise, and it will create far more meringues then you will need for this semifreddo. They freeze perfectly in a ziplock bag for up to 6 months – ideal for a future Eton Mess later in the summer!
To assemble the semifreddo:
Line your loaf tin with baking paper as smoothly as possible.

Coarsely crush 150 g meringues. Lightly whisk the cream until it forms 'soft peaks', then fold through then creme anglaise, and lastly swirl through the berry coulis and the crushed meringues.
Gently transfer the mix into the lined loaf tin, and set in the freezer for at least 6 hours, or overnight.
Remove the semifreddo from the freezer 10 minutes before you are ready to serve, and slice with a sharp knife. Allow each slice to thaw for 2-3 minutes on the plate before serving for best results.
Have you tried Joey and Katy's other summer feast courses?