Crab cakes are a real summer gem
We particularly love them when entertaining family and friends as they can be seared in advance, and sit in an oven tray ready to be reheated and roasted just before serving. Easy peasy!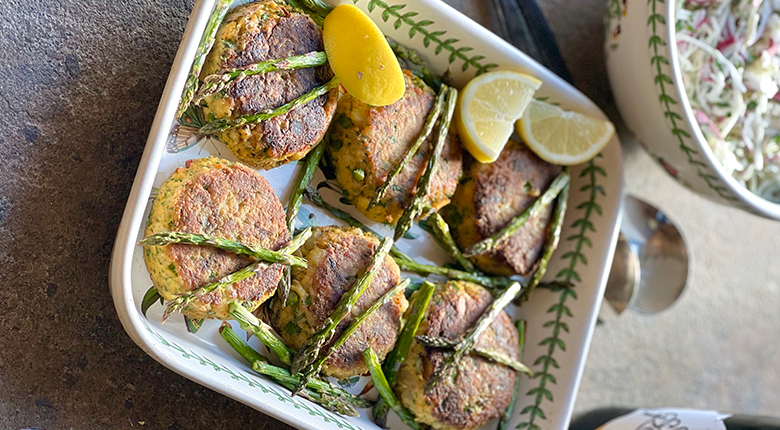 Asparagus has just burst into season and it's our intention to eat as many as possible over the next few weeks – they'll be gone again all too soon, sadly. Here, we've chopped the stalks into 1 cm rounds and included these in the crab cakes; the tips are roasted separately as these are too good to hide! Tarragon is a fantastic choice of herb with both fresh crab meat and asparagus, but dill, parsley and/or chives would all be brilliant too.
And the wine pairing? Well, given that these crab cakes are served with a creamy tarragon mayo, a slightly fuller-bodied, creamier white is the way to go, and on that front, a Burgundian Chardonnay is the one. As well as a rich and generous texture, Chardonnay offers notes and flavours of yellow apple, lemon, and butter, all of which complement the fragrant crab cakes.
Prep time: 40 mins
Cooking time: 12 mins
This recipe serves 6.
Ingredients for the crab cakes
300 g potatoes
150-200 g haddock loin
250 ml milk – to poach
2 bay leaves
300 g crab meat – a mix of brown and white
200 g asparagus – tips for the salad, stalks for the cakes
4 tbsp chopped parsley
2 tbsp chopped chives
2 tbsp chopped tarragon
1 egg, lightly beaten
Salt & pepper
6 tbsp flour
6 tbsp olive oil
Ingredients for the tarragon slaw
1 small white cabbage
2 red onions
6 tbsp chopped herbs (combination of dill, tarragon, mint, or parsley)
3 heaped tbsp mayo
3 tbsp kefir or natural yogurt
3 tbsp white wine vinegar
Salt & pepper
Method
Peel and chop the potatoes into even chunks; submerge in cold water with a generous pinch of salt, and bring to the boil over a medium heat with lid on. Simmer very gently for 16-20 minutes, or until cooked through.
While the potatoes are cooking, cut off the tough end of each asparagus stalk (usually only 2 cm) and discard, then finely slice the stalks into 1 cm rounds; keep the tips to one side. Add the chopped asparagus to the boiling water for the final 1 minute of cooking time.

Once the potatoes are easily pierced with a knife, drain and allow to steam dry; if possible, cut each potato in half immediately as this will allow them to steam dry even better and offer you lighter, fluffier crab cakes.
Next, submerge the haddock in 1 cup of milk with 2 bay leaves and some seasoning. Bring to a gentle simmer for 3-4 minutes. Once cooked, remove from the milk with a slotted spoon and allow to steam dry.
Finely chop the fresh herbs.
When the potatoes, asparagus rounds, and haddock are cool, combine these in a large mixing bowl along with the crab meat, chopped herbs, egg and a generous seasoning of salt and pepper.
Mix well then shape into 6 even cakes. If you have time, pop these in the fridge for 1 hour to firm before frying.

Heat 3 tablespoons of olive oil in a large heavy based saucepan over a medium heat, and once hot sear 3 crab cakes for 2 minutes on each side, or until golden. Repeat with another 3 tablespoons of olive oil and the next 3 crab cakes. Transferred the seared crab cakes into an oven tray, along with the asparagus tips lightly tossed in olive oil. This can be done up to 2 hours in advance of eating.
The coleslaw is best prepared at least 2 hours before serving. Finely shred the cabbage removing the tough central core, peel and finely slice the red onions into thin half moons, and muddle these with the chopped herbs, mayo, kefir or natural yogurt, white wine vinegar and seasoning.
When you are ready to eat, preheat the oven to 190 C. Roast the crab cakes for 12 minutes, or until piping hot through, then serve with your creamy slaw, a green salad and a glass of chardonnay.