An English take on Vitello Tonnato served with Pinot Noir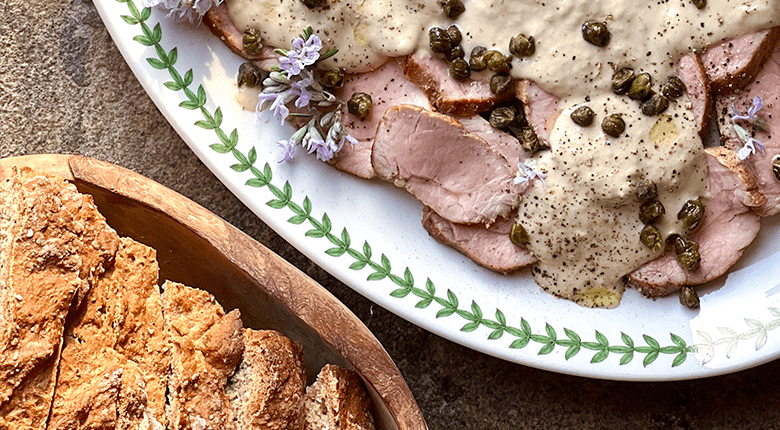 Vitello tonnato is an Italian classic; it hails from Piedmont in the North-west of Italy. It's a cold starter of veal and tuna which, on paper, may sound a little quirky, but is utterly delicious. Here, we've swapped in local Suffolk pork tenderloin and smoked mackerel from the fishmonger's in Southwold.
The dish can be made entirely in advance, and simply thrown onto a platter when you are ready to serve. Some simple green leaves and fresh bread make this a more substantial starter, or even a great light lunch option on a summer weekend.
We recommend a Pinot Noir with a little age as the perfect pairing. Pinot Noir is a lighter-bodied red with moderate tannins making it a good match for paler meats such as pork. It isn't heavy or overbearing and offers delightful red fruit flavours and bright acidity to cut through the creamy mayo. Added to this, "smoke with oak" is an excellent pairing mantra; the smoked mackerel mayonnaise echoes the smokey notes you may find in an oak-aged Pinot Noir.
Prep time: 15 mins + 1 hour marinating
Cooking time: 18 mins + 1 hour resting
This recipe serves 6.
Ingredients for the pork loin:
500 g tenderloin
½ lemon, zest & slices
12 sage leaves
4 tbsp olive oil
Salt & pepper
1 knob butter
For the mackerel mayo:
1 smoked mackerel fillet, skinned & boned (approx 80-100 g)
1 egg yolk
1 tsp dijon mustard
2 anchovies
2 tbsp white wine vinegar
½ tsp flakey sea salt
50 ml olive oil
1 tbsp creme fraiche
To serve:
1 bag of rocket
2 heaped tbsp capers
Fresh bread & oil
Method:
Trim away any sinew from the pork loin, then rinse and pat dry. Marinade the pork in a large mixing browl with the zest of ½ a lemon (slice the lemon after zesting and add this as well), 12 sage leaves, 4 tablespoons of olive oil, and salt & pepper. Marinate for 1 hour.

Meanwhile, make the mackerel mayo. Remove any skin or bones from the smoked mackerel fillets then flake into a small jug blender or a mixing bowl if using a hand blender. Add the egg yolk, Dijon mustard, anchovies, white wine vinegar, and sea salt. Whizz until smooth, then with the motor running very slowly, add the olive oil in a slow and steady steam to emulsify. Finally, fold through the creme fraiche then set in the fridge until needed.
When you are ready to cook the pork preheat the oven to 180 C. Heat a large, dry frying pan over a medium/high heat until almost smoking. Sear and seal the loin for 2 minutes turning often. After 2 minutes turn the heat down to medium/low and add a knob of butter and continue frying for 1 minute, turning and basting constantly. Pop the pork into the oven to roast for 12-14 minutes, depending on the circumference of the tenderloin. It may still feel soft after this cooking time, but it will continue to cook and firm up as it cools. A faint blushing pink is ideal for the tenderloin, rather than well cooked.
Allow the pork to cool for at least 1 hour before slicing and serving.
When you are ready to serve, use your sharpest knife to finely slice the pork and spread this across a platter. Dollop and drizzle the mackerel mayo on top, followed by some capers – possibly crispy-fried! – a scattering of rocket leaves, and a drizzle of olive oil.
Serve with bread and butter and a generous glass of Pinot Noir – tuck in!
Have you tried Joey and Katy's other summer feast courses?