In Part 1 of this series on traditional English food, we looked at classics like Fish and Chips and the Cornish Pasty, right through to some perhaps lesser known "delicacies" like Rag Pudding.
Here, then, is Part 2, on traditional English desserts, which serves as an indulgent reminder of some of the finest sweet treats England has to offer, and – we hope – an introduction to some new puddings to try at home or when you're next at a restaurant or pub…
Desserts
Apple Pie & Custard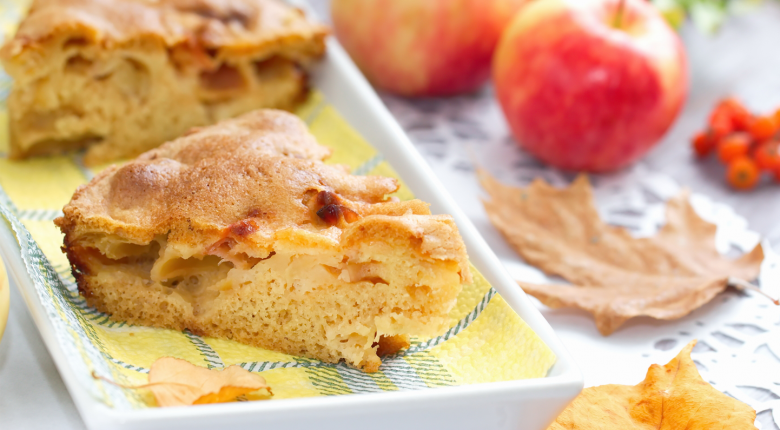 What is it? Cooked apples in a pastry to form a pie, traditionally paired with custard, cream, or ice cream.
The English apple pie dates right back to Chaucer's England of the 14th century and the first evidence of a recipe is believed to have been written in England in 1381. Early apple pie recipes contained hardly any sugar as it was in short supply and expensive, whilst the pastry (known as a "coffin") was not intended to be eaten, but rather acted as a casing for the ingredients. Apple Pie with either custard or ice cream is almost a mandatory option on the dessert menu of British pubs.
Strawberries & Cream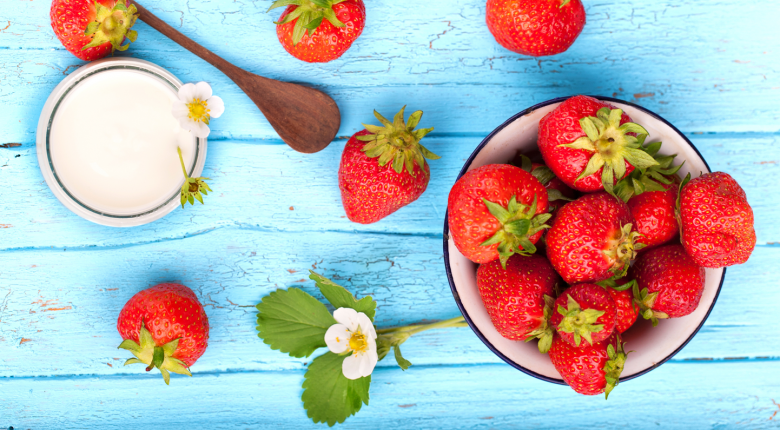 What is it? Fresh English strawberries and cream. Tennis optional.
When we think of Strawberries and Cream we tend to immediately associate it with Wimbledon. However, Strawberries and Cream has a history that goes back much further than Federer's racket. The combination of Strawberries and Cream is believed to have been "invented" by an unknown person during the reign of Henry VIII, as a quick and easy dessert designed to be served to up to 600 at a time in an establishment known today as Hampton Court.
Strawberries can be stored in a standard refrigerator compartment for up to 3 days, but in a Liebherr BioFresh compartment they can be stored for up to a full week. Cream is similar, with up to 4 days storage in a conventional fridge compartment and, again, up to 7 days in a BioFresh compartment.
Read more about Liebherr's BioFresh technology.
Custard Tart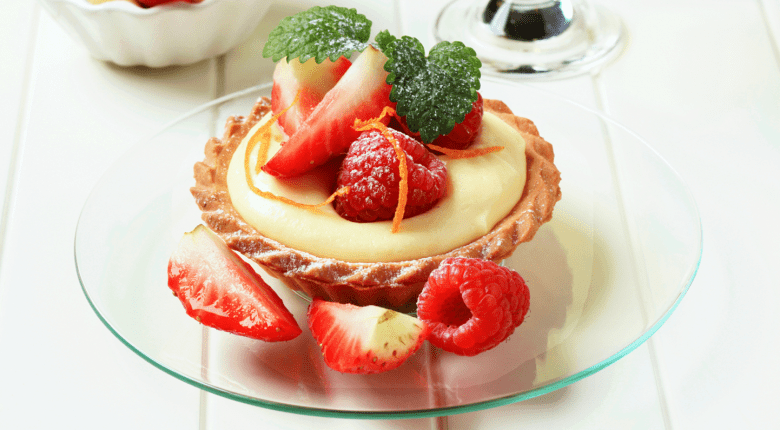 What it is? A cupcake-sized tart made from shortcrust pastry, eggs, sugar, milk or cream, and vanilla, sprinkled with nutmeg and baked.
According to the EU's inventory of national foods, English Custard Tarts originated in East Anglia and there's evidence that they were being enjoyed by the English in medieval times. They were served at Henry IV's coronation in 1399 and at Queen Elizabeth II's 80th birthday in 2006. A few years ago they were featured on The Great British Bake Off (with the Portuguese version a couple of years later).
Bakewell Tart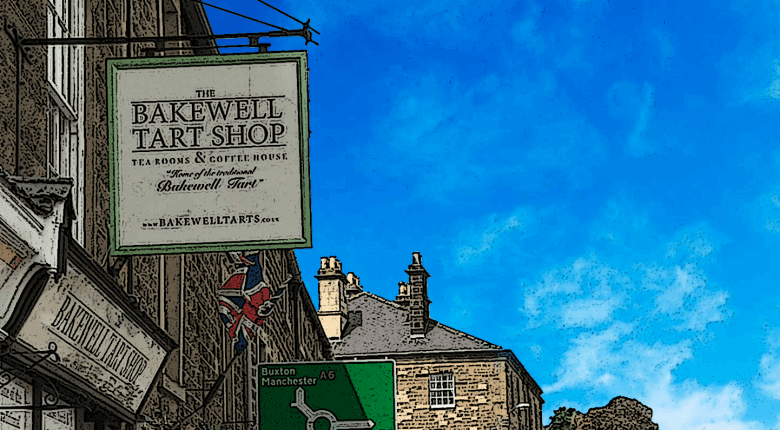 What is it? A cupcake-sized tart made from shortcrust pastry case filled with jam and a sponge flavoured with ground almonds.
A mainstay in bakeries across the land, the Bakewell Tart remains as popular as ever. Its history seems particularly complicated, however, with its birthplace of Bakewell in Derbyshire in severe doubt according to various sources, with some even touting the USA as the land of its invention. It is related to the Bakewell Pudding which did indeed originate from Bakewell itself but, just to add to the labyrinthine history surrounding this English classic, the Bakewell Tart is also referred to as a Bakewell pudding! Maybe one to enjoy without thinking too much about its background.
Victoria Sponge Cake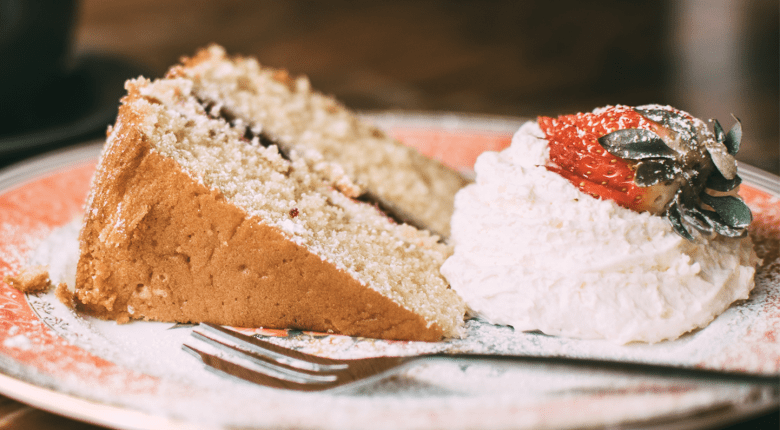 What is it? Raspberry jam and whipped double or vanilla cream sandwiched between two circular sponge cakes; the top of the cake is simply dusted with icing sugar.
Named – of course – after the infamous Queen, the Victoria Sponge is arguably the most quintessential of all English puddings. During the eponymous Queen's reign Alfred Bird, the famous English manufacturer and chemist, invented baking powder so that he could make a yeast-free loaf of bread for his wife. This was duly celebrated with a sponge cake, made with the new invention, which allowed the sponge to rise further than before and led to the Victoria Sponge Cake we know today.
Alfred Bird was most famous for his egg-free custard powder, used to make classic English custard, which could accompany most of the desserts in this article and could even be listed as a pudding in its own right.
Honourable mentions:
*Descriptions are based on one or more recipes and may omit ingredients found in other versions
Banoffee Pie – Bananas, cream, and toffee, combined either on a buttery biscuit base or one made from crumbled biscuits and butter.
Battenberg Cake – A light sponge cake, covered in marzipan, with the pieces covered in jam. When cut in cross section, displays a distinctive two-by-two check pattern alternately coloured pink and yellow.
Bread & Butter Pudding – A pudding made with slices of buttered bread scattered with raisins in an oven dish, with egg custard seasoned with nutmeg, vanilla, or other spices.
Christmas Pudding – A traditional festive dessert comprising various dried fruits within egg and suet, sometimes moistened with treacle or molasses, and flavoured with nutmeg, cloves, ginger, cinnamon and other spices. Often served with custard or ice cream.
Cobbler (Fruit) – Fruit filling covered with a scone mixture and baked.
Eccles Cakes – A small round cake made with flaky pastry with butter and currants.
Eton Mess – A mixture of strawberries, broken meringue, and whipped double cream.
Eve's Pudding – Also known as Mother Eve's pudding, it is made from apples baked under a Victoria sponge cake mixture.
Fruit Crumble – Stewed fruit (often Apple and/or Blackcurrants) topped with a crumbly mixture of fat (usually butter), flour, and sugar. Served with custard or ice cream.
Jam Roly Poly – A flat-rolled suet pudding which is then spread with jam and rolled up.
Spotted Dick – Fruit sponge pudding made with suet and dried fruit. Often served with custard.
Trifle – Cold dessert with various layered ingredients, often sponge fingers and fortified wine, jelly, custard, and whipped cream.
What is your favourite English dessert? Have we missed anything here that should definitely have been included? Please feel free to comment below and tell us what you would have added to the list! Feel free to start a conversation on our Facebook page too!