Valentine's Menu, Main Course:
Pheasant schnitzel with gribiche, beetroot and green salad served with St Laurent
Here's something a little bit different for a Valentines' main course that's very special and great for preparing in advance. It's a delicate-looking dish yet packed with flavour and fantastic crispy texture. For the schnitzel you can use pheasant (though sadly it's coming to the end of its season), guinea fowl or chicken; the breast meat is flattened and tenderised, then crusted in a mixture of sourdough breadcrumbs, oats and parmesan, before being crispy fried. Texturally it's absolutely fantastic eaten with the creamy, tangy, tarragon gribiche sauce.
Simple boiled beetroots tossed with a tablespoon of red wine vinegar, some buttered new potatoes and a green salad make for perfect accompaniments.
A glass of Austrian St. Laurent is the perfect pairing here; it's similar in many ways to Pinot Noir. This indigenous grape offers a lighter red wine with soft tannins, juicy berry notes, and bright acidity to contrast the golden and crispy exterior of your schnitzel. It's typically oak-aged and so can also offer aromas and flavours of gentle smoke and spice.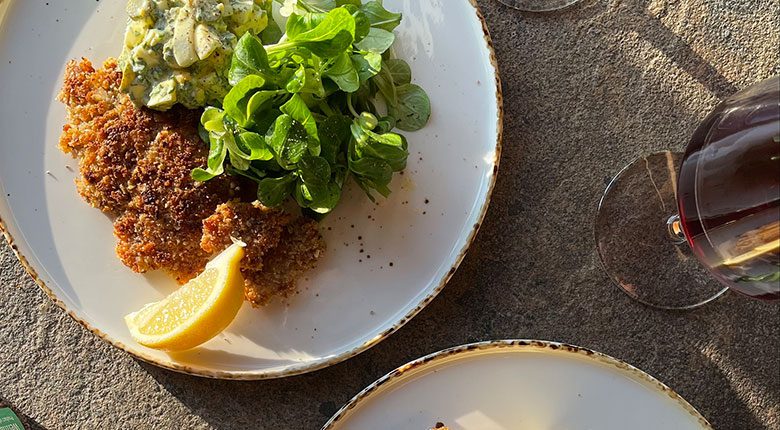 Prep time: 30 mins
Cook time: 30 mins
This recipe serves 2.
Ingredients: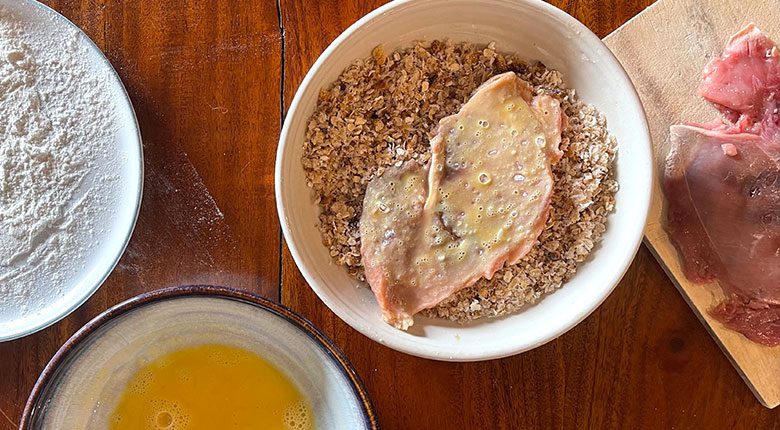 For the schnitzel:
2 pheasant, guinea fowl, or chicken breasts
2 slices sourdough, or 8 tbsp coarse breadcrumbs
2 tbsp oats
2 tbsp grated parmesan
1 tsp flakey sea salt
2 heaped tbsp flour
1 egg
2 tbsp milk
4 tbsp olive oil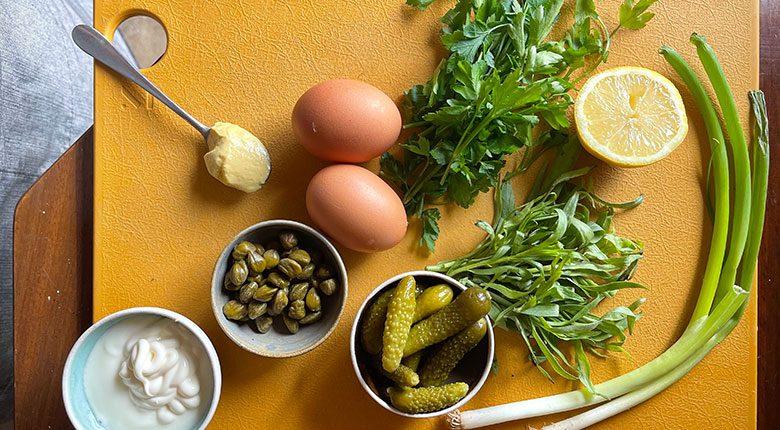 For the tarragon gribiche:

2 eggs
1 tbsp creme fraiche
1 tbsp mayonnaise
10 cornichons
2 spring onions
2 tbsp baby capers
1 tsp Dijon mustard
¼ lemon, juice only
small bunch of parsley
small bunch tarragon
½ teaspoon sea salt
¼ teaspoon black pepper
To serve:
new potatoes
beetroots
green salad
dijon mustard vinaigrette
½ lemon
Method:
Both the gribiche sauce and the schnitzel can be prepared well in advance. Lay the poultry between 2 sheets of parchment paper and lightly bash with a rolling pin all over. Continue bashing evenly until the breasts are no more than 1 cm thick.
If you need to make breadcrumbs, toast your sourdough, allow it to cool, then whizz it up in a small blender or food processor, and combine it with the oats, finely grated parmesan, and sea salt in a shallow mixing bowl. Toss the crumb mix well with your fingers.
Tip the flour into a second shallow dish, and beat the egg with 2 tablespoons of milk in a third.
Coat both sides of each breast in the flour first, and shake off any excess. Then coat in the egg mix, and finally press this into the crumb mixture, coating both sides evenly. The schnitzel can be left covered in the fridge for up to 12 hours.
To make the gribiche sauce, bring a small saucepan of water to the boil and add the eggs. Simmer for 6 minutes then turn off the heat and allow the eggs to cool in the water for 5 minutes before removing and peeling.
Roughly chop the eggs, finely slice the cornichons and spring onions, chop the capers, and finely chop the parsley and tarragon. Stir together all of the ingredients for the gribiche then taste to check the seasoning. This can be held in a sealed container in the fridge for up to 24 hours, but allow it to come to room temperature before serving.
When you are ready to eat, boil and butter some potatoes, boil, peel and slice some beetroot and toss with a little red wine vinegar, and prepare a green salad.
Heat 4 tablespoons of olive oil in a large non-stick frying pan, and fry the schnitzel for 4 minutes on each side until golden crispy and cooked through.
Plate up your schnitzel with generous spoonfuls of the gribiche and a wedge of lemon.