It is one of the most iconic images in our company's history: A black and white photo of a 1950s van with refrigerators in a large display window and, in German, "Einer der Besten!", One of the Best, sprawled across the top.
This is the story of L319, a converted utility van that toured through fledging West Germany, showing our refrigerators and freezers to the people. A "shop window on wheels", L 319 drove from Hamburg to Munich, from Frankfurt to Berlin (West). What happened to our likable van? Let's find out!
Are you ready for a trip down memory lane? When Hans Liebherr added appliances to his company's portfolio in 1955, a Mercedes utility van was one of the most special poster children of the young company. Meet L319! Originally painted in Liebherr crane division's yellow color, the vans were repainted when blue was adopted to represent the residential division of the company. L319, and the no less iconic Ford Taunus Transit vans, toured all over Germany to show refrigerators and freezers to the people. By 1963, only 52% of West Germans owned a refrigerator. There was a lot of marketing and sales work to do!
From Ochsenhausen Around Germany
L319 traveled from our production facility in Ochsenhausen, located in Southern Germany, from West to East, from North to South across the entire young Federal Republic. All the way up to Flensburg, close to the border with Denmark ,and back. All over the country, L319 and Taunus Transit vans were on the road to introduce customers to the Liebherr brand and to our latest refrigerators and freezers!
A Visit From The Liebherr Van? Available Upon Request
Wholesalers could rent the vehicles from the Ochsenhausen office as an effective way to present the latest refrigerator models to their customers. Those were the days before big box stores with large display areas, let alone the internet. Close contact with our customers was already the Liebherr way back then!
Converting L319 From A Basic Utility Van To A Shop Window On Wheels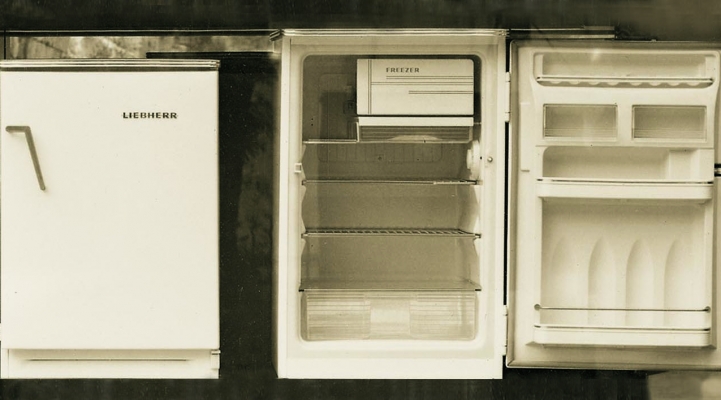 In order to show off our models in the best possible way, the vans were heavily customized. The truck bed was fitted with special pedestals, giving the appliances on display optimum visibility. Large glass windows ensured customers always had a clear view of the latest Liebherr refrigerators. The slogan EINER DER BESTEN!, "One of the Best!", was written on top along with the company logo which has changed little since 1955.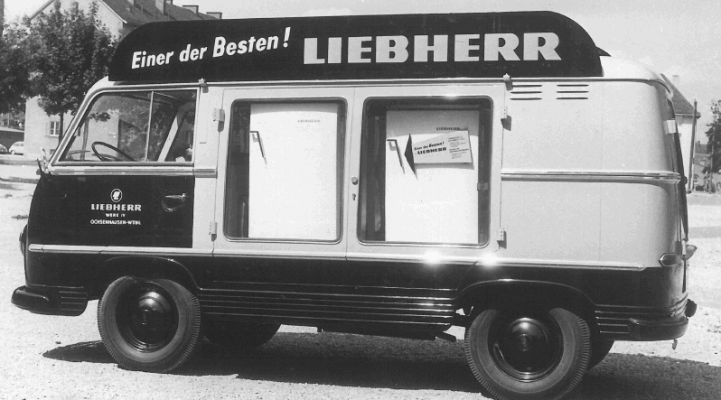 The back of the car was also customized: A giant glass pane again gave people a perfect view of our products. L319 was a veritable shop window on wheels! Liebherr vans toured across West Germany until 1968. putting hundreds of thousands miles on the clock. They also were popular representatives of Liebherr. Older Germans still reminisce about the vans introducing them to Liebherr, already well known at the time for our heavy machinery business, as an appliances brand.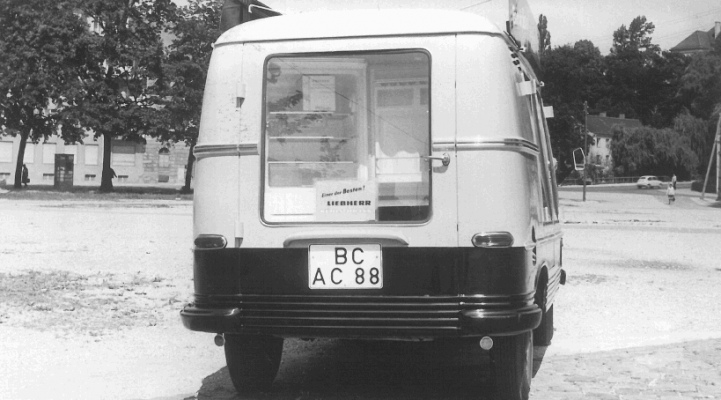 L319: On The Road Until 1968
After many years on the road and thousand of miles driven, by the late 1960s it was time to say good bye. The Liebherr van was no longer in keeping with the times. New distribution and marketing channels had opened up. The vans were seen merely as utility vehicles and nobody was interested in keeping them for a later generations. To our knowledge, all models were scrapped.
Liebherr Van: A Collector's Item In 1:50 Scale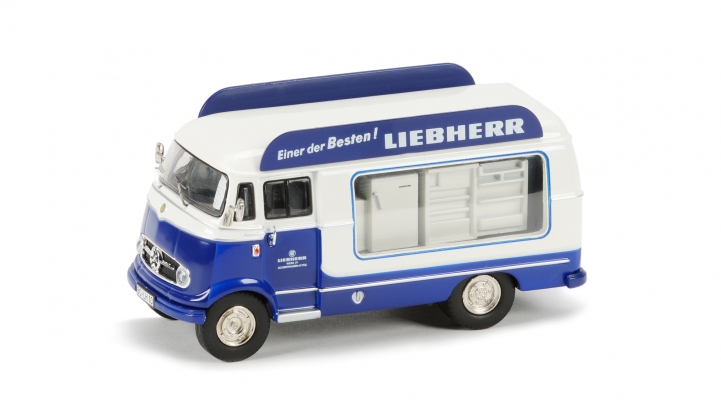 One of Liebherr's best known vehicles is still around though! It can be seen on old advertising materials for Liebherr Appliances. We currently use it in the banner picture for our North American twitter. We've even made it into a die cast model car. A special collector's edition was released in 2006. It was modeled, with an eye for detail, after the iconic image at the top of this article. It was so successful that it is currently out of stock.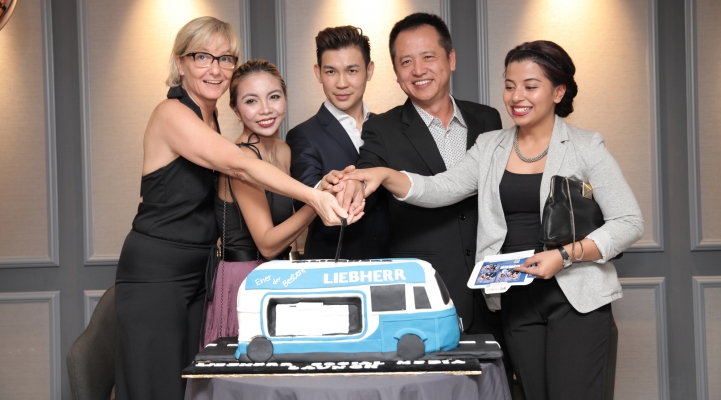 The Asia Pacific social media team had L 319 recreated as a sweet treat for their launch party in 2015. Guests were able to take a bite out of our iconic shop window on wheels!
Mercedes Benz L319 Facts & Figures
• Manufacturer: Daimler Benz
• Production Years: 1955 – 1963
• Engine: Mercedes M121 single overhead camshaft inline four-cylinder, 75 hp
• Engine Displacement: 1.9 l / 1897 cm³ / 116 CID
• Maximum Speed: 59 mph / 95 km/h (until 1960 model year), 62 mph / 100 km/h (from 1961 model year)
• Transmission: Manual 4 Speed + Reverse
• Gross Vehicle Weight: 4 tons / 3600 kg
• Total number sold: around 140.000
Maybe you or a family member visited or were stationed in Germany in the 1950s and 1960s and caught a glimpse of our vans? If you have any photographs or film material you would be happy to share, please contact us: [email protected]