Liebherr Appliances and Microsoft are working on a smart refrigerator that will offer customers in the pharmaceutical industry new possibilities for remote monitoring and predictive maintenance. An "Internet of Things"-prototype will be shown to the public at the Hannover Messe für Industrie (HMI) 2016. This project is part of a collaboration between Microsoft and Liebherr in the area of refrigerator and freezer digitalization.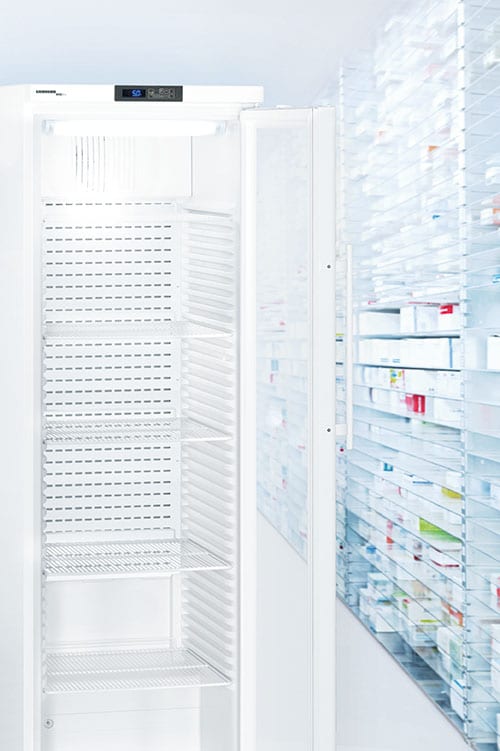 An "Internet of Things"- Smart Refrigerator Prototype
The pharmaceutical industry requires extremely reliable refrigeration technologies for the storage of highly sensitive substances and products, including medicines, vaccines or insulin. Refrigeration temperatures have to be precisely maintained around the clock. The secure, reliable operation of appliances is imperative. The development of intelligent connectivity solutions for commercial refrigerators and freezers creates new monitoring and maintenance possibilities for professional users.
Microsoft and Liebherr will present the smart refrigerator prototype for the first time at the Hannover Messe für Industrie 2016 from April 25th – 29th. The pharmaceutical refrigerator is connected with a communication module based on the Windows 10 IoT Core, which analyses data utilizing the Microsoft Azure cloud platform. The refrigerator's general status data and temperature data can be retrieved at any time.
Using machine learning – the automatic evaluation of data, with recognition of control processes and deviations – and Azure Stream Anlaytics for real-time predictive analysis, it is then possible to recognize any changes in the appliance's refrigeration performance at an early stage. Well in advance of any actual damage to stored products, the system will generate a service ticket in Microsoft Dynamics CRM. The relevant technician will then be able to plan this into their service call.
In addition, the Windows 10 IoT Core operating system integrated into the communication module allows the refrigerator to be updated remotely. Within the framework of new services, Liebherr is in the position to introduce new features and functionalities with greater speed and flexibility.