Italian cuisine and this flavourful hard cheese are inseparable. But what is the story behind the original Parmigiano Reggiano?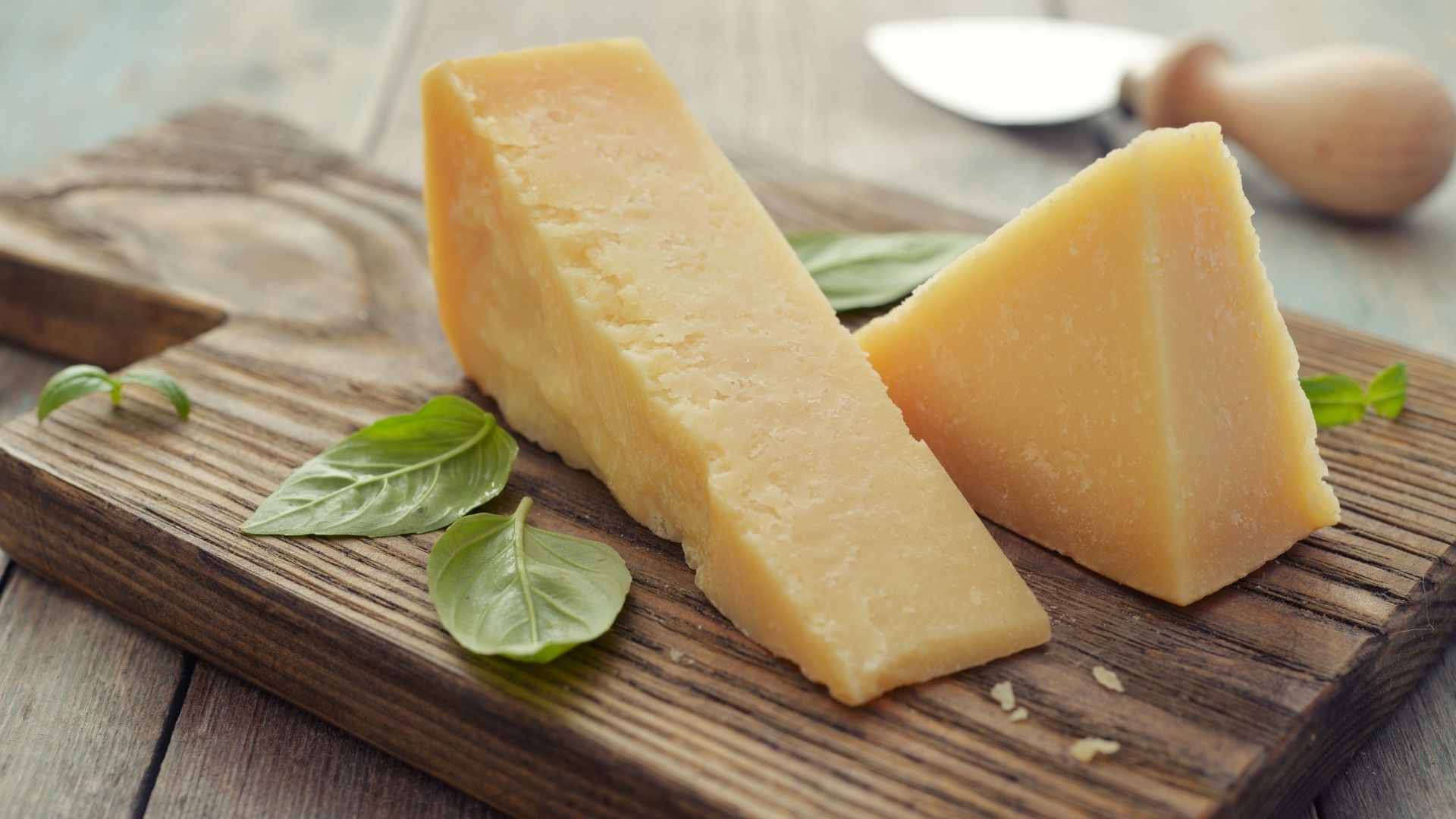 Finely-shaved on pizza, pasta or salad – it's hard to imagine life without Parmesan. With its long history, this full-flavoured hard cheese is considered a classic of Cucina Italiana. But Parmesan is also very popular in other countries – after all, we all love to feast on Mediterranean cuisine sometimes. However, not all Parmesan cheese is the same: Find out how to recognise real Italian cheese, why it's worth the price and many other exciting facts about the Italian favourite here.
The production process for this famous Italian hard cheese has remained unchanged for around 800 years. The typical grainy to slightly crumbly consistency combined with the mildly tangy to strong taste delights true cheese lovers. It's not for nothing that Parmesan is also called the "king of cheeses" in Italy.
Genuine Parmesan from Northern Italy
Original Parmigiano Reggiano consists of exactly three ingredients: Raw milk, salt and calf rennet. Additives and treating the cheese rind are not permitted. Genuine Parmesan may only be produced in the northern Italian provinces of Parma, Reggio Emilia, Modena, Bologna west of the Reno river and Mantua east of the Po river. In addition, the cows which produce the raw milk are only allowed to feed on hay and fresh grass. Since 1955, genuine Parmesan has carried the officially-controlled designation of origin DOC (Denominazione di origine controllata). Parmesan with this label meets strict quality standards as well as the precisely defined production process. Only very few foods carry this special label.
What's more, since 2008, only Parmigiano Reggiano may be called real Parmesan. Other popular cheeses, such as Grana Padano, are not included in this category. It is similar to the original in taste, but cannot achieve the unmistakably full flavour of Parmesan. The milk of this cheese comes from other regions in Italy and the cows' diet is also less strictly regulated. That's why the price of real Parmesan is quite high in comparison. However, we can promise you the taste is worth it!
It's all a question of maturation
When buying Parmesan cheese, you have probably noticed the different names it has. It is important to know that Parmesan is given different names depending on its maturation time. The term nuovo indicates 12 months of maturation, the terms vecchio and stravecchio indicate 24 and 36 months of maturation respectively. The longer the Parmesan matures, the higher its calcium and protein content. The size of the distinctive salt crystals also increases with a longer maturation time. These are definitely not to be confused with mould! Quite the contrary: They are responsible for providing the cheese's full and tangy flavour. The structure of the Italian cheese also becomes firmer over time, as it steadily loses water during the maturing process.
A leader in protein content
With 38 grams of protein per 100 grams, the Italian hard cheese is one of the most protein-rich foods there is! Athletes in particular can therefore treat themselves to a little more of the delicious cheese while still having a clear conscience. The high calcium content is also impressive. Calcium is important for building strong bones, hair and teeth. But sufficient calcium is also necessary for healthy muscles.
We all know that cheese is not a slimming food. Compared to other cheeses, however, Parmesan stacks up quite well due to its relatively low fat content. So if you're going to choose just one cheese, Parmesan is a great choice. Cheese lovers with a lactose intolerance can also breathe a sigh of relief: Due to its long maturing time of at least twelve months, Parmesan is lactose-free.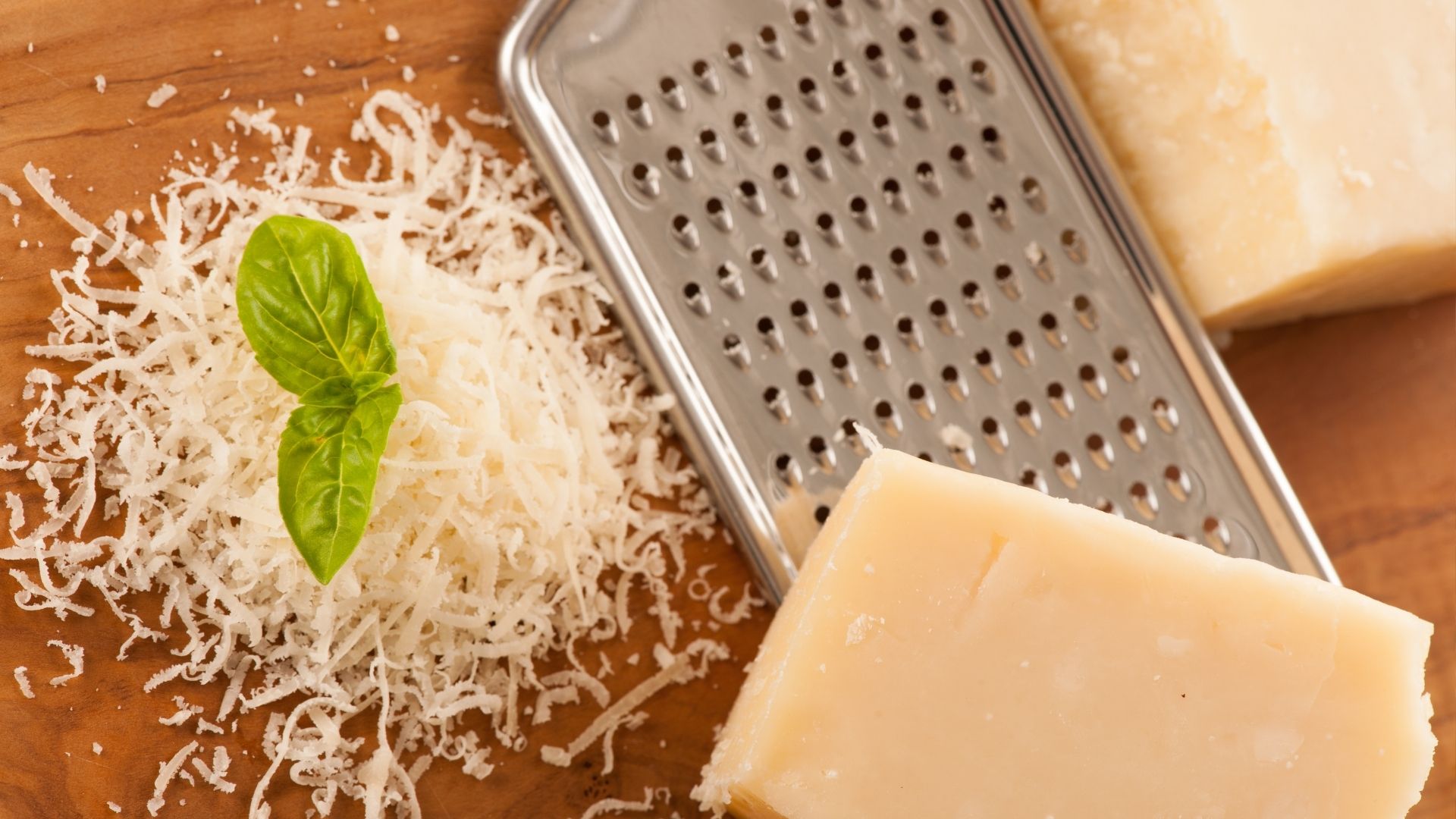 The all-rounder of Italian cuisine
Parmesan cheese can be used in many different ways. However, it is best freshly-grated directly onto pasta. And it's important to note, that although ready-grated Parmesan from a bag seems to be a practical alternative, it cannot compete with the taste of freshly-grated Parmesan. Connoisseurs even break the hard cheese instead of cutting it. There is a special almond-shaped Parmesan knife for precisely this purpose.
But the Italian cheese is not only a good choice for pasta: The cheese can also be used in risotto, in thin slices on pizza and salad or on its own with tasty bread and olives. Only for au gratin cooking do we recommend other types of cheese. That's because Parmesan burns rather than forming a crispy crust. This creates a bitter taste.
One new idea to try at home: You can enjoy a snack of Parmesan on oven-baked crisps, in the afternoon or while watching a film in the evening. For this, all you have to do is grate Parmesan finely over the crisps, season with paprika and bake in the oven for about ten minutes. Your quick snack is now ready!
Tips for optimal storage
In order for you to enjoy the flavour of Parmesan for a long time, proper storage at home is crucial. It is best to wrap the cheese in a cotton cloth, parchment paper or special cheese wrapping paper. We advise against using cling film! This is because the Parmesan starts to sweat and forms mould after a very short time. Properly packaged, Parmesan cheese will keep for several weeks in your Liebherr fridge and even for several months in the BioFresh Meat & Dairy Safe. It is also possible to freeze the cheese. Parmesan cheese broken into pieces is particularly suitable for this purpose.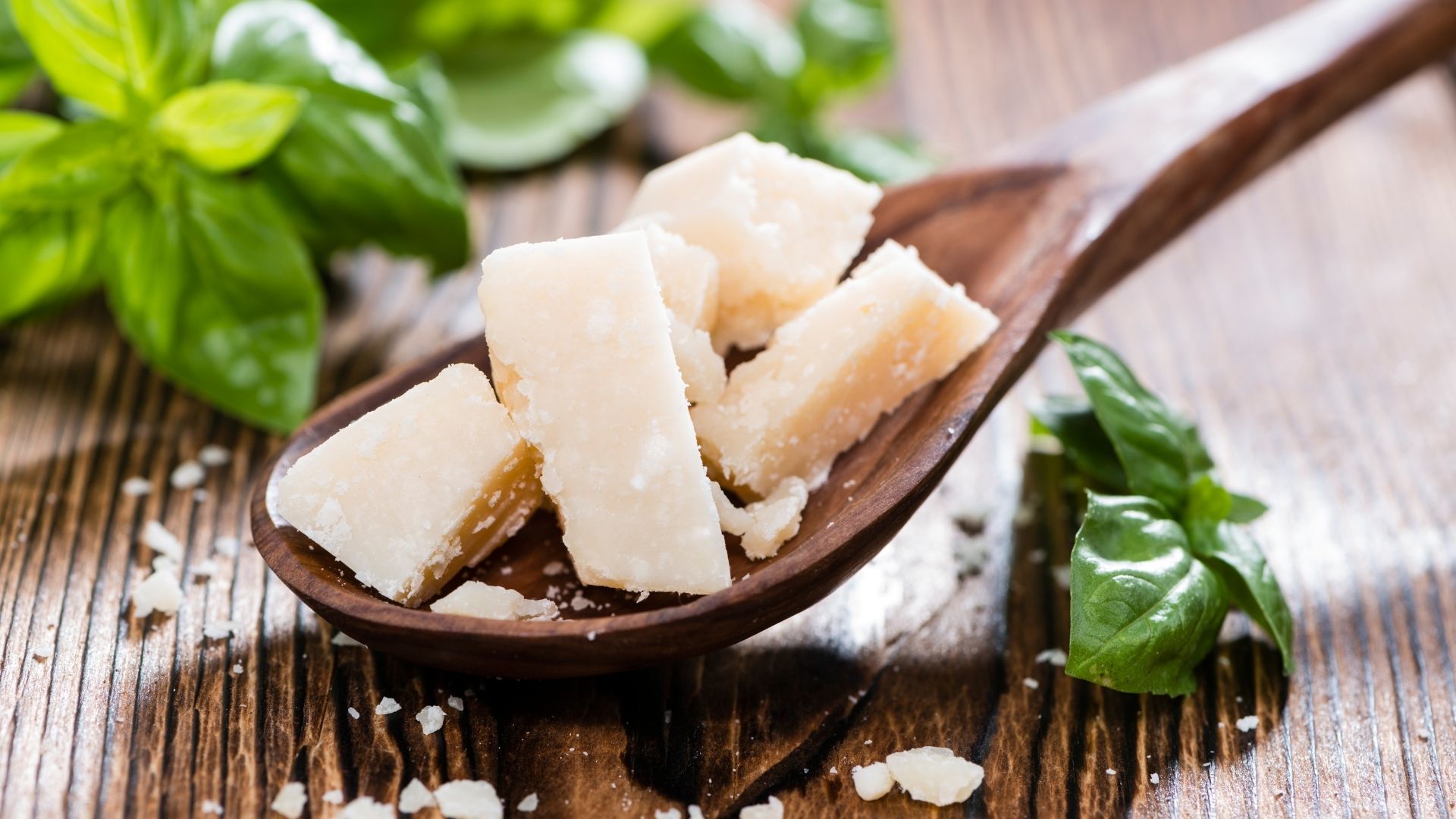 #parmesan, #cheese, #spicy, #italy, #hardcheese, #parmigiano, #reggiano, #pasta, #pizza, #salad, #risotto, #DOC, #northernitaly, #parma, #granapadano, #maturing, #saltcrystals, #calcium, #protein, #lactosefree, #crisps