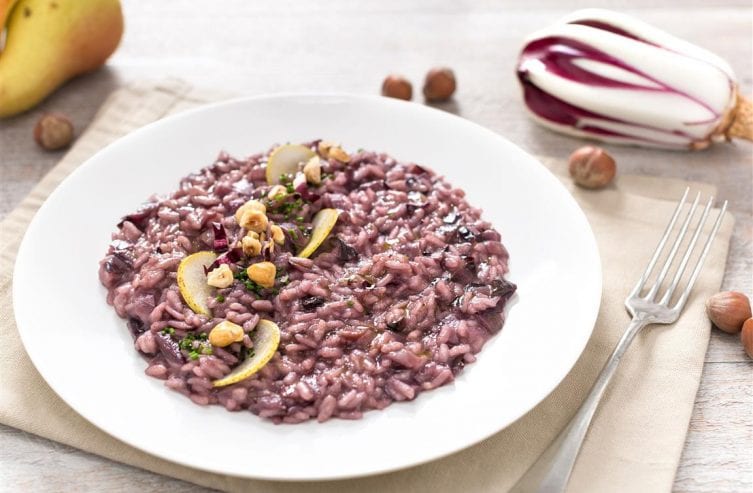 Did you know that, using a few simple tricks and with the right ingredients, you can make a delicious creamy risotto without any butter and cheese? Well, you can! Take a look at my gluten-free, low fat, lactose-free recipe for risotto with radicchio, pears and red wine – it's easy to make, light and suitable for everyone.
It's a winning combination: the intense, bitter taste of the radicchio (or chicory, if you prefer) balances perfectly with the sweet flavour and creaminess of the pears. And, to crown the dish there's nothing better than a few roasted hazelnuts (or walnuts) scattered on top.
This recipe might be a little different from the traditional risotto that we're all so familiar with; nevertheless, its intense flavour makes it more than a match for its well-loved cousin. And, just like every other risotto, Radicchio and pear risotto is cooked in a large pot or pan.
And remember, the preparation of a good risotto requires just the right amount of time and a little patience. My own advice would be to regard the time you spend cooking your risotto as 'time out' – stir the rice, pour in the stock, stir again, and relax as you watch the rice simmer in front of you – think of it as meditation, kitchen-style!
Bon appétit!
Yours, Fran Bettoni