Sambar is one of the most popular recipes in Tamil vegetarian cuisine, from South India. It is a lentil and vegetable preparation with the main flavour being that of tamarind, a souring agent. Every home has their own style of preparing sambar and a family recipe for sambar spice powder. The main ingredients of this spice powder are coriander seeds, dried red chillies, chana dal and fenugreek seeds. When prepared fresh as a wet paste, desiccated coconut is also fried along with the spices and ground into the paste to give the final dish a more intense flavour.
This recipe is an easier version of the original sambar recipe, using readily available sambar spice powder and tamarind paste. Traditionally, tamarind is soaked in water for a while until softened. It is then squeezed well to extract all the pulp into the water. This tamarind extract is used to give sambar its tangy flavour.
The lentils of choice are yellow lentils (toor dal/ tuvar dal / tur dal). Ensure that the dal is mashed well for this recipe.
Coming to the vegetable portion of sambar, a whole variety of vegetables can be used, singly or in a combination. Onions, okra, carrot, radish, drumstick, eggplant, sweet potato, beetroot are some of the vegetables commonly used in this preparation. Try this sambar recipe and serve it with steamed rice and some papads on the side.
Step: 1/8
Peel and slice the radish, roughly 1 cm thick.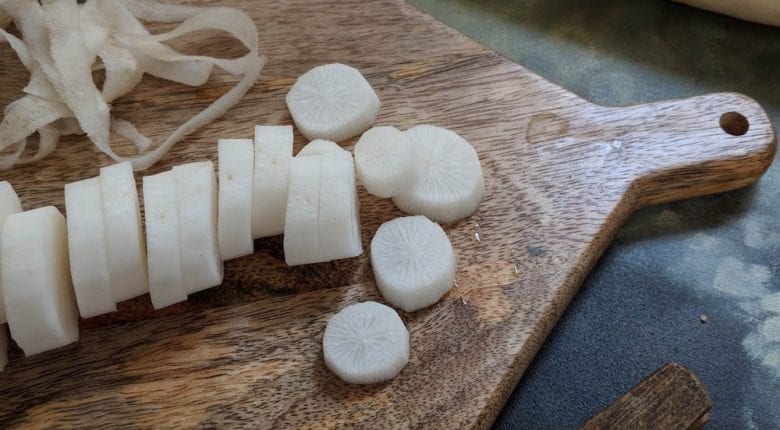 Step: 2/8
Place the sliced radish with 1/2 cup water, pinch of turmeric and salt in a pressure cooker. Cook for 1 whistle and switch off the flame. Alternatively, boil on stove top until the radish is cooked.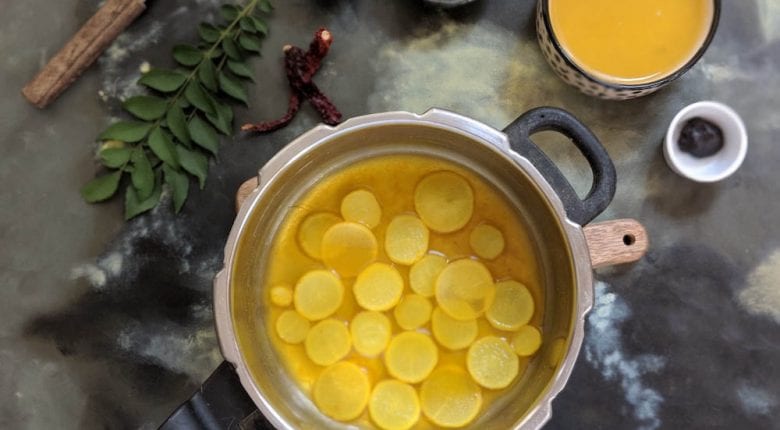 Step: 3/8
To the cooked radish in the pan, add the tamarind paste and sambar spice powder.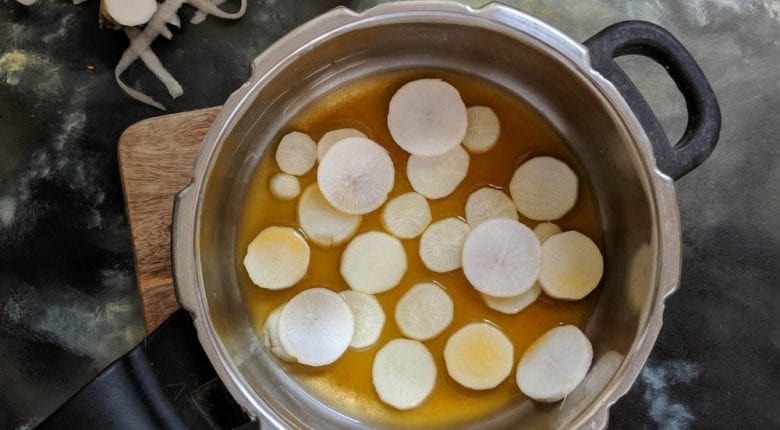 Step: 4/8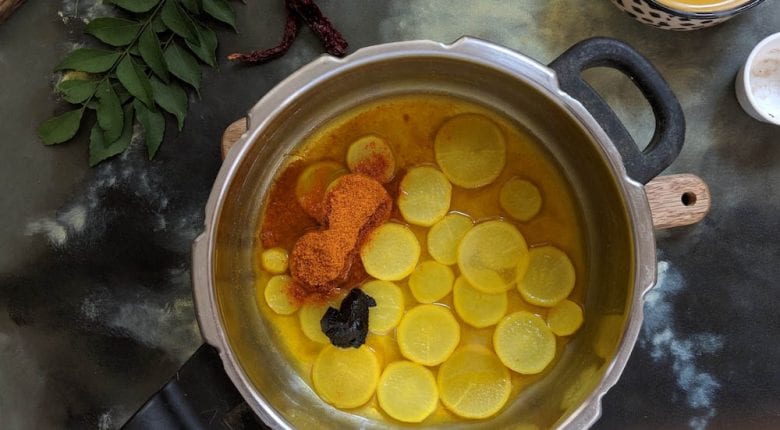 Step: 5/8
Add 1/4 cup water and bring this to a simmer for 3-4 minutes.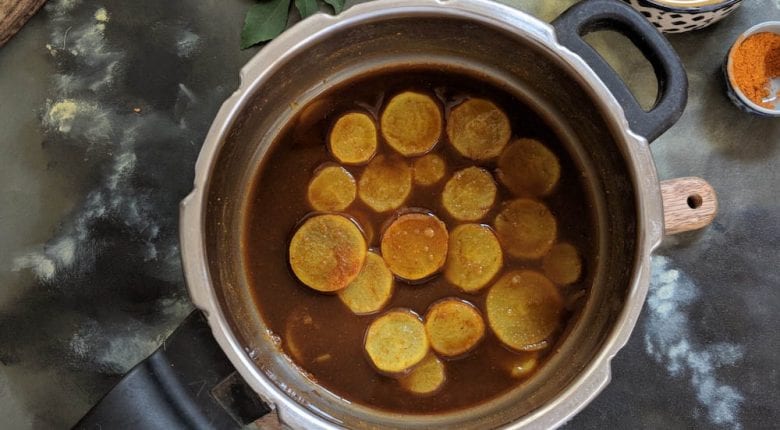 Step: 6/8
Add the cooked dal to this. Season with salt and a pinch of asafoetida (optional). Simmer for 2-3 minutes until well combined.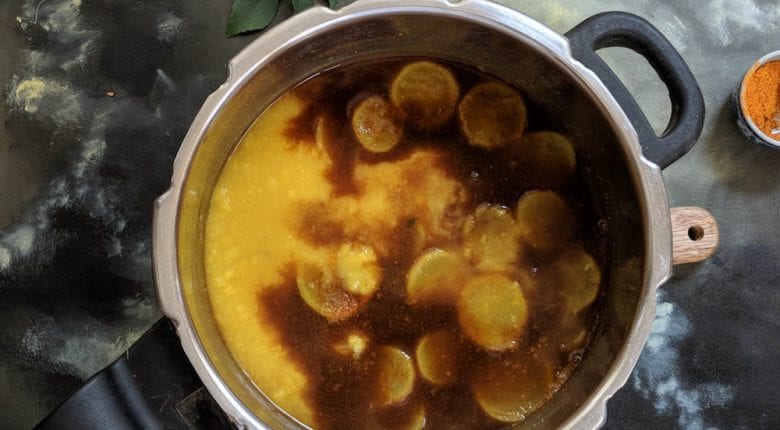 Step: 7/8
In a small pan or a tempering ladle, heat the oil. Fry the mustard seeds, fenugreek seeds, curry leaves and dried red chillies until the mustard seeds pop.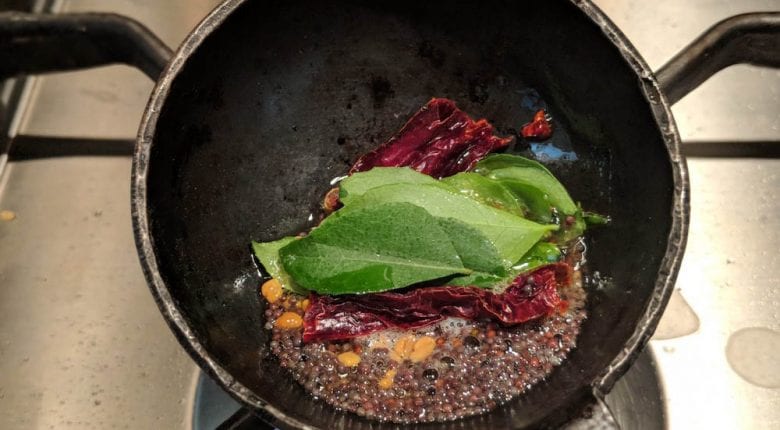 Step: 8/8
Remove the prepared sambar in a serving bowl and transfer the tempering over the top.
Serve hot with steamed rice.
Notes:
To prepare your own sambar spice powder, dry roast 1 tbsp chana dal, 2 tbsp coriander seeds, 1/2 tsp fenugreek seeds and 6 dried red chillies until the chana dal is lightly golden brown.
Grind this to a fine powder. If you prepare a larger quantity, store in a resealable bag or airtight container in the refrigerator for lasting freshness.
Tur dal is best cooked in a pressure cooker or instant pot, so that you get a completely mashed smooth consistency in a short cooking time.