If you thought ripe mangoes were used only in sweet recipes, then welcome to India. We love using mangoes in savoury recipes like curries and almost every region in India has its own version of a mango curry.
The addition of juicy ripe mangoes to a curry gives it sweet and tangy notes, which when paired with chilies, salt and other spices results in a flavour explosion like no other. All you need is a bowl of steamed rice for instant food nirvana.
Some of the mango curry recipes use coconut milk, while some other use a spice and coconut paste. This easy recipe uses a mix of whole and ground spices. There's no need to bring out the food processor for this one pan recipe.
This mango curry is best made using the smallest variety of mangoes, usually the foraged ones. Here, I have used a rare variety called 'shakkar guthli' which is said to be from the Nizam era in present day Telangana state. These fruits are much smaller compared to the more popular Alphonso or Banganapalli varieties, each weighing just under 50 grams. You can use any other variety of ripe mango. Cut larger mangoes into quarters before using in the recipe.
Step: 1/9
Make a small nick at the stem end of the mangoes and pull off the peels by hand. Soak the peels in a bowl with 1 cup water.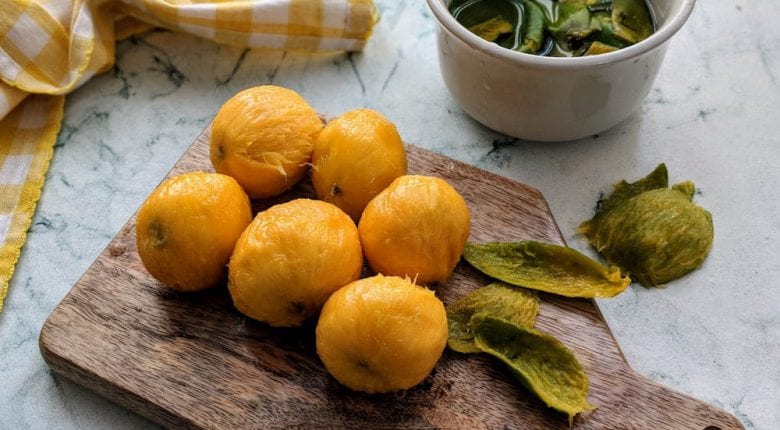 Step: 2/9
Crush the peels in the bowl of water, extracting every bit of pulp stuck to them. Squeeze out well and discard the peels. Reserve the mango water.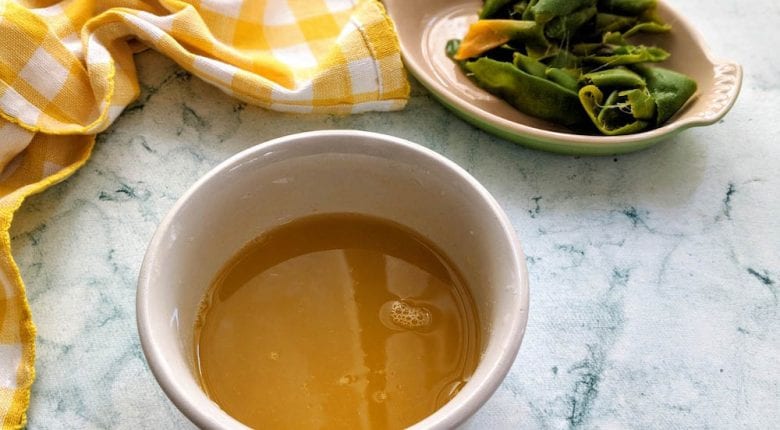 Step: 3/9
Soak the tamarind flakes in 1/2 cup hot water for 5-10 minutes. Squeeze out all the pulp and reserve it.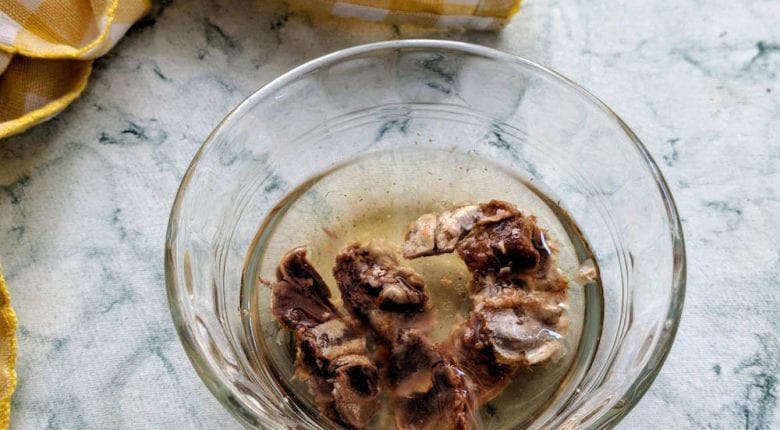 Step: 4/9
In a deep frying pan, heat the oil. Fry the fenugreek seeds, mustard seeds and red chillies for 30 seconds.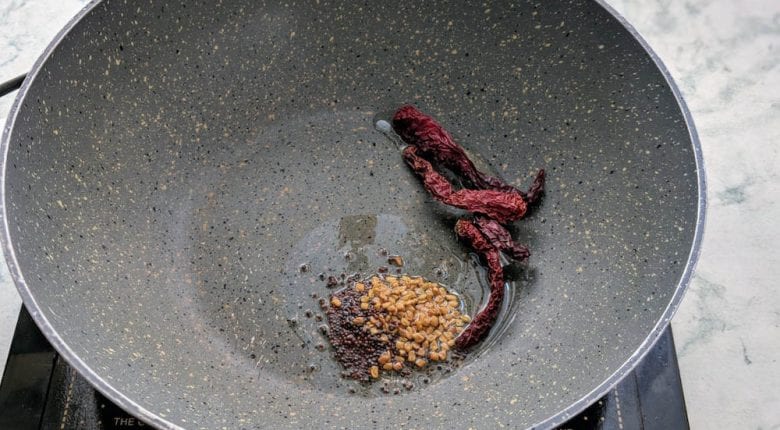 Step: 5/9
Add the curry leaves and fry until bright green and crisp.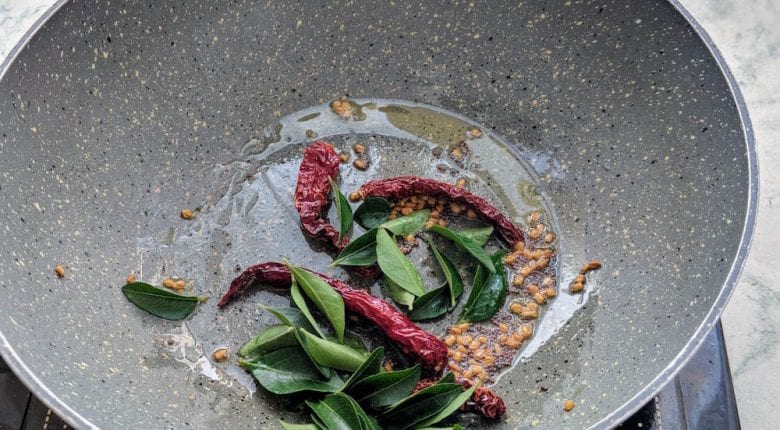 Step: 6/9
To this, add the peeled mangoes and toss on high flame for 1-2 minutes.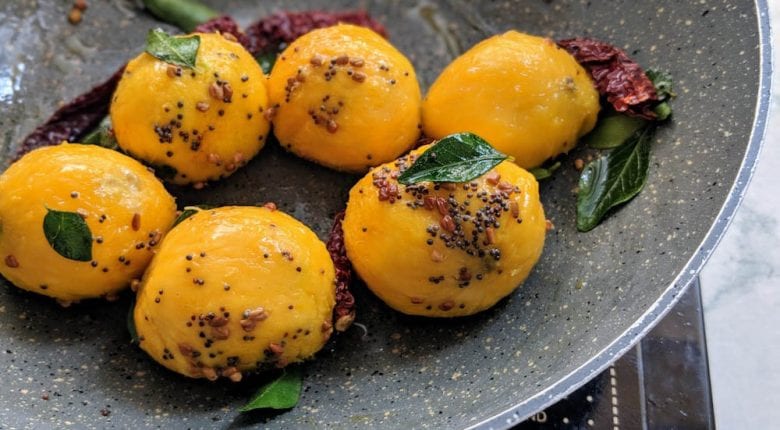 Step: 7/9
Pour in the reserved mango peel water and the tamarind pulp (or paste). Stir in the turmeric powder, chili powder, jaggery powder and salt and stir to combine well. Bring this to a simmer.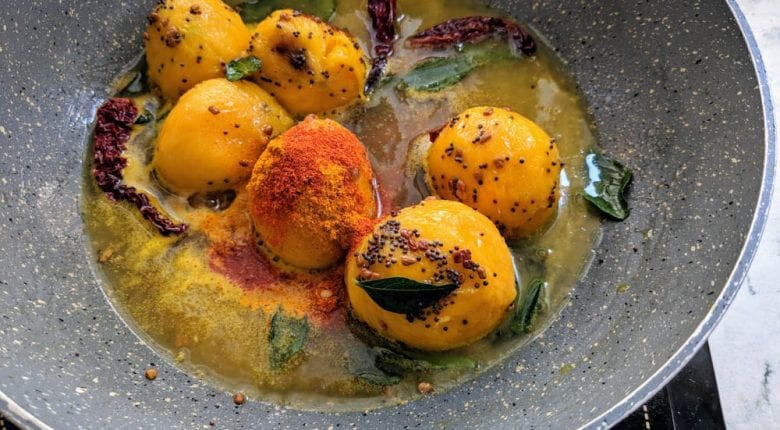 Step: 8/9
Cover the pan with a lid and allow the mixture to simmer for 10 minutes so that the mangoes absorb the flavours from all the spices. The curry base will thicken during this time. If you want a thicker sauce, make a slurry of rice flour in 1 tbsp water and add it to the simmering sauce with constant stirring.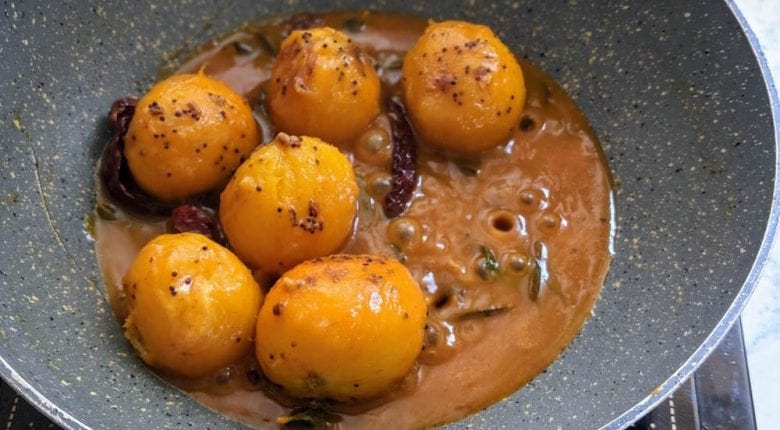 Step: 9/9
Remove into a serving bowl and serve with steamed rice.
You can prepare the same curry using pineapple chunks.