The most popular Indian spinach recipe outside of India is possible Saag Paneer or Palak Paneer. The reason for this is that it is routinely found in menus in Indian restaurants abroad.
However, this is just one of the ways in which spinach is cooked in India. Almost ever community has their own way (which is almost always half a dozen different ways) of cooking any vegetable and spinach is no different.
Spinach goes into the making of green gravy based curries such as Palak Paneer. It is finely chopped and combined with other vegetables such as potato to make Alu Palak. It is also dipped in batter and deep fried to make pakoras. In Eastern India, chopped spinach is simply sautéed in smoking hot mustard oil with red chillies. Finely chopped spinach also pairs with lentils to make Dal Palak. In Tamil cuisine, spinach and lentils are combined with a coconut-cumin-chilli paste to make a kootu that is relished with rice. One of the popular ways of cooking spinach in Kerala is Cheera Thoran in which it is cooked with a paste of shallots, coconut, chillies and cumin.
The Tamil style of cooking spinach in the form of a dry stir fry using a few spices makes a worthy accompaniment to a simple meal of rice and dal (or sambar). This dish goes by the name of poriyal, which involves a simple tempering of mustard seeds, skinned black lentils (urad dal), dried red chillies and curry leaves, to which chopped spinach or any other vegetable is added. Vegetables like beans, carrot, gourds are preferably chopped, steamed and then added to the tempering so that the dal and the spices remain crisp and fresh. Quick cooking vegetables like spinach can be added raw.
Adding thinly sliced onion and/or garlic is optional, but definitely adds another layer of flavour to the dish.
Fresh coconut is always used as a garnish over poriyal. In its absence, desiccated coconut can be used. Lightly toast the desiccated coconut before using as a garnish for a boost of flavour.
Using good quality coconut oil to make the dish gives it an authentic flavour. However, you can substitute with any other oil that you have on hand.
This simple spinach stir fry is a healthy side and makes a substitute for something like creamed spinach.
Try out this simple spinach poriyal using our step by step recipe.
Step: 1/6
Heat the oil in a pan and fry the mustard seeds and urad dal until the lentils turn into a light brown colour.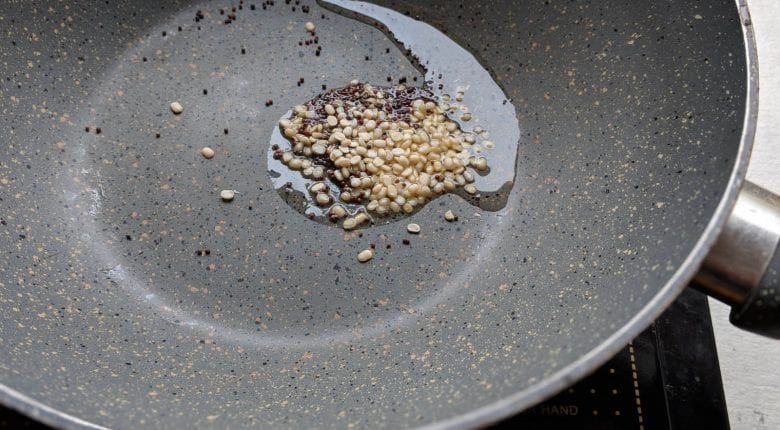 Step: 2/6
Add the dried red chillies and fry until they turn bright red and crisp.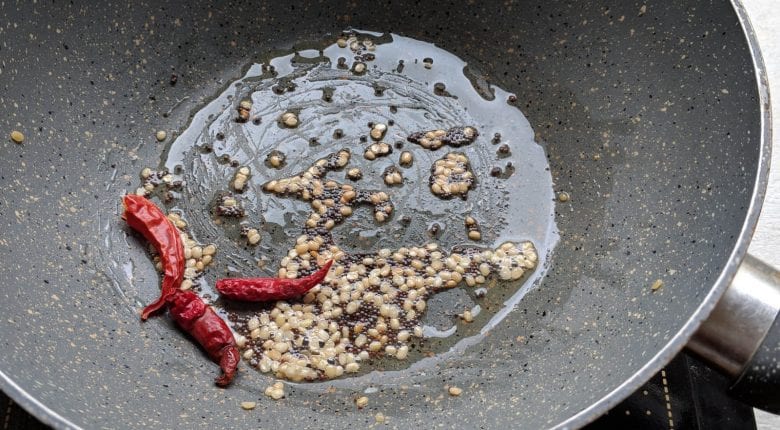 Step: 3/6
Add the curry leaves and fry for a few seconds.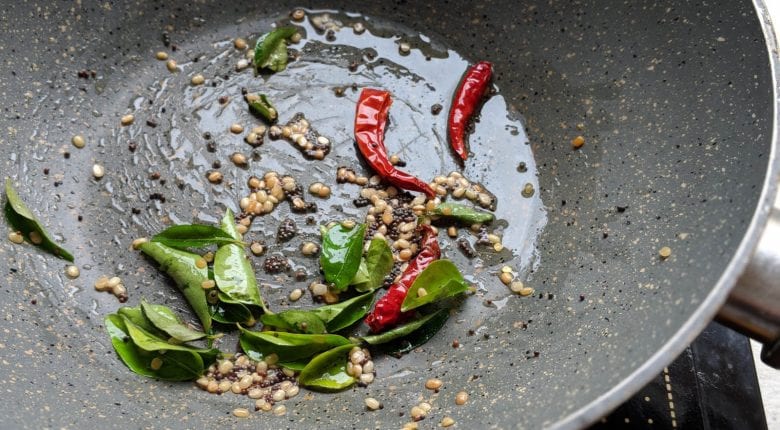 Step: 4/6
Now combine the chopped spinach along with the fried spices and herbs and toss on a high flame for 3-4 minutes until spinach is nearly cooked.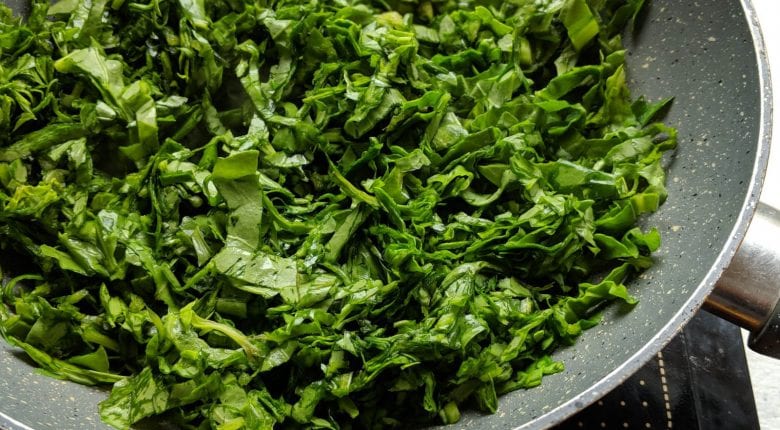 Step: 5/6
Season with salt and combine well.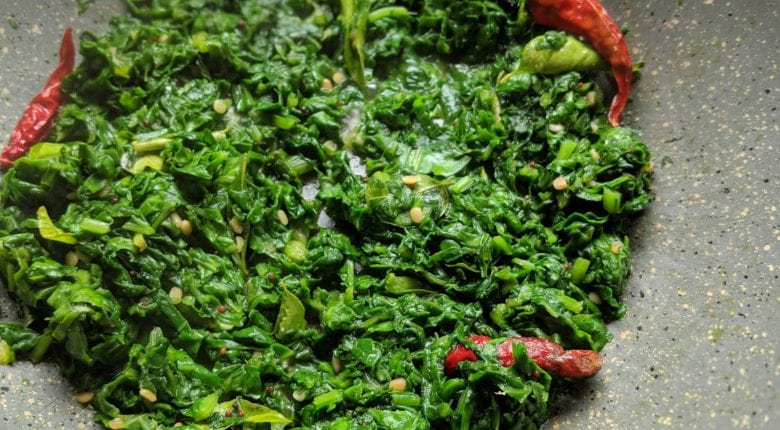 Step: 6/6
Remove into a bowl and garnish with fresh coconut.
Tip:
Grate a whole coconut and freeze it in an ice tray. Remove each of the cubes and save in a resealable bag in the freezer. This gives you instant access to fresh grated coconut for recipes such as this one.
You can also use frozen chopped spinach for the recipe.