My trip to London would have been incomplete without a visit to Borough Market. This popular market is a delight to everyone who loves food and more so to those who love to cook.
Borough market like most other markets provide a bounty of inspiration via the fresh produce and also the variety of dishes from different parts of the world that are available for tasting. I came across a stall preparing two large vats of seasonal vegan dishes, one of them being a mixed vegetable cassoulet, which turned out to be the inspiration for this recipe.
A cassoulet is traditionally a slow-cooked, meat heavy stew originating from the South of France. One of the main ingredient in a cassoulet is white beans. This vegan cassoulet recipe omits the sausages and other meat based ingredients. The vegetables and herbs play a strong supporting role in this dish. The recipe gets an Indian touch to it by way of a few spices that lend both colour and more flavour to the dish.
You can use either canned white beans or soaked and cooked dried white beans for this vegan cassoulet. Make your own versions by using herbs and spices of your choice.
The garlicky breadcrumb garnish with the added punch from smoked paprika gives the cassoulet its final flourish.
Serve this vegan cassoulet with plain steamed rice or millet, slices of crusty bread or creamy polenta.
Step: 1/9
Heat oil in a pan. On medium heat, saute the garlic, onion, carrot and spring onions for 5-7 minutes until somewhat softened.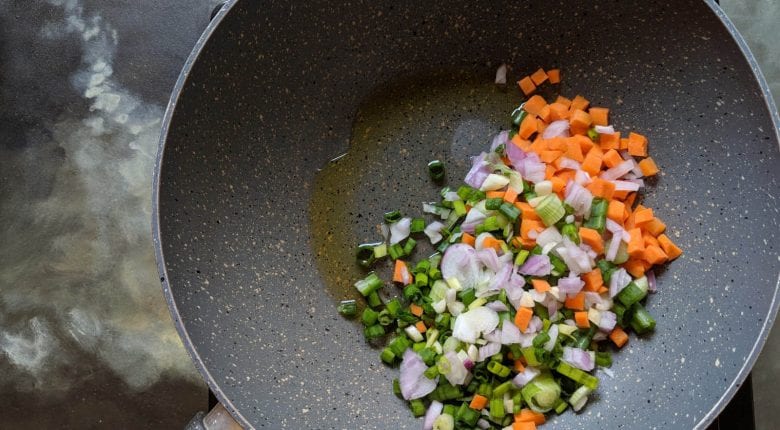 Step: 2/9
Add the bay leaves and fry along with the vegetables for a few seconds.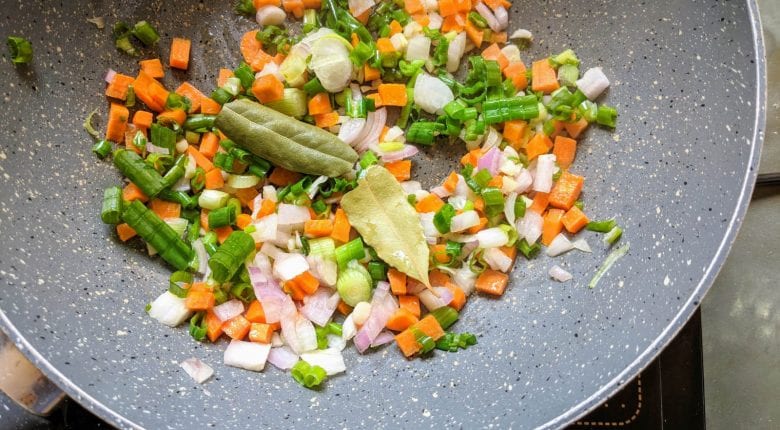 Step: 3/9
To this, add the oregano, turmeric, chilli powder, ground cumin and stock cube.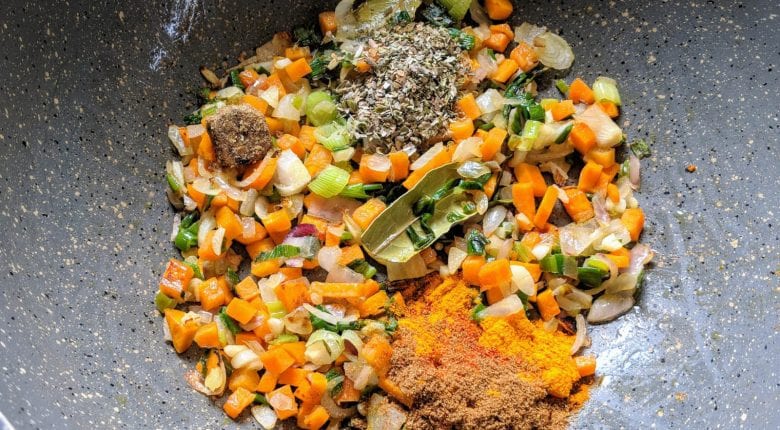 Step: 4/9
Add water to the pan and bring it to a boil.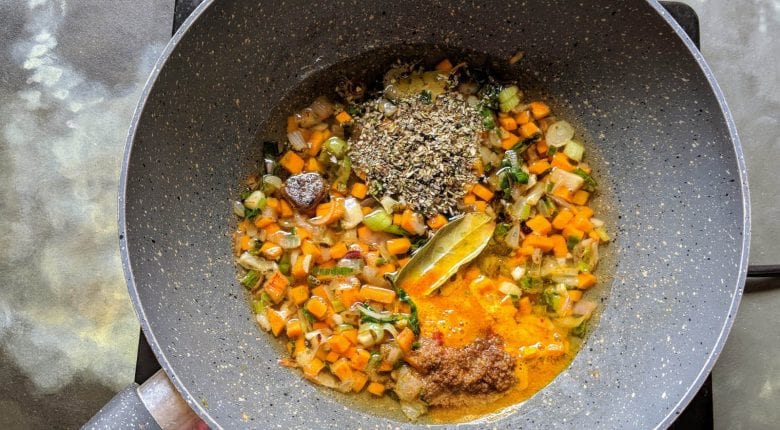 Step: 5/9
Combine the cooked beans with the rest of the ingredients in the pan and on a high flame, allow the stew to come to a boil. Reduce the flame, cover the pan and simmer for 10-12 minutes.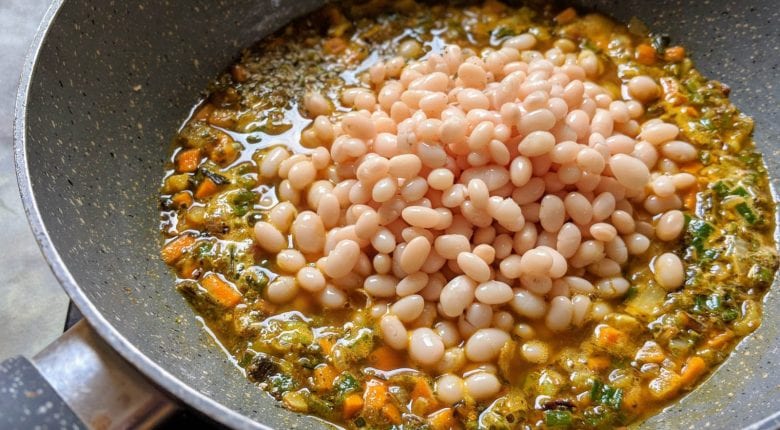 Step: 6/9
Mix in the tomato puree and simmer for 5 more minutes. Add some water to the pan if the stew is getting too dry. Check for seasoning and add some salt if required, factoring in that the cooked beans and the stock cube already have salt in them.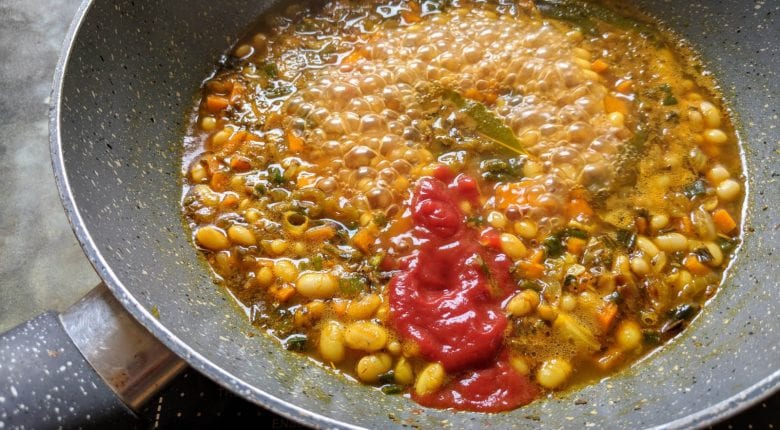 Step: 7/9
To prepare the garlicky breadcrumbs, heat the oil in a pan and combine breadcrumbs, garlic and smoked paprika.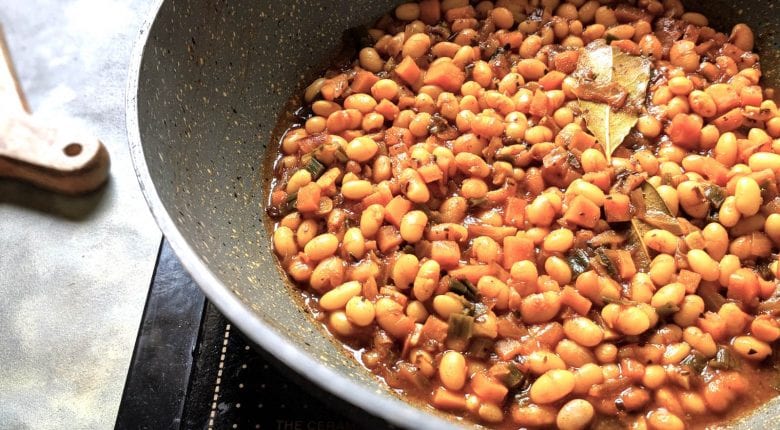 Step: 8/9
Saute on medium flame for 5-7 minutes until the breadcrumbs are golden brown and crisp.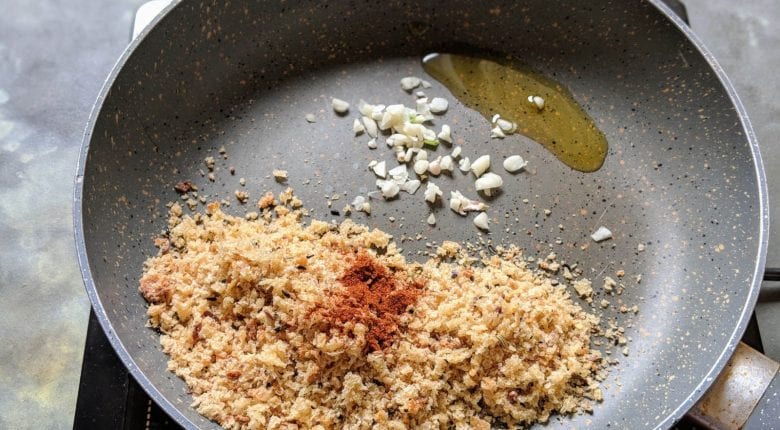 Step: 9/9
Remove the cassoulet into a serving bowl and top with crispy breadcrumbs.
Serve with rice or polenta.
Tips:
To cook white beans, soak dried white beans in plenty of water overnight. Drain the soaking water and wash the beans well. Place this in a pressure cooker or instant pot along with enough water to cover the beans. Season with salt and pressure cook for 2-3 minutes.
Any extra beans can be reserved in an airtight container in the refrigerator for use in salads or pasta.