In Indian cuisine, upma is a dish made using a pounded grain, such as cream of wheat (semolina / rava), coarse rice flour, beaten rice or vermicelli, not very unlike polenta in Italian cooking. It is mostly popular in cuisines of South and West India. The simplest version of upma is made by tempering chillies, mustard seeds and urad dal in oil, to which water is added and the roasted semolina cooked in this broth. Using a mix of vegetables adds colour and flavour to the dish. When topped with cashew nuts fried in ghee, this humble dish becomes worthy of a breakfast feast in Indian weddings.
Upma is add either for breakfast or for 'tiffin' time which typically accompanies the late afternoon tea or coffee in some Indian homes.
Step: 1/9
If you get pre-roasted vermicelli, toast it in 1 tsp ghee in a pan for 2-3 minutes until fragrant. If using plain vermicelli, then toast it for 6-8 minutes on a low flame until it turns somewhat golden brown (as shown in the picture) and fragrant. Remove this into a plate and keep aside.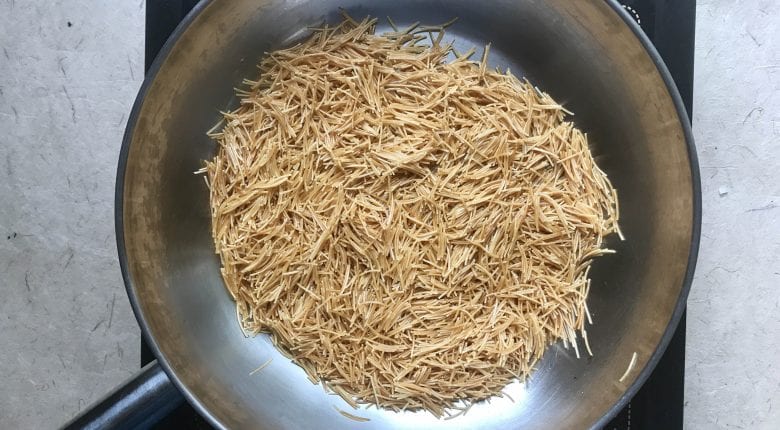 Step: 2/9
Peel and chop the carrot and onion into a fine dice.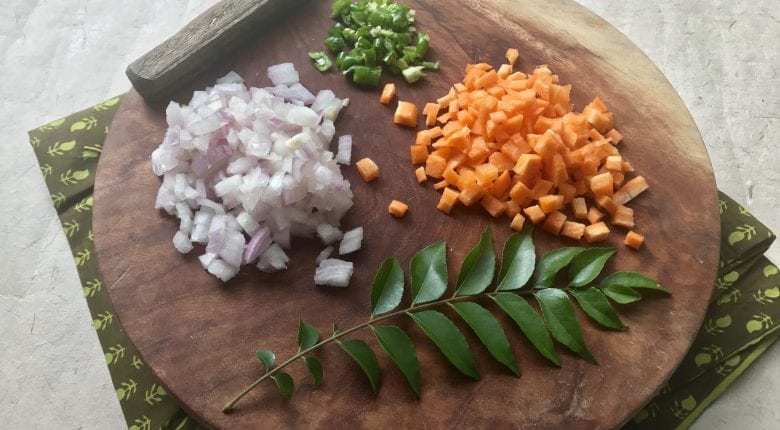 Step: 3/9
Heat the oil in the same pan. Fry the mustard seeds, urad dal, chillies, ginger and curry leaves until the seeds start spluttering and the lentil turns golden brown in colour.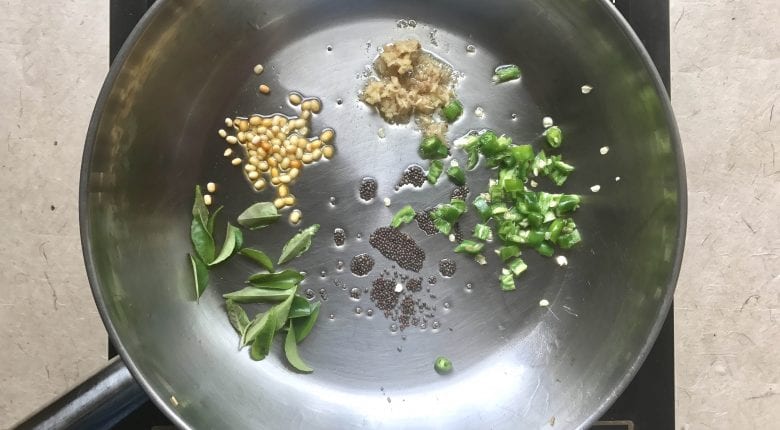 Step: 4/9
Add the finely chopped vegetables with a pinch of salt. Saute on a low flame for 3-4 minutes until onions are soft.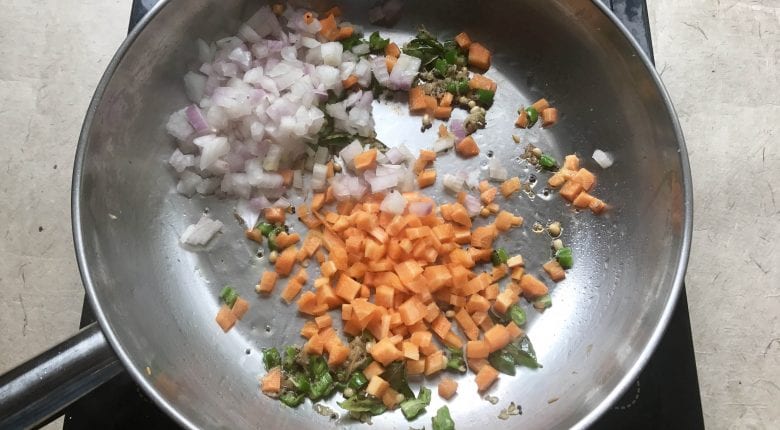 Step: 5/9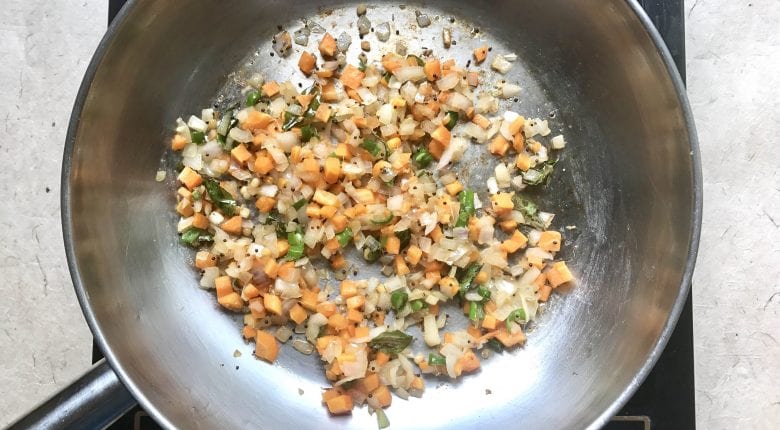 Step: 6/9
Meanwhile keep 3 cups of water to boil. Add 2.5 cups of this hot water to the pan, reserving the rest for later use if needed. Season with salt. Add the frozen peas.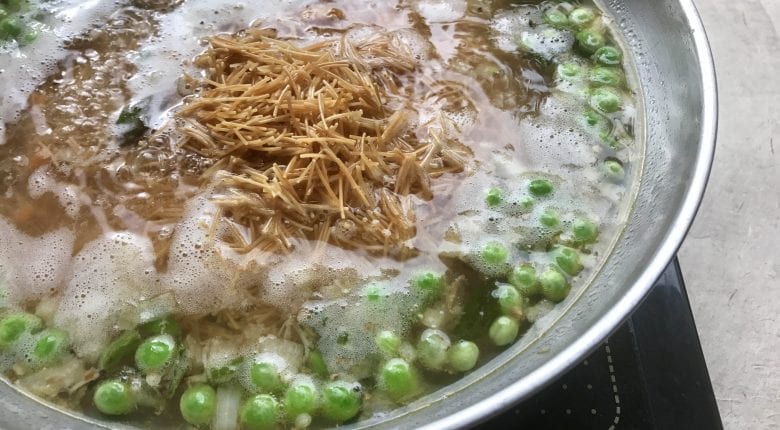 Step: 7/9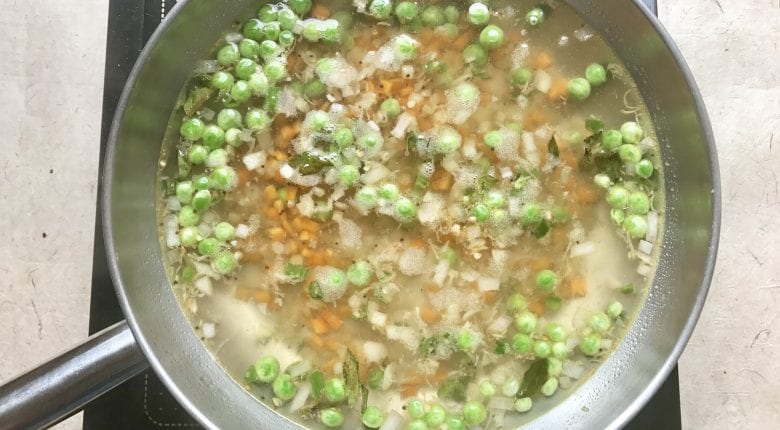 Step: 8/9
Stir through, cover and cook for 7-8 minutes until all the water is absorbed and the vermicelli is cooked and fluffed up.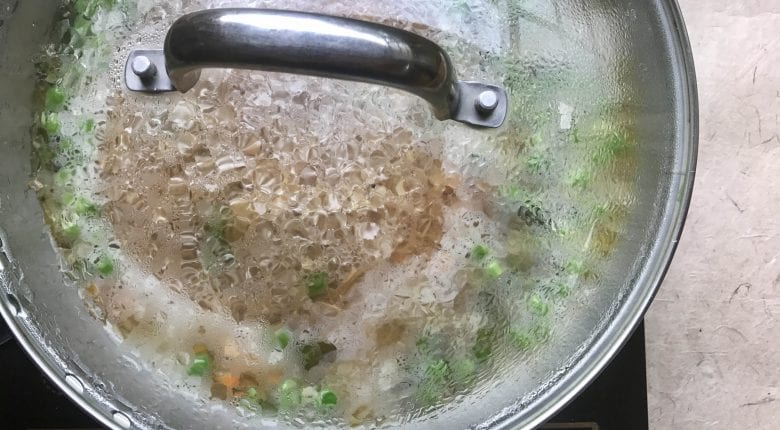 Step: 9/9
If required add a little more water if the cooked vermicelli is too dry. Remove from the stove. Garnish with coconut and fresh coriander leaves and divide between 2-3 plates.
Notes:
Vermicelli is easily available in Indian supermarkets.
This dish can be prepared overnight for a brunch menu and refrigerated, reserving the garnish to be added once reheated. Serve with coconut chutney and sambar.