BluPerformance is a new generation of freestanding appliances which offer increased net capacity, greater energy efficiency, enhanced performance, quieter operation, first-class design, and more everyday convenience. Simply put it has revolutionised the refrigerator and freezer market…
All BluPerformance appliances are extremely energy efficient, class A+++ or A+++/-20%; the A+++/-20% models actually surpass the threshold for the top energy efficiency class, A+++, by another 20%! BluPerformance also represents a new dimension in terms of food freshness and quality. Featuring premium-quality materials, perfect workmanship down to the finest details, superior convenience, and precise touch-electronic controls, this range of innovative appliances does not compromise in any way. All of the refrigeration technology is compactly integrated into the base of the appliance, thereby freeing-up far more space for food storage. This plinth-housed refrigeration technology, together with specially mounted compressors, help to make BluPerformance models particularly quiet during operation.
Ultra long-lasting freshness: BioFresh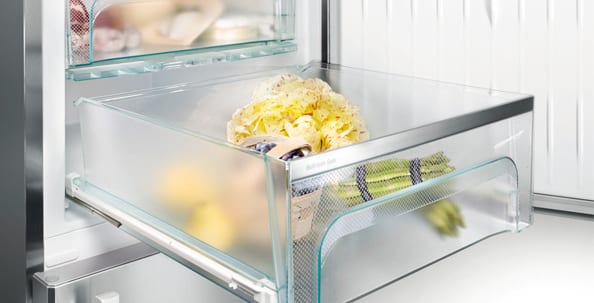 The BluPerformance BioFresh appliance generation comes with significantly larger BioFresh drawers. In Premium BioFresh appliances, all safes can be flexibly set as either a HydroSafe (with a higher humidity level) or a DrySafe (with a lower humidity level) via the humidity control panel. The illuminated BioFresh drawers are fully extendable, effortlessly opened and closed (even when fully stocked), and completely removable as required. Premium appliance BioFresh drawers are fitted with a self-retracting and soft closing mechanism. Integrated LED lighting, positioned in the BioFresh partition plate, provides perfect illumination of the drawers.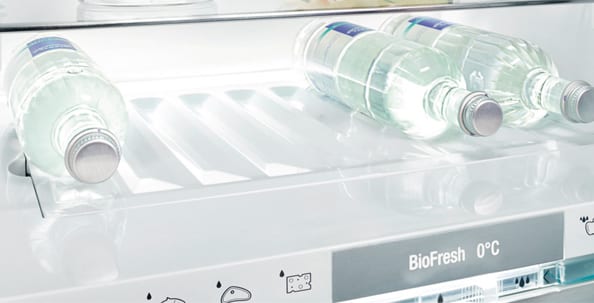 Design and interior Features:
When designing appliances, we follow the classic principle: 'design follows function'. The aim is to make our concealed, highly efficient refrigeration technology discernible through the external, overall design. Our timeless HardLine design with clear and minimalist lines ensures that these appliances are a visual masterpiece in any kitchen or living environment. The integrated door hinging underscores the sharp, premium-quality appearance; meanwhile, the ergonomically shaped lever handle corresponds to the design language of the new HardLine doors. Convenient and easy door opening is ensured by the opening mechanism that is integrated into the handle.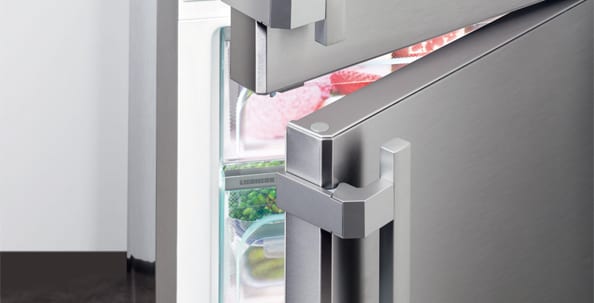 The interior offers a VarioSafe – the perfect storage solution for smaller food items, packets, tubes and jars – and premium quality GlassLine fittings, which facilitate a clear, organised overview of stored food. LED ceiling lighting provides homogeneous illumination throughout the entire interior. In Premium BioFresh models the BioFresh partition plate features integrated LED rear wall lighting which provides perfect interior illumination and wonderful presentation for food. The freezer compartment drawers are optimally illuminated from above via LED lighting housed under of the refrigerator compartment door. With the refrigeration technology integrated into the appliance plinth, there is no requirement for a condenser at the back of the appliance. Transport handles are integrated at the top of the appliance (rear side) to make moving and repositioning easier.
Electronics concept
BluPerformance premium fridge-freezers come with a high-resolution 7-inch touchscreen display integrated into the door. They offer maximum daily convenience with a large range of predefined programs and incredible ease-of-use. Information, energy saving tips and food storage recommendations can be readily accessed. According to requirements, up to six appliance functions can be simultaneously set up and displayed on the home screen for immediate access.
Additional functions can also be activated to reduce energy consumption. For example, the EnergySaver program slightly increases the preset temperature and the Holiday program raises the refrigerator compartment temperature to 15°C during prolonged absences, without affecting the freezer compartment temperature.
Activated charcoal filter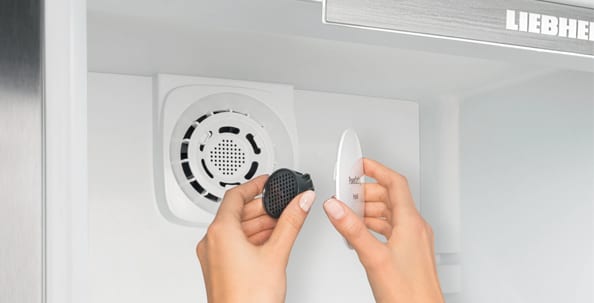 On all BluPerformance fridge-freezers and refrigerators, a FreshAir activated charcoal filter is integrated into the PowerCooling fan's housing. This cleans the circulating air and quickly traps contaminating odours to ensure optimum air quality. The electronic control panel features a convenient reminder function, which indicates when the filter needs changing.
If you have any questions about BluPerformance, please use the comment function below this post or start/join in discussions with us on Facebook.