If you've yet to discover the joys of wild garlic you are in for a fantastic treat this Spring. It's a great ingredient for foraging newbies as it has a distinct appearance and smell, and it's very simple to cook with while offering you fantastic new flavours in the kitchen. It is undeniably Katy's favourite ingredient of all time. Perhaps best of all, it costs a pretty penny at the farmers' market but it's free to pick yourself and a little goes a long way.
Wild garlic is in season here in the UK from late March until May. Here's what you need to know.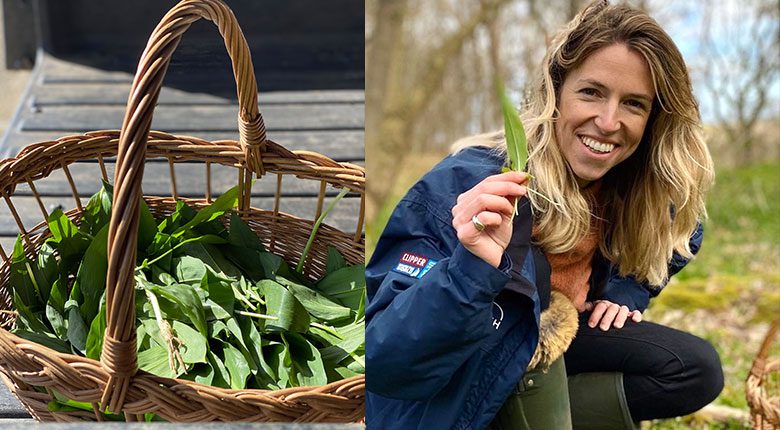 Wild garlic leaves are long, narrow, and evenly tapered; they range from 10-20 cm in length and 3-5 cm across. They are a beautiful vibrant, grass green and cover the ground like a thick carpet. They bloom with star-like white flowers which are also edible and make a very pretty garnish.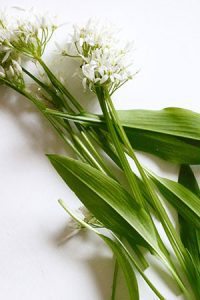 If in doubt, crush and rub a leaf between your fingers, it will unmistakably smell of pungent green onions, fresh garlic, and cut chives.
Wild garlic grows best in slightly damp, shady woodland areas. We often find it under oak trees or lining the edges of paths through the woods. Once you've found a patch you can return year after year as it's a hardy perennial and will always reappear in the same spot.
The stems are tender and it's easily picked with one's fingers though scissors make the process even easier. Bundle all your leaves together facing the same way, and gently roll them up in damp kitchen paper to store in the fridge for up to 5 days in the veggie draw and in a Liebherr BioFresh compartment, for up to 13 days.
Its fresh and vibrant pungency dulls a little with heat, so this wild treat is best enjoyed raw. Having said that, we love tossing any spare leaves through vegetable tray roasts for just a little spice! It can be rolled up widthways and sliced thinly into short ribbons to be stirred through sauces or tossed through salads. Here are some of our favourite ways to use it.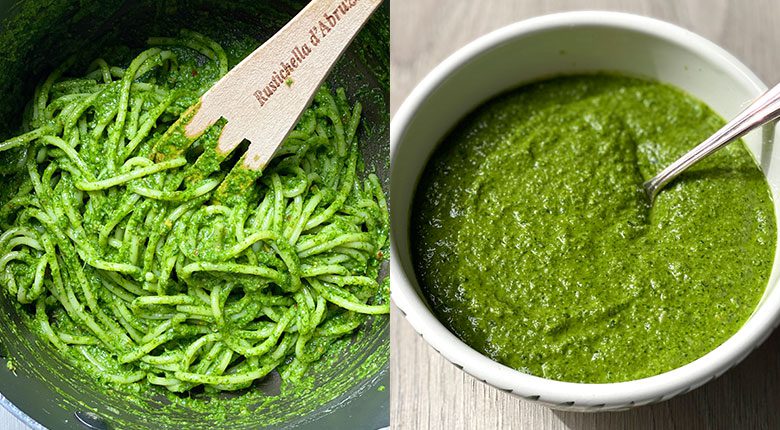 Wild garlic pesto spaghetti. Try whizzing up wild garlic leaves with lightly toasted pine nuts, grated parmesan cheese, a pinch of sea salt, and extra virgin olive oil. If you prefer your garlic flavour on the lighter side, cut the wild garlic with some fresh parsley or baby spinach. Alternatively, stir whole leaves through simple pasta dishes with roasted vegetables and lots of olive oil
In butter for steaks. Finely shred your wild garlic and stir this through soft, salted butter before rolling into a cylinder with some cling film and setting in the fridge. Adorn resting steaks with sliced rounds of your wild garlic butter before serving.
Wild garlic bread for pasta night. Make a wild garlic flavoured butter (see above) then use a bread knife to cut slices into a baguette that don't quite cut all the way through. Smear garlic butter in each crevice, wrap the baguette in tin foil, and bake in a moderate oven for 15-20 minutes until golden and crispy. Tear and share at the table.
Garlicy salsa verde for BBQs. Whiz up 2 handfuls of wild garlic leaves with a large bunch of fresh parsley, 2 tablespoons of baby capers, 2 tablespoons of cornichons, a teaspoon of Dijon mustard, the juice of 1 lemon, 2 anchovies, a pinch of salt, and lots of extra virgin olive oil. This will be fabulous with any grilled fish, lamb chops, or roasted vegetables.
Wild garlic champ. Stir shredded wild garlic through creamy mashed potato along with your sliced spring onions. This flavoursome and buttery – or olive oil-y – champ is the perfect accompaniment to roasted lamb in the Spring and Summer. Serve with a little wild garlic salsa verde too.
Wrapping fish before steaming/baking. Wrap lightly seasoned and oiled fillets of white fish in wild garlic leaves and secure with cocktail sticks if needs be. Either steam or bake the fish in a moderate oven until tender and serve with simple new potatoes and a green salad.