Celebratory, seasonal cooking does not get much better than this recipe! We feel certain that this creamy, punchy wild garlic lasagne will be a hit with the whole family. The sweetness of sauteed leeks give lovely depth, and mature cheddar cheese makes this ultra-satisfying. We promise there won't be a morsel left in the dish!
Pairing wise we recommend a young and vivacious Cabernet Franc – Katy's all-time favourite grape variety. We chose a 2020 Cab Franc from Veneto in Northern Italy which offered spicy raspberry notes, liquorice and green pepper aromas; green pepper – or other pyrazine aromas – are a real telltale note of a Cab Franc, which lend the wine a gorgeous savoury edge. Ours was a "natural wine" and had just the faintest hint of spritz which worked so well to keep the palate fresh and lively.
Prep time: 2 hours (to roast the chicken for both starter + main)
Cooking time: 50-60 mins.
This recipe serves 6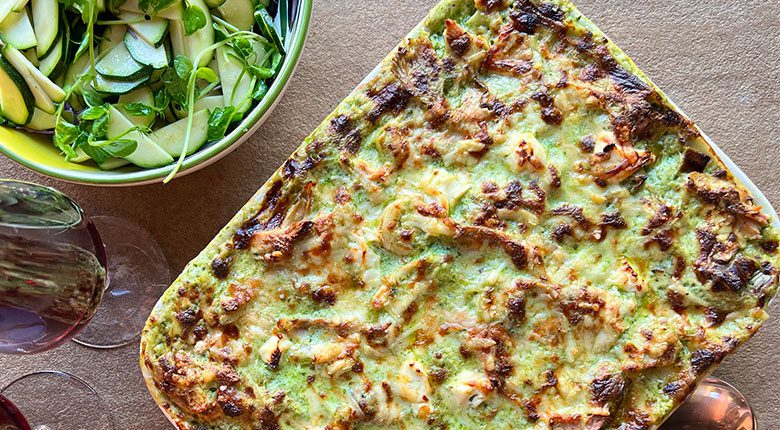 Ingredients:
For the lasagne filling:
40 g butter + 1 tbsp
40 g flour
1 litre whole milk, or goat's milk
24 wild garlic leaves (approx. 4 tbsp when finely chopped)
100 g strong cheddar
50 g parmesan
2 heaped tbsp cream cheese
600 g roast chicken
200 ml chicken jus
3-4 large leeks (650 g when chopped)
9-12 lasagne sheets
1 tbsp olive oil
2 tsp flakey sea salt
Method:
Both the starter and the main course in this feasting menu start with roasting the chicken. The crispy skin and golden chicken fat go into the Caesar salad starter, and the meat of the chicken goes into the lasagne. For both, you'll need to roast your chicken in advance.
Preheat the oven to 180 degrees. Pat your chicken dry with kitchen paper then slather with butter or olive oil – or a little of both! – and season generously with flakey sea salt. Sit in a snugly fitting tray and roast in the preheated oven. The cooking time is 15 minutes per 450g, plus an extra 20-30 minutes. Baste the golden fat back over the chicken at least once during cooking. Once cooked, check that the juices run clear when the thigh is pierced with a skewer. Allow to cool before carving.
Once your chicken is cool, peel off the skin and reserve for the starter. Pour all the roasting juice and fat into a measuring jug and set this in the fridge. Once cool, remove the fat and reserve for your starter, then measure your jus. If you don't quite have 200 ml, top up with water.
Top and tail the leeks then chop into 1.5 cm rounds. Heat a tablespoon of butter and a tablespoon of olive oil in a large non-stick frying pan and saute for 12-15 minutes, stirring often, until soft. Add a generous pinch of sea salt halfway through. Once cooked, allow to cool.
Next, make the white sauce. Gently heat your milk in a saucepan until hot but not boiling; meanwhile, melt your butter in a separate saucepan over a medium heat, and once melted add the flour and whisk. 'Cook out' the flour for 2 minutes, stirring constantly – this will do away with any raw flour taste. Add the hot milk a third at a time, whisking well between each addition to remove lumps. Season generously with salt and pepper, and cook your white sauce for a final 3-5 minutes, just until it thickens well and it's starting to simmer. Turn off the heat.
Grate the cheddar and parmesan, and very finely chop the wild garlic leaves.
Stir the chopped wild garlic, ⅔ 's of the grated cheese, 1 heaped tablespoon of cream cheese, and all the chicken jus through the white sauce. (Reserve 1 tablespoon of cream cheese and ⅓ of the grated cheese for the topping).
Assess the texture of your white sauce, it should be the texture of double cream. If you think it needs a splash of water to loosen, add this now. Allow the sauce to cool if you aren't cooking immediately after layering.
If you are cooking right away, preheat the oven to 180C.
Next chop or tear your roast chicken into bite-size pieces and weigh out 600 g.
Start layering things up in your chosen lasagne dish: sauteed leeks, chicken, white sauce, lasagne, repeat! This recipe will likely make 3 layers, but this will slightly depend on the size and depth of your dish, so continue layering until all the ingredients have been used up.
Scatter the remaining cheese and a few dollops of cream cheese on the top. Bake in a preheated oven for 45-60 minutes, or until it's golden and bubbling on top, and a knife can pierce through the pasta layers easily.
Allow the lasagne to rest for 10 minutes before serving. Serving the wine slightly chilled offers a really exciting temperature dynamic when paired with the piping hot lasagne.