The second I saw the orange Liebherr I knew instantly this was the perfect fridge/freezer for my new home.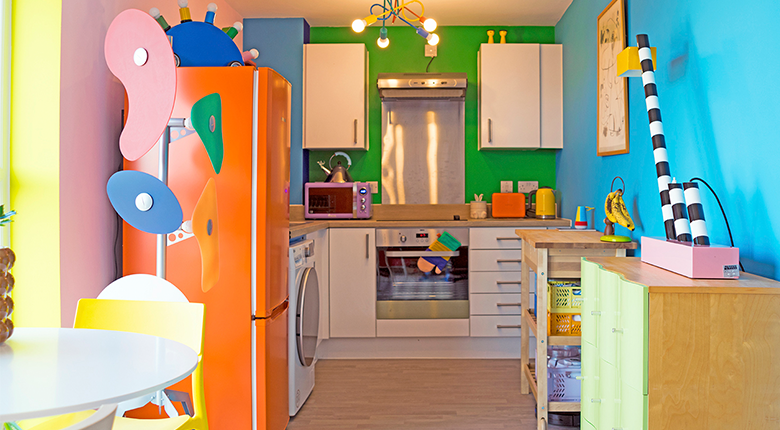 When artist Michael Pybus decided to leave London after 20 years for a change of scenery, his new home in the heart of Manchester, became quite literally a blank canvas.
Having held solo exhibitons internationally and featured in public and private collections, Michael's colourful and thought-provoking art focuses on our relationship with pop culure.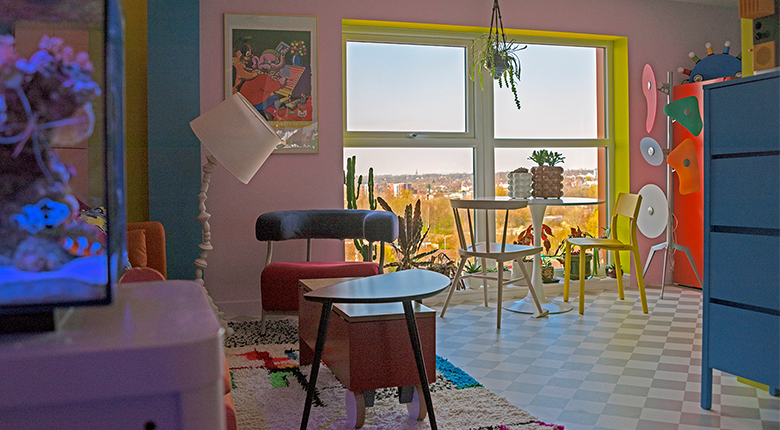 "This is a new build apartment in Manchester City center. I had been living in London for 20 years prior and a few months ago decided to relocate my home and studio to Manchester as I wanted a change in scene and really love this city."
Michael's new home is a 2-bedroom apartment on the top floor of an 8-storey building with far-reaching views across the north-west city.
"I treat my home design as an extension of my art practice."
Taking inspiration and visual direction from 8 bit video games played as a child, as well as other references like the 1997 IKEA catalogue, Lego, Nickelodeon and the postmodern design movent Michael has created a visually stimulating space to call home.
"Instead of painting the space in one colour I wanted to use a different colour on every surface to really draw attention to the space and have it shift from every angle as you move through it. I like to use colour to create flow and surprises in a space, so the orange fridge/freezer was perfect for this."
The outcome is a unified space of bold contrasting shapes and colours and this doesn't stop at the appliances too.
"Often appliances look like an afterthought in a room, functional but not complementary to the over all design of the room. The second I saw the orange Liebherr I knew instantly this was the perfect fridge/freezer for my new home. It is such an unusual colour and has a beautiful minimal aesthetic which announces itself confidently but doesn't overwhelm a space. It's has more of sculptural feeling to me rather than that of an appliance. I wish more companies were willing to push design boundaries like this."
All images in article provided by Michael Pybus and used with is permission. To find out more about his work visit https://www.michaelpybus.com/

To find out more about Liebherr's ColourLine range visit: home.liebherr.com,
Want to choose your own colour appliance to match your individual style? Why not customise your own, with the
Liebherr MyStyle range
.