One to make with the children – or just for big kids at Christmas! These pretty spiral cookies have all the colours and flavours of the season and make perfect gifts; either baked and wrapped or as a chilled roll ready to bake at home. They cook from frozen in 15-20 minutes so are perfect to keep in the freezer for unexpected Christmas visitors.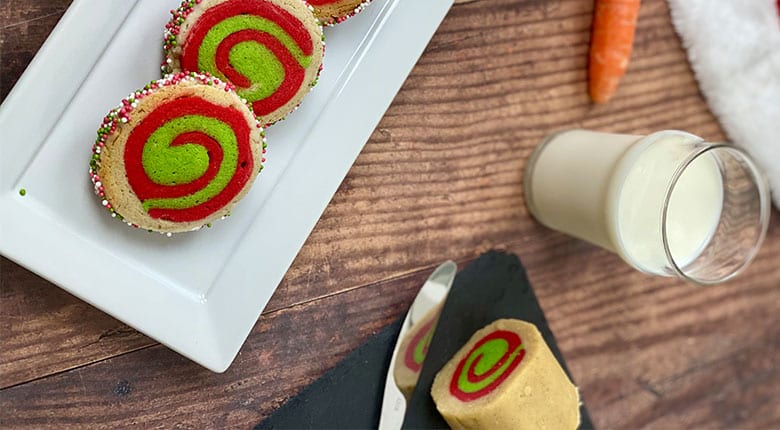 Prep time – 30 minutes
Chill time – 90 minutes
Bake time – 12-15 minutes
Ingredients for these Christmas biscuits:
300g plain flour
200g unsalted butter (softened)
120g icing sugar
1 egg
1 tsp vanilla extract
½ tsp ground nutmeg
½ tsp ground cinnamon
¼ tsp ground cloves
Red and green food colourings
Extra icing sugar and sprinkles to roll – optional
Method:
Cream together the butter and sugar, then add the flour, egg, sugar, vanilla and spices and mix to form a dough (very sticky at this stage!)
Split the dough into three and colour one-third red and one-third green. Chill for about an hour
Roll out all three doughs into rectangles approximately 20 x 15cm, trim the edges (flour lightly if too sticky)
Place the red dough on top of the green and roll to form a tight spiral
Wrap the plain dough around this cylinder and chill for 30 minutes
Pre-heat the oven to 180oC fan
Line a baking tray with greaseproof paper
Cut dough slices approx. 5mm thick and spread out on the baking tray
Bake for 12 minutes, until golden around the edges, cool on a rack
Make a thin icing by combining 2 tbsp icing sugar with a little water and roll the edges of the biscuits in this before rolling them again in the sprinkles.
Best served on a tray with a carrot and glass of milk on Christmas eve!