On bleak January – or Veganuary – evenings we crave the most colourful and flavoursome food imaginable. Dishes to warm the heart and soul with a powerful whack of spice and heat to put a little fire back into our bellies. Dishes that feel deeply nourishing and ultra comforting. And dishes best eaten with a spoon while sitting on the sofa.
This West-African inspired peanut stew ticks all those boxes. It's incredibly flavoursome with no less than 8 spices (!); once toasted and cooked out gently these spices all hang together in happy balance with some warmth from chili and the creamy goodness of peanut butter. The fat content of the peanut butter combined with the plant-based protein of the carlin peas will leave you feeling extremely content.
Sweet potato and black eyed peas are more traditional than squash and carlin peas here, but these are what we had to hand at the time of writing and they worked really well. In reality any sweet orange root veg will work well, as will most pulses. Serving this stew with brown rice makes it go further, but it's delicious and nourishing served on its own as a chunky soup.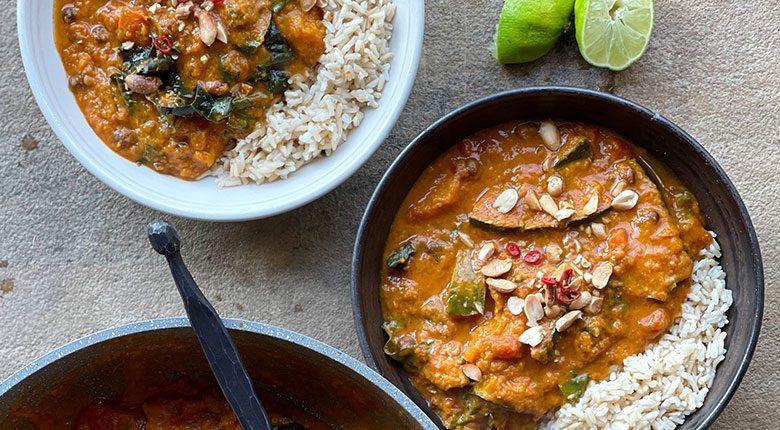 This soup is fabulous served with some corn chips, or even brown rice if you're looking to boost it out a little, and any leftover soup will freeze perfectly.
Prep time: 15 mins
Cook time: 55 mins
Recipe sufficient for 4 servings.

Ingredients:
Paste:
2 onions
4-6 cloves garlic, depending on size
1 scotch bonnet chillies (or 1 tsp dried chilli flakes)
2 thumbs ginger (or 2 tsp ground ginger)
3 tsp coriander seeds
3 tsp cumin seeds
1 tsp ground fenugreek
1 tsp ground turmeric
½ cayenne pepper
½ tsp paprika
½ tsp cinnamon
1 tsp flakey sea salt
Soup:
2 tbsp cooking oil
2 tbsp tomato puree
500 g squash or sweet potato
1 tin black eyed beans, or carlin peas
1 tin chopped tomatoes
80g peanut butter
500 g water or veggie stock
1 tsp flakey sea salt
400g chard, spinach or kale
To serve:
wholegrain rice
1 lime
2-4 tbsp toasted peanuts
2 tsp chilli flakes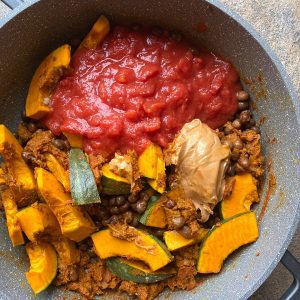 Method:
Start by making the spice paste. Dry-toast the cumin & coriander seeds in a small frying pan over a medium heat just for 1-2 minutes, or until fragrant. Grind in a pestle and mortar.
Peel and chunky chop the onions, then combine all ingredients for the spice paste, including the ground cumin and coriander, in a nutribullet or small jug blender and whizz until smooth. If you need to add a splash of water to enable it to blend, add it a tablespoon at a time using as little as possible.
Heat 2 tbsp of oil in a large heavy-bottom saucepan over a medium heat, then fry off the spice paste for 10-12 minutes, stirring often until it has darkened slightly and appears much drier. The spice mix may stick so keep an eye on the pan as you prep the other ingredients.
Halve the squash and discard the seeds then chop into even sized chunks roughly 1 cm by 3 cm, or thereabouts. Wash your greens and shred into 1 cm thick ribbons. Drain and rinse the beans.
After 10-12 minutes add the tomato puree, prepped squash, beans, tinned tomatoes, peanut butter, 500 ml of water and 1 teaspoon of flakey sea salt. Stir things well and bring to a simmer over a gentle heat; once simmering set a time for 30 mins and pop on the lid.
Stir the stew halfway through cooking.
After 30 minutes add the shredded chard, spinach or kale, stir, and continue cooking your stew for 5 minutes just to wilt the greens.
Serve in warmed bowls, perhaps with some brown rice, topped with chilli flakes, a squeeze of lime, and some toasted, salted peanuts.
Enjoy!