Mulligatawny is a charmingly old-fashioned soup, an Anglo-Indian recipe created during the British Raj. Today many different versions of this soup exist, each delicious in its own way. Some are thickened with rice, others use 'masoor dal' – split red lentils. This vegan parsnip soup recipe uses some English grown fava beans as they were what we had in the cupboard. It's very comforting and flavoursome and packed with heady spices, plant-based protein, and plenty of 'hidden' veg.
We've used lots of parsnips here; with their sweet nutty flavour and hearty texture, parsnips are perhaps our favourite veggie in the depth of winter. And to counteract their sweetness we've balanced things with the sharp tang of a Bramley apple. This recipe makes 4 servings and will freeze perfectly.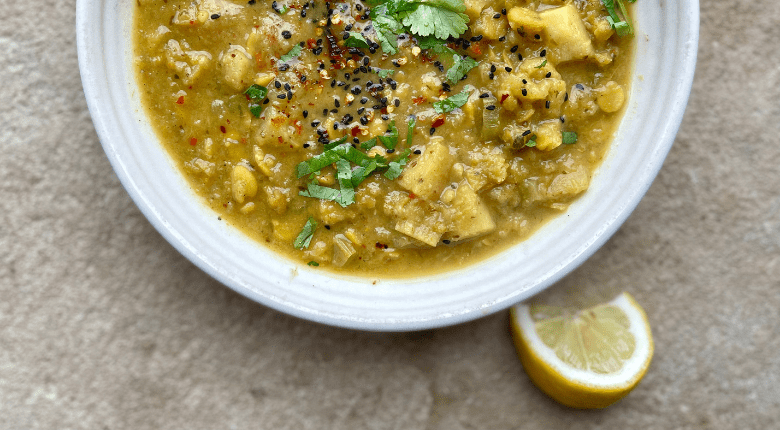 Prep time: 10 mins + 2 hrs soaking time
Cook time: 65 mins
Recipe sufficient for 4 servings.
Ingredients:

200g split fava beans
3 tbsp coconut oil
1 large onion, finely sliced
2 celery stick
2-3 parsnip ( x g once de-cored and chopped)
1 large bramley apple (180 g once peeled and chopped)
4 garlic cloves, crushed
2 thumbs fresh ginger
1 red chilli
3 heaped tsp Madras curry powder
½ tsp cayenne pepper
1 ½ tsp cumin seeds
1 ½ tsp coriander seeds
2 tsp flakey sea salt
1.25 l good-quality chicken stock (or vegetable if preferred)
Small bunch of coriander, roughly chopped, to serve
½ lemon, to serve

Method:
Start by soaking the fava beans in a generous amount of water for 2 hours at room temperature.
Finely slice the onions into thin half-moons, then heat the coconut oil in a large heavy-based saucepan over a medium heat. Fry the onions for 8-10 minutes, stirring often, until soft and translucent.
Meanwhile, thinly slice the celery, and de-core and dice the parsnip into small cubes. If fruit and veg is organic we don't peel it but do whichever you prefer.
After 10 minutes add the celery, parsnip and 1 teaspoon of salt and continue frying for 5 minutes.
Meanwhile, dry toast the cumin and coriander seeds in a small saucepan over a very low heat for 1-2 minutes or until fragrant. Grind in a pestle and mortar.
Mince the garlic and the ginger using a microplan, and finely dice the chilli.
After 5 minutes add the garlic, ginger, curry powder, cayenne pepper and ground cumin and coriander. Stir well and allow these ingredients to mingle over a medium heat for 5 minutes.
Drain the split peas and rinse well under cold running water until their cloudy water runs clear. Add these to the saucepan along with 1 teaspoon of flakey sea salt and 1.25 litres of water. Bring everything to a gentle simmer over a low/medium heat, and once simmering, pop on the lid and set a timer for 50 minutes. Stir a few times during cooking.
After 50 minutes remove the lid and give things a stir. Add the diced apple and continue cooking for 15 minutes, stirring occasionally.
Allow the soup to stand for 10 minutes before serving, they enjoy from warmed bowls, sprinkled with a little chopped coriander and a squeeze of lemon if you wish.