Wine & Cheese Pairings: CHEESE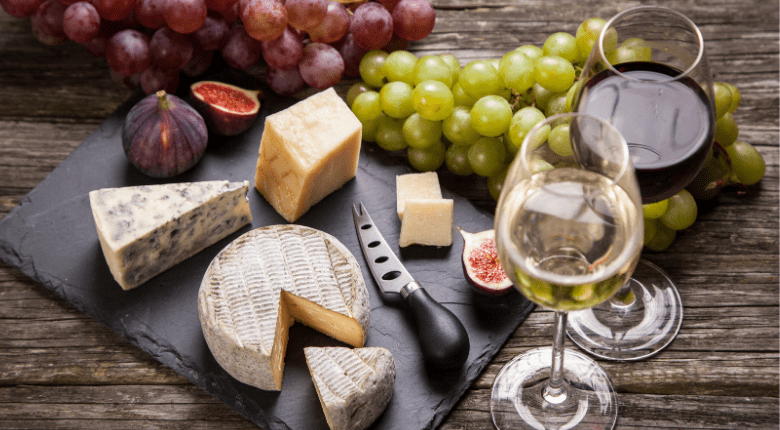 Oh boy, I love cheese. I was fortunate to receive excellent hands-on training at New York City's famed Murray's Cheese, the largest artisan cheese retailer in the United States. I began my tenure as an apprentice in their custom affinage facility. Affinage is the art of ageing cheese, an affineur is a person who ages cheese. The facility was called the cheese caves – a temperature and humidity controlled environment designed for the various styles of cheese, essentially mimicking a true cave environment! The head affineur was our Cavemaster (greatest job title I've ever heard. When I started our Cavemaster was a single fella and took full advantage of his business card!). My title would have been cave slave! Along the way, I found many correlations between Wine & Cheese, one of which was sanitation! With both, it's paramount to keep the good stuff in and the bad stuff out. I spent hours scrubbing shelves and cave walls, but eventually got my hands on the cheese.
I've estimated that across my time in the caves, and then the cheese counter as a monger (an expert who sells) where I had over 400 cheeses at hand on any given day – I've personally touched upwards of a million individual pieces of cheese in just a few years! Ultimately I took over their education department where I taught full-time. From mozzarella stretching to butter-making, beer & cheese, tea & cheese, spirits & cheese, cocktails & cheese, chocolate & cheese – it was a diverse curriculum – you name it, I've paired it with cheese!
The most popular courses, not surprising really, were the Wine & Cheese pairing courses. Sparkling, Whites, Reds and beyond, your options are endless. From these experiences, I am thrilled to share some of my favourite wine and cheese pairings with you today.
There are a few important principles when it comes to pairing with cheese – and the most important is BALANCE. You want these pairings to be equally matched – the stronger the wine or cheese, the stronger it's counterpart should be. Balancing fat and acid – the richer the cheese, the more acid you need in the wine. And balancing the tannins and protein – we'll dig into that with our red wine pairings below.
A good rule of thumb – if it grows together, it goes together. A Spanish wine has a high likelihood of pairing successfully with a Spanish cheese! (Assuming you don't forget about BALANCE.) These things share terroir – a sense of place!
Everyone's palate is unique – the parts of your brain that process flavour are closely related to the parts of your brain that manage memory and emotion – literally what makes you, you! So with that said, it's worth noting that wine pairing is tricky business! The following pairings are simply my humble suggestions, along with my reasoning for pairing them. I encourage you to try experiments like these on your own! When it comes to pairing – rules are meant to be broken.
Champagne & Langres
Langres is a famous cheese from the Champagne region, and they are inextricably linked. Note the indent or punt in the top of the cheese? This funky, washed-rind, cow's milk cheese is best served at room temperature with a splash of Champagne on the top. The result is runny, gooey, rich, stinky-cheese decadence. And with each sip of the bright acidic bubbles, your palate is refreshed and left wanting more.
PRO-TIP: Also try with English Sparkling wines!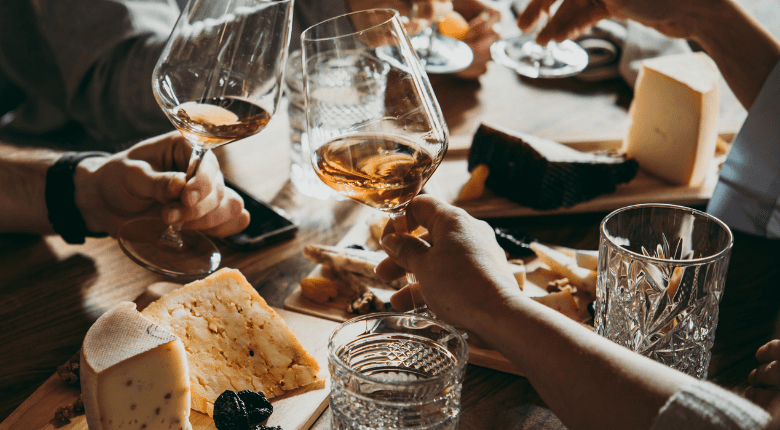 Riesling & Triple Creme (Brillat Savarin, La Tur, etc..)
Riesling is, hands-down, one of the most versatile food-pairing wines. And it sings with cheese! A triple or double crème cheese is defined by the content of pure butterfat in the solid matter of the cheese. The former boasts 75-83% butterfat! Above 83% and you're just eating butter! Give me butter and just back it off a notch! Needless to say, these cheeses are rich. And so for balancing that richness, we need acidity, and riesling has acidity for days! Most rieslings have a touch of residual sugar, which unlocks the riper fruit characteristics in the wine. The stone fruit flavours in the wine are bolstered by the rich cream and salt from the cheese. The pillow-y cloud-like rind of the cheese has a ton of flavour and can bring a bit of mushroomy flavour to the mix. The combination of the two makes the prospect of eating way too much cheese a real threat.
Grenache & Comté
Comté is quite possibly my favourite cheese. It's an alpine-style cheese in the same category as it's swiss counterpart Gruyère and cousins L'etivaz, Beaufort, Appenzeller & emmentaler. The curd of these cheeses are cooked, caramelising milk sugars and yielding a spectrum of flavours from fruit & grass in its youth, to nutty to umami-driven meatiness. I recommend you explore Comté from 9 months (a likely average age for your supermarket Comté) all the way up to 36 months and beyond. The cheese really thrives when paired with red fruits – think summer strawberries, cranberries, red currants, and cherries. So I look to red wines that lean closer to these fruits than wines that lean into more black fruit characteristics. The cheese isn't as strong as let's say a blue or the really feety washed-rind cheeses, so I think a medium-bodied Grenache ticks all the boxes. Try something from the Barossa Valley, or a nice Grenache-driven cotes-du-rhone. Or, if you're trying to lay off the sauce – just go to town on it with a jar of fruit preserves!
PRO-TIP: Dan's favourite is 18 month aged Comté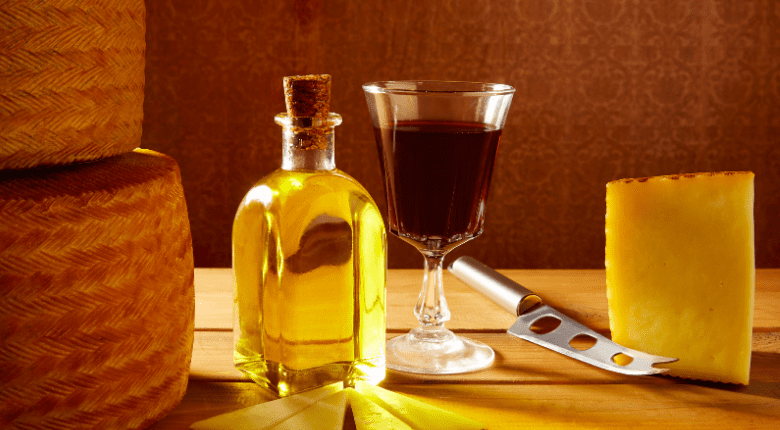 Rioja & Manchego
When it comes to red wines with tannin – the compound that dries out your mouth and leaves you with that scratchy cat-tongue sensation, it's important not to pair with a mouldy cheese. You'll be doubling down on that earthiness – kind of like licking the floor of your grandmother's basement. So look to cheeses that don't rely on mould for flavour – like Manchego! Tannin is a compound that binds to protein, and there's a lot of protein in your saliva, so the wine grabs all your lubrication and takes it down with the wine. Look to cheeses with higher fat and protein content – mainly, sheep's milk cheeses! In the hierarchy of fat and protein you start with the lightest – goat, then cow, higher up sheep, even higher up water-buffalo, making for very rich cheeses! Rioja works with both a lot of skin-contact with tannic grape varietals (giving that deep colour), and lots of oak ageing – both sources of tannins in the wine. Have you ever noted that Manchego gets sweaty at room temperature? Don't be turned off – that's just the good clean butterfat getting its jive on. If there's ONE THING you should take from this article – EAT THE SWEATY CHEESE – it means it's at the perfect temperature for you to enjoy all the good flavour it has to offer.
White Port & Blue
This is my favourite 'contrasting' pairing – we're working with the juxtaposition of sweet and spicy and sweet and salty – a joyous wild ride for your palate! I choose white port because it tends to be a bit drier and acidic than your standard tawny, and unleashes beautiful tropical fruit notes with your piquant peppery blue. Try the classic Colston Bassett Stilton. You won't regret it. This is also a distinctly British pairing. The Brits responsible for putting port on the map (literally) as they noted it's ability to travel due to its fortified alcohol content. Buy the blue by the crock, take a scoop out, splash in some port and seal it back up for 24 hours, magic awaits.
PRO-TIP: Go off the beaten path with your port producers! Try Quinto do Infantado or Barros.
***
Dan Belmont, AWE (American Wine Expert, WSET L3) is Liebherr's UK Wine Ambassador, and the proprietor of https://www.goodwinexgoodpeople.com/
We're UK's only online retailer dedicated to personalised wine selections on-demand! We pair wines with YOU – for your palate, your meal, moment or mood. Choose your pack size, choose your price level and answer just a few simple questions that help us get to know you, your wine preferences and needs. No wine knowledge required! Seasoned wine educator Dan Belmont does the heavy lifting, choosing your wine selection and writing your personalised tasting notes.
Seeking the right wines for these pairings? Dan can help! Simply note which cheeses you'd like to pair with in the notes when you order your Personalised Wine Selections and we'll make sure you reach pairing perfection!
We also offer limited edition collections that include an exclusive video greeting from one of the featured winemakers as well as digital gift cards for that (very) special someone.