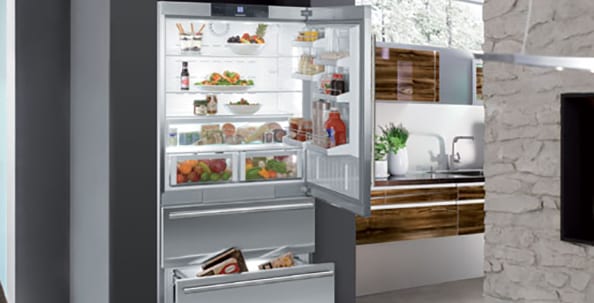 Interior Design highlighted our CS2060 as their #DailyProductPick on Saturday, May 14th and we thought we'd tell you a little bit more about this fantastic unit.
The 36¨ single door refrigerator CS 2060 offers nearly 20 cubic feet of capacity allowing it to hold a substantial amount of groceries while meeting all food storage demands. The products expansive and uninterrupted shelving easily accommodates over-sized platters and containers. The spacious upper drawer serves as the perfect space for keeping meats, cheeses and dairy. Two additional deep drawers are ideal for conveniently storing fresh fruits and vegetables. Gallon holders and additional storage racks permit space for all sizes of beverages and sauces to maximize use of space. The self-closing double freezer drawers feature well-appointed and easy grip stainless steel handles for a contemporary look as well as ease of use.
DuoCooling and SoftSystem
The DuoCooling dual refrigeration system creates optimal conditions in both the refrigerator and freezer which lengthens the shelf life of food items for a healthier lifestyle. This technology also preserves the flavor and texture of foods since there is no transfer of unwanted air, moisture or food aroma between the two compartments.
Unique to Liebherr is our patented SoftSystem, ensuring that the door closes gently, even when fully loaded. Plus the door opening angle can be reduced to 90 degrees allowing for more design options within kitchen décor.
View or Download the Product Folder (PDF Format):
CS 2060 Product Folder