Minestrone is an easy-to-make vegetable soup that can be adapted to the season and according to the ingredients that you have in the fridge. There are all sorts of versions ranging from a hearty, stew-like dish that incorporates beans or cereals (e.g. hulled wheat or barley) to a light, thin soup.
As many people prefer to avoid onions, I am introducing you to an onion-free recipe today –one that uses leek and celeriac to give the dish a similar heartiness, yet with a more subtle flavour. You can adapt the soup's consistency to your personal taste by varying the amount of stock used. As you will see, the vegetables are added gradually, according to their respective cooking times, so I would recommend that you wash and chop up all of the vegetables beforehand so that they are ready for when you need them.
Minestrone is always prepared in large quantities. It can be kept in the fridge for two to three days, and in the freezer for one to two months. All you need to do for a tasty meal that's ready in minutes is to reheat the soup in a pan. If you have frozen your minestrone, allow it to thaw in the refrigerator before reheating.
Served with croutons, minestrone soup is perfect for those cold days when we long for the warming cosiness of a piping hot dish. And, it's also a colourful feast that's a real treat for the palate when served warm or cold as a light, fresh summer dish!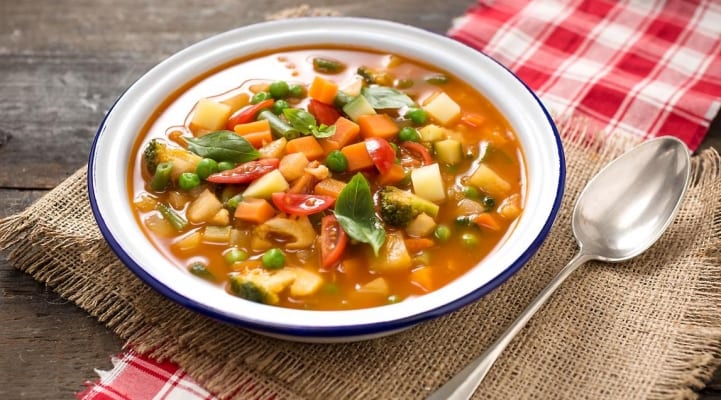 INGREDIENTS
To serve 6 – 8
8 ml extra virgin olive oil
1 bay leaf
50 g leeks
150 g carrots
80 g celeriac
4 g natural salt
250 g yellow potatoes
60 g green beans
90 g cauliflower
80 g fennel
100 g courgette
70 g white cabbage
330 g passata or cherry tomatoes
650 – 800 ml vegetable stock
80 g broccoli
100 g fresh or frozen peas (according to season)
10 (small) basil leaves
10 baby spinach or spinach leaves
Optional: fresh tomatoes and fresh basil to garnish
PREPARATION
Wash and prepare all the vegetables.
Peel the potatoes and celeriac; cut all of the vegetables into small, uniform cubes (0.5 – 1 cm max). Weigh out your prepared vegetables, as required.
Make sure that the cubes of the hardest vegetables – those that will take longest to cook – are of similar size. In our case, this means the carrots, celeriac and potatoes.
Since the potatoes and celeriac oxidise easily, chop them up last or store them cubed in the fridge until you are ready to use them.
Heat the oil in a large saucepan or pan. Add the bay leaf, leeks, carrots, celeriac and salt; sauté over a medium heat for 3 minutes, carefully stirring with a wooden spoon.
Add the potatoes and sauté for 3 more minutes, stirring frequently to prevent the vegetables from sticking to the base of the pan.
Add the cauliflower and fennel; sauté for another 2 minutes, again stirring regularly.
The various vegetables are added gradually depending on their cooking time.
Add the beans and cook for another 2 minutes.
Add the courgette and white cabbage; cook for 2 more minutes, carefully stirring with a wooden spoon.
Add the tomatoes, stir and cook for 2 minutes.
Pour in the vegetable stock and simmer over a medium heat for 20 minutes. If you prefer your soup slightly thicker, reduce the amount of stock by 100 – 150 ml.
Add the broccoli florets and peas, stir in and simmer for 5 more minutes.
Remove from the hob and add the spinach and basil leaves. Season with salt and pepper to taste.
Give all of the ingredients a good stir. Garnish with pieces of fresh tomato and basil leaves, if desired, and serve immediately.
Like most soups and stews, minestrone tastes even better when left to steep overnight as the flavours infuse and become more intense.
Serve the minestrone with croutons if you want a more filling dish or season it with fresh chilli peppers or ground pepper if you like more of a kick. A teaspoon of raw cold-pressed olive oil, linseed oil or sesame oil drizzled over the served soup (not while it's still cooking!) will give you an additional boost of Omega 3 and Omega 6 fatty acids, as well as vitamin E.
Buon appetito!
Fran Bettoni