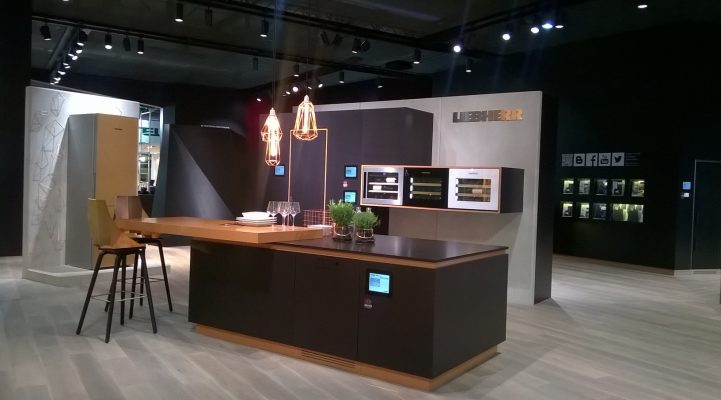 Liebherr showcased its latest design trends at EuroCucina 2016 in Milan this year. Refrigerators in copper and carbon finishes, as well as the new BluPerformance appliance series were in the spotlight.
From its impressive, brand-new exhibition stand, Liebherr provided a unique insight into its exciting new products, current trends, innovative design, and lifestyle solutions. Centre stage at EuroCucina was Liebherr's latest range of built-in refrigerators and freezers, which gave an amazingly contemporary feel to modern kitchens.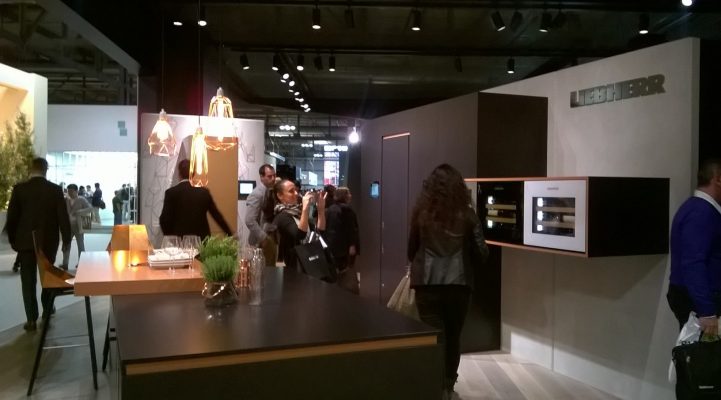 Two stylish new wine storage cabinets designed for installation in 45-cm furniture niches – the WKEgw 582 and WKEgb 582 – were exhibited. Available in cool white or elegant black, these chic appliances feature reflective fronts, manufactured using back-printed glass. This material lends the appliance an elegant visual appeal, and it provides a surface that is both particularly easy-to-clean and scratch resistant. With modern TipOpen technology these cabinets integrate perfectly into handle-free kitchens and are a real design highlight.
Introduced on-trend copper and carbon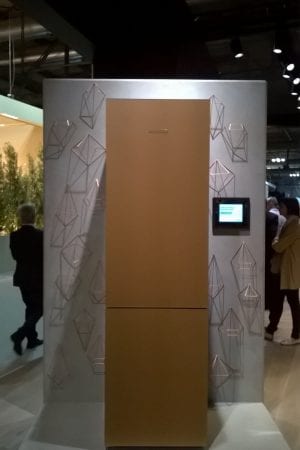 As part of its "CoolVision" design studies series, Liebherr regularly presents alternative and in vogue surface concepts. At EuroCucina, Liebherr unveiled appliances in two new trending materials: copper and carbon. Copper is currently celebrating a big comeback in the lifestyle sector, finding expression in both the worlds of fashion and interior design. Copper communicates warmth, whilst conveying elegance and quality. In the home, the warm accents of this high-quality metal bring stylish design right into the heart of the modern living context. Copper is a versatile and highly workable material and is, quite simply, the perfect partner in a contemporary setting. Depending on how it's finished, copper radiates a spectrum of unique shades and colour nuances. And, whether present as a central or discreet decorative element, copper confers brilliance and sophistication, and is timeless and exquisite.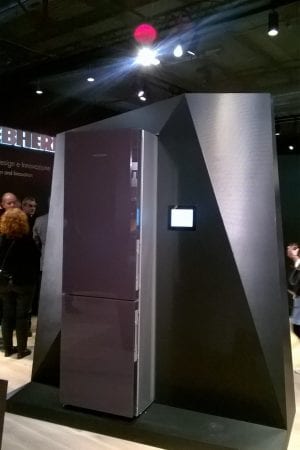 Carbon is another sophisticated and premium-quality working material. Carbon has long been associated with technology and high-end design; carbon communicates consummate form, it emphasises performance and precision, and it lends an element of visual elegance to any modern living space.
BluPerformance: more usable capacity, higher efficiency, greater convenience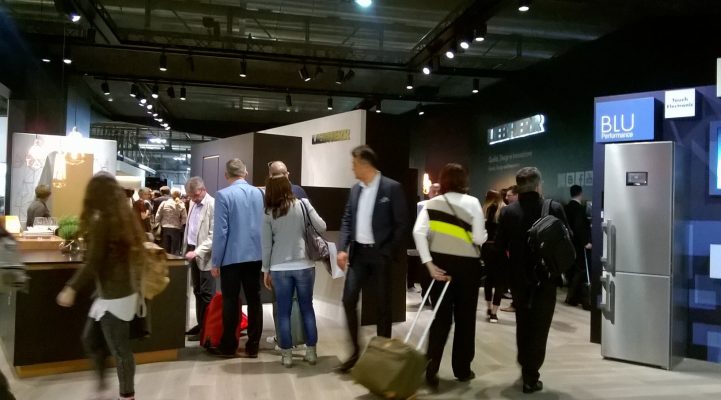 Of course, our new BluPerformance series was also featured at the show. These innovative appliances offer excellent-quality materials, perfect craftsmanship down to the finest details, and exceptional energy efficiency. Thanks to a new space-saving design that integrates the refrigeration technology into the appliance plinth (base), these appliances have a considerably greater usable capacity. They are also extremely quiet in operation, user-friendly and ultra energy efficient. Come and see for yourself!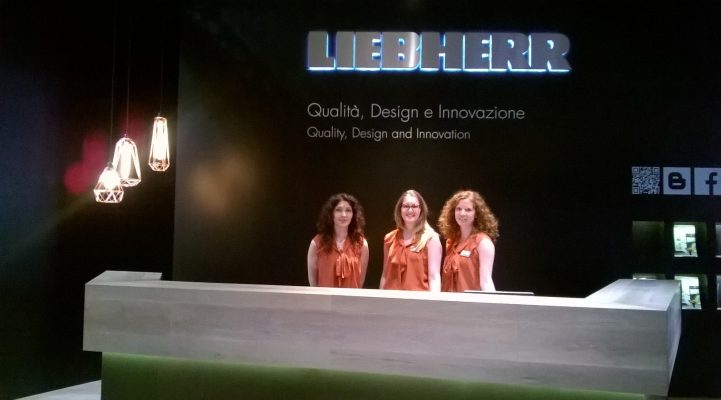 If you enjoyed this post, make sure you subscribe to our newsletter, so that you can keep up-to-date with all the news from Liebherr's world of refrigeration and food freshness.
Or, if you have any questions or comments about what you've read, please get in touch with us! Simply use the comment function below this post or join in a discussion with us on Facebook.