Temperatures took a dive this past week, and we're officially entering the winter months. But it's not all doom and gloom! Christmas is upon us, and with that, festive gatherings around delicious food designed to warm us up, inside and out! As you know, I am an equal-opportunity cheese lover, but I'd be lying if I didn't admit to a particular fondness for MELTED cheese.
There's a bit of science behind the best practices of wine pairing with cheese
The best cheeses for melting are ones that have been heated as part of their production method. This category of cheeses is called 'cooked-curd' or 'Alpine Style'. Without getting too technical, the curd is heated and then cooled to form the wheel, creating a smooth and uniform paste. This essentially lines up the structure of the cheese to trap the fat. Instead of getting a greasy separation of fat when cooked, you get ooey, gooey goodness. Long strands of cheese that are messy but bring oh so much joy!
Popular types of cooked-curd cheeses:
Mozzarella
Comte
Raclette
Gruyere
Asiago
Fontina
Gouda
Emmenthal
You're certainly not required to use these cheeses exclusively (I included a camembert pairing below) and I myself am partial to a bit of melted cheddar, but the results are decidedly different!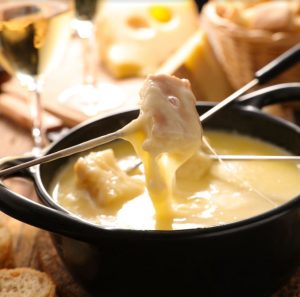 A fondness for fondue!
Fondue is surprisingly easy to put together, you only need: cheeses with melty-inclinations, a bit of olive oil, a garlic clove, a dash of cornstarch and a splash of booze – beer, wine, cider or even spirits can work well, and are ultimately the best pairing! Lots of inspirations and recipes to be found online.
I recommend a classic combination of comte and gruyere with a fruity dry French wine, like a Chardonnay from the Jura.
PAIR WITH: Domaine de la Pinte Chardonnay – This rivals top Côte d'Or at a fraction of the price. Round, powerful, and precise. Fresh and lively now, age-worthy if you have the patience. JUST A SPLASH in the fondue, you'll want to drink the rest.

A fancy for a toasty!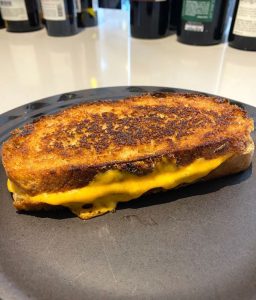 I've previously shared my go-to cheese toastie recipe with my Liebherr friends in Cheese Tricks Part One – a delightful combination of Red Leicester and Mascarpone – but I never told you what wine to pair with it! How rude!
Now, it could be that my recent trip through Tuscany (I'm writing this from an Airbnb in Florence) has influenced me, but I believe Sangiovese is the ticket! Bright red fruits and high acid will refresh your palate from the fatty goodness.
PAIR WITH: Cortonesi La Manella Rosso di Montalcino – Family owned and operated producers on the northern part of the hill of Montalcino, this 100% Sangiovese is pure and focused, but with expressive bright red fruit and gentle tannins.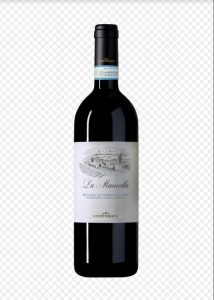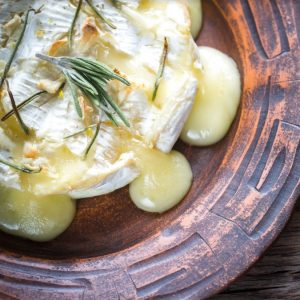 A craving for a (baked) camembert!
Baked Camembert. So simply and yet so good. Put one out at the start of a dinner party with some crusty bread and watch it disappear! Sure, you could simply pop it in the oven naked, and it'll do the trick, but why not jazz it up! Anything worth doing is worth doing right! Treat yourself!
I score the top of the cheese, insert some slices of garlic clove, drizzle with honey, sprinkle with almond slivers and top with a sprig of rosemary. BOOM.
PAIR WITH: Pax Wines, Buddha's Dharma Chenin Blanc – This bold, textured California Chenin is made from 70+ year old vines. Bone dry and intense. Will play brilliantly with the herbaceous honey, and nutty flavours.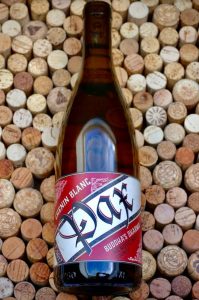 ***
Good Wine x Good People is thrilled to offer freshMAG readers receive 5% off your first order with code FRESHMAG5. Free UK-Wide Delivery on Orders Over £100.
Tips from expert
Dan Belmont, AWE (American Wine Expert, WSET L3) is Liebherr's UK Wine Ambassador and the proprietor of goodwinexgoodpeople.com. He is a New York native, former education manager for Murray's Cheese in NYC (the largest artisan cheese retails in the United States), and former education manager for Beadles of Borough, based in the heart of London's Borough Market.
At GWxGP, Dan is constantly experimenting with new ways to share his love of wine. The Personal Somm Questionnaire is our flagship product – a UK first, (often imitated but never duplicated), it quickly collects all the info Dan needs to confidently introduce you to wines that you'll love. No artificial intelligence or algorithms, just real people who love wine.

Prefer to choose your own adventure? You can now shop all 300+ wines by-the-bottle with search, sort and filter functionality to find your new favourite wine from one of the most exciting retail portfolios in the UK.