Prep and cook time: 1 h, Baking approx.: 20 min, Chilling approx.: 12 h, Difficulty: medium
Ingredients for 1 springform tin, 26 cm diameter:
For the base:
• 100 g plain flour
• 50 g cornflour
• 80 g ground almonds
• 1 – 2 tsp baking powder
• 2 eggs
• 80 g sugar
• 2 tbsp vanilla sugar
• 1 tsp vanilla extract
• 100 ml sunflower oil
• 80 ml apple juice
For the filling:
• 4 apples, peeled
• 3 – 4 tbsp lemon juice
• 80 g almond slivers
• 40 g raisins
• 24 g quick jel
• 450 ml apple juice
• 2 – 3 tbsp rum
• 2 tbsp sugar
For the topping:
• 350 ml cream, at least 30% fat content
• 1 tbsp vanilla sugar
• 1/2 tsp vanilla extract
• ground cinnamon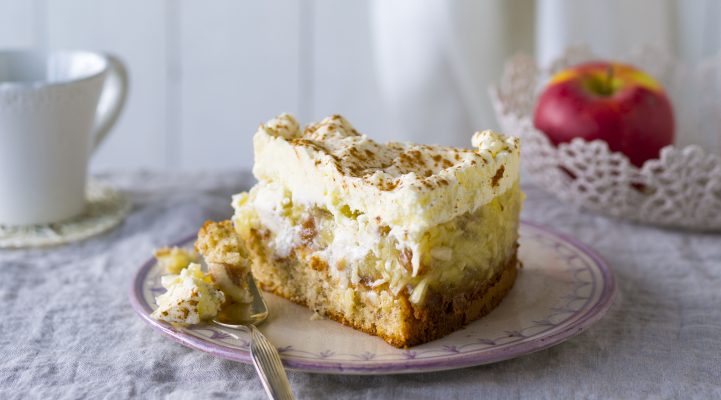 Method:
Heat the oven to 200°C (190°C in a fan oven), 400°F, gas 6. Butter and flour the springform tin. Mix the flour with the cornflour, almonds and baking powder. Beat the eggs with the sugar, vanilla sugar and vanilla extract until thick and creamy. Stir in the oil and juice. Add to the flour mixture and stir quickly to form a dough. Place the dough into the tin and smooth the top. Bake for approx. 20 minutes, checking with a wooden cocktail stick. Remove from the oven and let cool slightly, then remove from the tin and cool completely on a wire rack. Core the apples and grate them, then mix with the lemon juice. Add the almonds and raisins. Mix the quick jel with the apple juice, rum and sugar and follow the maker's instructions to make the jel. Mix the apples into the jel. Place the ring from the springform tin around the cake base. Pour the apple mixture onto the cake base and chill for at least 30 minutes. Beat the cream with the vanilla sugar and extract until stiff. Spread over the gateau, making wavy patterns. Make small wells in the cream and chill overnight. Sprinkle with cinnamon to serve.