Asparagus lovers have very good reason to be happy when the asparagus harvest, one of the first culinary highlights of springtime, kicks off. Elegant asparagus spears start to become available at affordable prices from about mid-April, and the season traditionally continues through until around 21st – 24th June. This clearly defined end to the season is crucial, as the plants need time to recover properly in order to produce another delicious crop of asparagus the following year. These strict harvest-time parameters, along with its somewhat high price, tend to give asparagus a bit of a refined reputation.
Green and White Asparagus
Green and white asparagus are actually the same species that are grown differently but can generally be used in the same way in recipes. White asparagus comes from the process of etiolation, which means it is deprived of sunlight. Cooking times may differ because white asparagus is usually thicker than green asparagus. There is also a discernible difference in taste, with white asparagus holding a more delicate flavour than the green variety.
Fresh Asparagus
Asparagus tastes best when it has been freshly picked – when its stems are thick, but not woody, and when it is white without green tips. You can tell it's fresh if it has untarnished stems and a clean smell. Fresh asparagus is barely flexible and breaks easily. There's a simple listening test that will help you to determine if it's fresh: rub two asparagus spears together and, if they make a squeaking noise, then they're fresh. Since asparagus has a high water content, it should be consumed soon after harvesting.
So, how you can keep your precious spears fresh?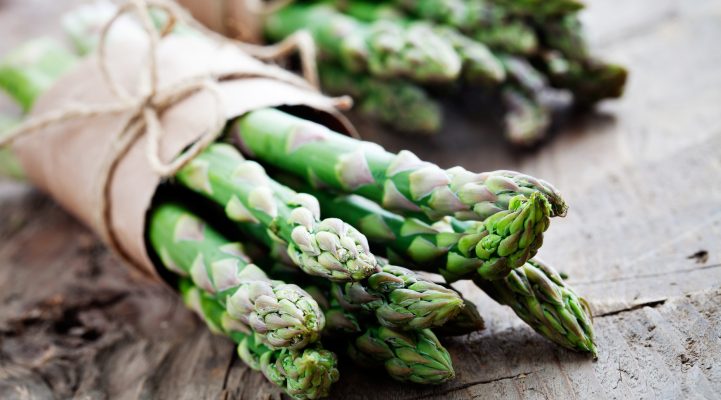 How to chill Asparagus correctly
To store asparagus for a few days in the refrigerator, wrap the spears in a damp flannel and lay them carefully in the vegetable compartment. In this way, they will remain delicious for around 3 days. If you want your asparagus to keep for even longer, store it in a BioFresh compartment from Liebherr: freshly picked asparagus will remain fresh for around two weeks!
Tips for freezing asparagus
Asparagus freezes very well and can be kept frozen for up to 6 months. For the best results, first peel the spears and then pack them carefully in a freezer bag, removing as much air as possible. We would not advise you to blanch your asparagus before freezing – although this allows you to keep it for longer, its taste and texture will be compromised in the process. When you want to cook your asparagus, simply take the spears straight from the freezer and place them immediately into boiling water.
Asparagus recipes
For a range of asparagus recipes visit the Recipes section of FreshMAG. Each one has a full step-by-step guide, so all you need to do is follow along! We've included a bonus recipe below too…
Asparagus spring salad with ham (Serves 4)
500g white asparagus
2 ripe tomatoes
250g mixed leaf salad, rinsed
5 tablespoons white Balsamic vinegar
1 lime
10 tablespoons grapeseed oil
3 tablespoons fresh parsley, coarsely chopped
150g thin-sliced ham
Preparation:
Peel the asparagus spears, break off the lower ends, and boil until firm to the bite.
Lightly score the tomato skins with a sharp knife and place in boiling water for between 15-20 seconds, and then quench them in cold water.
Peel and quarter the blanched tomatoes, removing the core. Cut the tomato flesh into uniform-sized cubes.
Mix the vinegar, grapeseed oil and lime zest with a hand blender to make a dressing, and then stir in the coarsely chopped parsley. Do not blend further.
Arrange the salad and asparagus spears as desired.
Pour the dressing over the asparagus salad and decorate with slices of ham.
A few more tips from our wine expert Frank Kämmer:
"You may sometimes see wine that's promoted as an 'asparagus wine', in that it supposedly accompanies asparagus well. The truth is, asparagus actually clashes with a lot of wines, making them taste grassy or metallic, and there is absolutely no such thing as an 'asparagus wine' per se! But, as is so often the case with fine eating and drinking, it's all down to the details. The Silvaner, a variety of white wine grape, produces a wine with a subtle, unobtrusive, vegetal aroma and this wine counts as a classic pairing for white asparagus spears. On the other hand, for green asparagus, my favourite would be a somewhat grassier Sauvignon Blanc. The choice of a fitting wine will greatly depend upon how the asparagus has been prepared and so, if white asparagus is served 'simply' i.e. with melted butter, then a Silvaner would, indeed, be my first choice. However, should it be eaten with raw or cooked ham, I would opt for a lighter Pinot Gris. If the asparagus is served with a salad, my choice would be a Kabinett-Riesling, a very light wine with fruity accents, but if the spears are served with a rich, buttery Hollandaise sauce accompanying a veal steak, I would certainly prefer an oak-aged Burgundy Chardonnay. All of these wines have one thing in common: freshness! Although I usually prefer wines of a certain maturity at my table, for the annual springtime appearance of asparagus, it's simply the freshly bottled wines from the previous year's harvest that do the trick for me every time."
Do you prefer green or white asparagus? Let us know if you've tried any of the recipes on our website – we'd love to hear from you! Get in touch with us on Facebook, Twitter, Instagram or Pinterest.