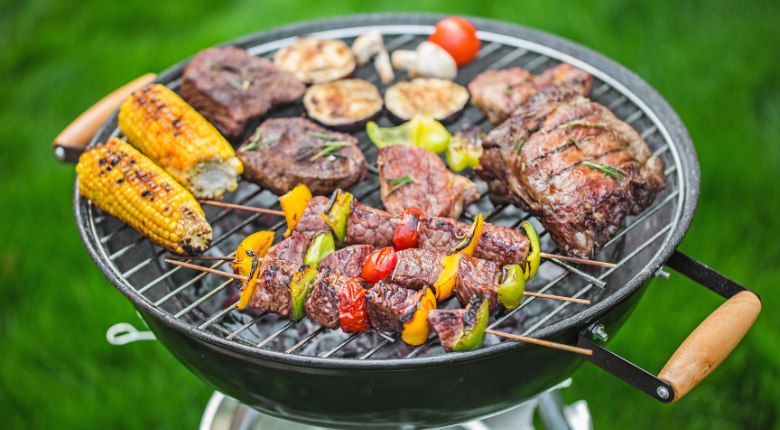 The long evenings, the ice clinking into freshly poured drinks, the distinctive aromas of barbeques breezing through cities, towns and villages around the UK, summer is most definitely upon us.
As if it was possible, the sizzling heatwaves experienced during lockdowns in 2020 and 2021 only increased barbeque's popularity helping the activity become the most enjoyed summertime leisure activity in the UK. 3 out of 4 households in Britain now own a BBQ grill and fire it up around ten times a year on average!
So as we prepare for another summer of fresh salads, tasty burgers and veggie skewers, we thought we'd share some tips on making this BBQ as friendly to the planet as possible!
From tips to fighting food waste to eco-friendly hosting ideas and, of course, storing leftovers correctly, our sustainable bbq blog has lots of fresh ideas for you next summer grilling session! Read on!
Top tips for a zero-waste and a more sustainable barbecue this summer:
Time to axe the disposable BBQ

Almost impossible to recycle or compost and often containing unsustainable charcoal, these chuck-away barbecues contribute to harmful deforestation. Essentially these cheap barbies are massive contributors to a "single-use" culture, which we all need less of in our lives. The solution? Invest in a more long-term barbecue that, if looked after well, will serve you and your guests for many years to come. A good wire brush, for example, is a solid accessory for keeping a grill nice and clean. Every time you fire it up, you will be happy in the knowledge that yours is a sustainable barbecue.


Make recycling as easy as flipping burgers

Before your guests arrive organise some recycling stations much like you would see out in public. This way your guests will have no excuses as to why their non-recyclable waste ended up in the blue bin and therefore you will instantly be hosting a more sustainable barbecue.

Get organised with your pals

Once you have a date for your BBQ, start planning with your guests. On the invite, state you'd prefer folks to avoid using cling film and, if possible, bring reusable and labelled plates and cutlery. Once they RSVP, find out exactly what food and drink they'll bring to avoid duplicate purchases. A shared shopping list like the HNGRY app is perfect for this exercise.


Think Local

When you buy from a local butcher or farm shop, you'll notice a lot less unnecessary packaging that is commonplace in big chain supermarkets. Whatsmore, your meat will have travelled fewer miles to your plate, which often equates to a smaller carbon footprint. Other benefits to choosing a local butcher include supporting your local economy and generally higher animal welfare standards than more intensive, mass-produced farming.

How To Store / Use Leftovers BBQ

According to WRAP, every year in the UK, a whopping 5 million tones of perfectly edible food is thrown away, with barbecues contributing to this. But no need to despair! So much of this unnecessary food waste is avoidable and we wouldn't be the refrigeration specialists if we didn't have a few tips on keeping those BBQ leftovers stored correctly and or put to good use. BBQ food will keep in your fridge for about 3 to 4 days after your shindig but it must be refrigerated within 2 hours of being cooked, so don't forget. If you don't plan on snacking tasty BBQ over the next few days you can also bag it up and safely store it in your freezer for about 3 months just don't forget to write the date you made it and the best before date on the bag. Think to the Liebherr OKes 1750 Outdoor Cooler to stor your food and drink fresh during summer.
Ideas for BBQ leftovers
Now to the tasty bit, if you are reheating barbequed meat the best method is low and slow and covered so that it doesn't dry out and lose the flavour of any marinades or rubs you used when preparing it.
If you have frozen your leftovers in vacuum-sealed bags, you can defrost these in your fridge.
BBQ leftovers make great sandwich and wrap fillings. Shredded meats like brisket or pulled pork also work brilliantly in stews or as toppings to salads or pizzas and pair up perfectly with mac n cheese. There are so many different options – let us know your ideas in the comment section or on social media!
Also think to the Liebherr Outdoor cooler OKes 1750. Thanks to rust and weatherproof materials and high quality components, it is the masterpiece for your garden and BBQ parties.