Tart, floral rhubarb, folded through the lightest of whipped cream is a true springtime delight. Outdoor rhubarb is coming into season around Spring and its wonderful flavour is even more tart and bold than the earlier "forced" variety. It's a seasonal foodie's dream!
The shortbread biscuits are buttery and crumbly, with just a little warmth and chew from the odd little nugget of stem ginger. The pink peppercorn is a lovely fruity, peppery twist, but this is optional.
We adore serving this pudding with a crisp glass of Moscato d'Asit- a perfect spring pairing! This slightly sweet and lightly sparkling – or frizzante – wine hails from Piemonte in Northern Italy. It's made with the grape Muscat Blanc à Petits Grains and it's packed with generous fruity flavours – sweet grapes, pears, peaches, honeysuckle and orange blossom. It's very light in alcohol – typically 5.5% ABV – and light-bodied too: it's the perfect dance partner for a light and fruity fool!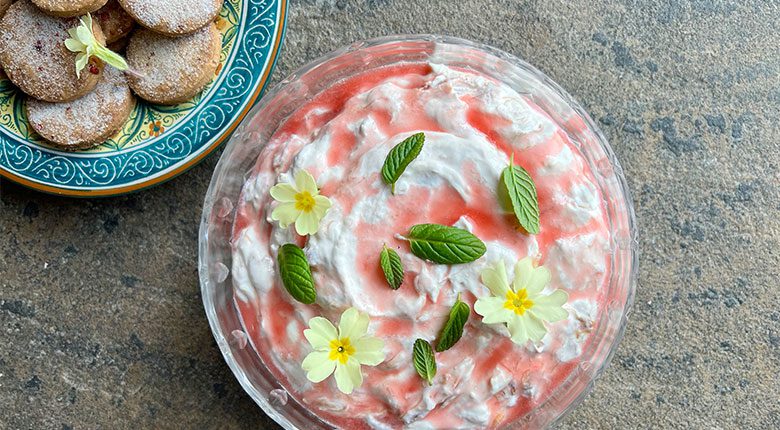 Prep time: 10 mins
Cooking time: 15-20 mins.
This recipe serves 6
Ingredients for fool:

6 stalks of rhubarb (450 g when chopped)
100 g caster sugar
2 tbsp water
300ml double cream
4 heaped tablespoons of Greek yogurt
Primrose flowers, or mint leaves, to garnish
Ingredients for shortbread:
180 g plain flour
125 g salted butter
55g caster sugar
2 balls stem ginger
½ tsp flakey sea salt
1 tsp pink peppercorns, optional
Method:
To make the shortbread:
Preheat the oven to 190 C. Dice the butter, and finely dice the stem ginger.
Sieve the flour into a large mixing bowl, then add the caster sugar, diced butter, diced ginger and a pinch of flakey sea salt. Use your fingertips to rub the shortbread dough together into breadcrumbs at first, and then gather and press the mixture into a ball of dough.

Lightly flour the work surface then roll the dough into a round roughly 1.5 cm thick. Grind over the pink peppercorns and ensure the ground pepper is distributed evenly. Then continue rolling out the shortbread until it is ¾ cm thick. Cut into rounds, spread evenly on a lined baking tray, and bake in the preheated oven for 12-15 minutes, or until golden brown.
Remove from the oven and lightly dust with caster sugar immediately. This will fuse onto the hot shortbread rounds and offer a delightfully crispy crust. Allow to cool fully before serving.
To make the fool:
Chop the rhubarb into roughly 1.5 cm lengths, then pop into a medium saucepan along with 100g caster sugar and 2 tablespoons of water. Place over a gentle heat with the lid on and cook for 8 minutes only. Remove the lid after 4 mins.
Once cooked, tip the rhubarb into a sieve set over a mixing jug to catch any excess juice. This can either be served on top of the fool at the end as a pink drizzle, or popped back in the pan and placed on a low heat to reduce gently until thick and syrupy, then stirred back through the cooked rhubarb. We went for option number 2 as we love concentrating it's tart flavour even further!


Whisk the double cream until you have soft / medium peaks, then fold through the Greek yogurt, followed by the rhubarb compote. Place into your chosen serving bowl and hold the fool in the fridge until you are ready to serve. Some fresh mint leaves make for a pretty final garnish.