Architectural Digest Design Show 2018: The next generation of home refrigeration is here.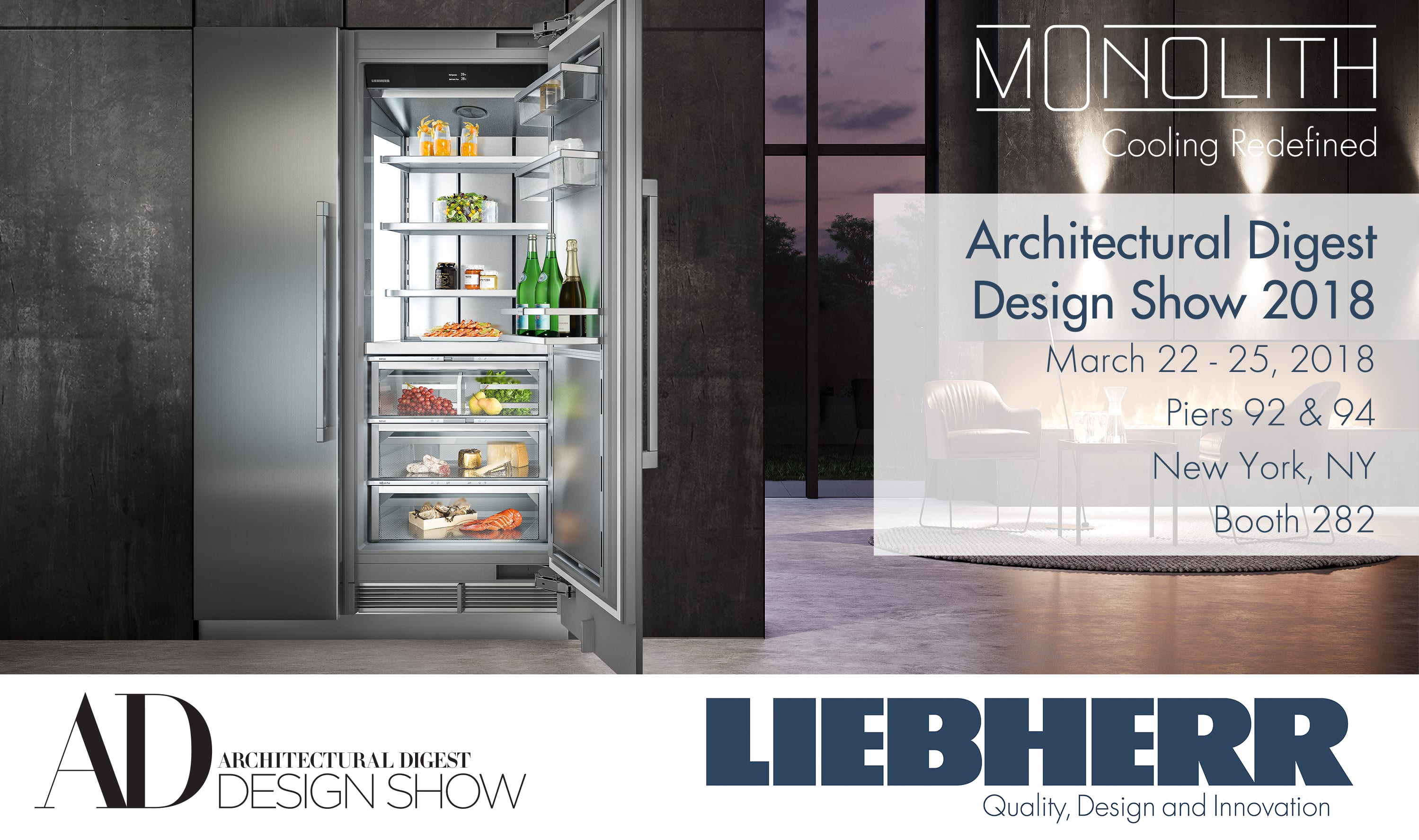 Liebherr Appliances is returning to the Architectural Digest Design Show with groundbreaking products and innovative smart technology. The tradeshow, which runs from March 22nd – 25th, brings together leading brands and top designers at Pier 92 and 94 in New York City. Liebherr will showcase a curated collection of its refrigeration products at booth numbers 271 and 282 with distribution partner, Almo Corporation.
A Proud Moment For Liebherr
"We always look forward to the AD Show and are especially excited to showcase Monolith to this prestigious design community," says Josef Steigmiller, Divisional Director of the Refrigerators and Freezers Division of Liebherr USA, Co. "It's a proud moment for us at Liebherr; the culmination of our 60 years of refrigeration innovation and expertise."
Monolith, an impressive 84-inches from top to bottom, is a literal tower of achievement in cooling with whisper silent operation, smart technology, and a sleek design that can integrate seamlessly into the kitchen. In addition to its striking design, Monolith features SmartDeviceBox, which allows users to connect to their network, control certain functions, and receive alerts on their iOS-, Android- or Alexa-enabled devices. Monolith refrigerators are available in 24- and 30-inches and can be combined with freezers available in 18- and 24-inches.
The Stunning Monolith Inception Kitchen
Liebherr partnered with designer Richard Anuszkiewicz to create the Monolith Inception Kitchen on display at booth number 282, which features two Monolith refrigerator/freezer combinations using custom-aged bronze panels with leather door pull and figured fumed eucalyptus in poly gloss finish. "This kitchen celebrates the inception of the Monolith column refrigeration series for Liebherr and draws inspiration from the meaning of 'monolithic', which is 'formed of a single block of stone,'" says Anuszkiewicz. "This idea can be found throughout the kitchen in the crisp contemporary geometries and the layered long linear panels. The architecture and cabinetry of the room mold together to keep a continuous uniform surface respecting the definition, even the central island is a solid geometric volume with carved out multi-height."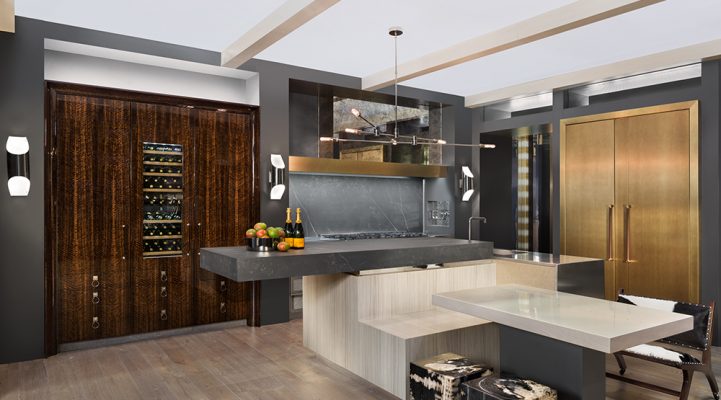 Liebherr will also display 2 new panel-ready undercounter refrigerator/freezer models, which include the UPR 513, and UR 500. The refrigerators are made to fit under counters that are 34 inches tall. With a height of 32-inches tall, but extendable to 34.5 inches these new models also fit under standard counter top height. These ADA compliant dimensions ensure contents are easily accessible and offer flexible storage solutions. Liebherr's panel-ready design gives consumers the option to integrate the units seamlessly into their kitchen décor. The new models feature pullout or swing door options and can be assembled side-by-side without a middle cabinet or any extra kit required. Liebherr's whisper quiet operation keeps noise level under 38 decibels, and all new models are Energy Star-rated with LED lighting, touch controls, and a Sabbath Mode feature.
"We're excited to offer four new models that focus on accessibility and design, and quality food preservation for which Liebherr is well known," adds Josef. "Built flexible and accessible, the designs offer ideal options for older generations who will age in place and storage options for homes with children to easily access healthy food and drinks."
For more information on Monolith and the new undercounter units, visit home.liebherr.com. For more information on the 2018 Architectural Digest Design Show, visit addesignshow.com.