Ben je op zoek naar een nieuwe koelkast en kies jij ook het liefst het beste van 2 werelden? Dan is een product uit de BluPerformance serie van Liebherr misschien iets voor jou. Maximale koelprestaties, gecombineerd met een laag energieverbruik, 15-20% meer bruikbare inhoud en een laag geluidsniveau van 37 dB(A).
Alle BluPerformance-apparaten zijn met een energielabel A+++ of A+++ -20% extreem zuinig. A+++ -20% betekent dat deze modellen nog eens 20% zuiniger zijn dan de op dit moment beste energieklasse A+++. Met materialen van hoge kwaliteit, nauwkeurige afwerking en een gebruiksvriendelijke Touch elektronica, sluit deze serie apparaten geen enkel compromis. Het complete koelsysteem is plaats besparend en geluidsarm in de sokkel geplaatst. Door het ontbreken van een condensor op de achterzijde van het apparaat en het ontbreken van de dooiwateropvangschaal op de compressor leidt dit tot maximale prestaties. Met een optioneel te verkrijgen SmartDeviceBox kunnen de apparaten via WiFi worden geïntegreerd. Op deze manier kunnen BluPerformance-koelkasten en -diepvriezers eenvoudig vanaf mobiele apparaten – voor meer veiligheid, service en comfort – worden bediend, zelfs wanneer je de deur uit bent.
Langer vers met BioFresh
De BluPerformance modellen met BioFresh hebben extra grote laden. Bij de Premium uitvoering kunnen alle laden naar behoefte worden ingesteld als een HydroSafe (met hoge luchtvochtigheid) of een DrySafe (met lage luchtvochtigheid). De verlichte BioFresh-laden zijn volledig uittrekbaar en moeiteloos te openen en te sluiten, met name wanneer ze volledig zijn gevuld. De Premium-apparaten zijn voorzien van BioFresh-laden met SoftTelescopic sluitsysteem: een praktische zelfsluiting met zachte demping.
Design en interieurtoepassingen
Bij het ontwerpen van onze apparaten volgen we het klassieke principe: "Design volgt functie". Het tijdloze design, met minimalistische lijnen, zorgt ervoor dat de apparaten een visuele blikvanger zijn in iedere keuken of leefomgeving. De nieuwe deurscharnieren onderstrepen de strakke lijnen. Handige en gemakkelijke opening van de deuren wordt gegarandeerd door de unieke Liebherr hevelgreep. Een aantal BluPerformance modellen hebben een VarioSafe – ideaal voor pakjes, tubes en potjes – en GlassLine deurvakken van topkwaliteit.
Led-plafondverlichting zorgt voor verlichting in het hele interieur. Premium BioFresh-modellen hebben geïntegreerde ledverlichting in de achterwand, die zorgt voor perfecte en heldere interieurverlichting. De lades van het vriescompartiment worden van bovenaf verlicht met ledverlichting. Het zwarte metalen rooster dat achterop iedere koelkast zit, ontbreekt bij BluPerformance apparaten. Deze condensor is in de plint weggewerkt waardoor de achterzijde volledig glad en stofvrij blijft. Transportgrepen zijn geïntegreerd aan de bovenkant van het apparaat (achterzijde) om het eenvoudig te kunnen bewegen en verplaatsen.
Alleen bij BluPerformance: 7" Touch kleurendisplay
De Premium koel/vriescombinaties hebben een 7-inch Touch kleurendisplay geïntegreerd in de deur. De temperatuur laat zich makkelijk wijzigen en functies als SuperFrost en de BottleTimer zijn snel te activeren. Via het kleurendisplay kun je ook informatie opvragen over de houdbaarheid van verse producten en hoe je deze het beste kunt bewaren (alleen op modellen met BioFresh). De kookwekker kun je ook de deur uit doen, want een timer is standaard.
Optioneel op afstand te bedienen
Alle Liebherr apparaten met SmartDevice kunnen achteraf eenvoudig met de optionele SmartDeviceBox worden uitgerust en via een MyLiebherr account worden geregistreerd. De koel- of vrieskast kan hiermee met het WIFI-thuisnetwerk worden verbonden. Vanaf dat moment kun je via je smartphone of tablet bijvoorbeeld de SuperFrost functie activeren wanneer je wilt profiteren van een goede aanbieding en groot inslaat of word je gewaarschuwd wanneer iemand thuis de koelkastdeur open heeft laten staan. Ook wordt het mogelijk bepaalde storingen op afstand te verhelpen. Houd voor meer nieuws over de beschikbaarheid van de SmartDeviceBox deze pagina in de gaten.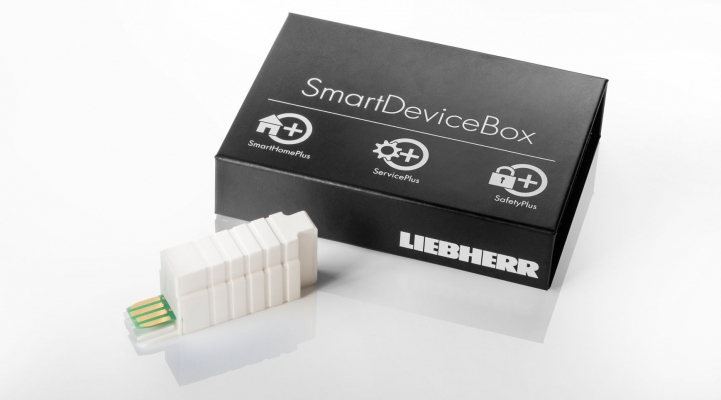 Een koelkast die fris ruikt
Het in de PowerCooling-ventilator geïntegreerde FreshAir filter reinigt de lucht en neemt onaangename geuren snel op. Op het bedieningspaneel verschijnt een waarschuwingssymbool wanneer het filter aan vervanging toe is.
Nieuwsgierig geworden naar de BluPerformance apparaten van Liebherr? Je vindt alle informatie op www.koelen.nl.