As much as we all willed it not to happen, Summer has turned to Autumn. Leaves are turning colours, and mornings are turning crisper. Daylight Savings is right around the corner, and the days will fall short. As they say, "Winter is coming".
Thank goodness there's wine!
With that, our fare turns heartier. Warm Pumpkin Spice pervades everything from our coffee to our candles. As the seasons change so do our palates, and it's a perfect opportunity to try something new! I humbly recommend these 5 wine grapes – all perfect for the cooler months and all here with autumn wine pairing recommendations. Because whether you like to hibernate or host, you're going to need good wine.
Gewurztraminer

When I think of the Christmas season I think of CHEESE. I eat piles of the stuff. And there's a grape that marries just so darn well with a cheese plate – GEWURZTRAMINER! It's aromatic profile is intense – spicy, floral and perfumed. The fruit is candied and tropical – sweet lychee and apricot. The wines are produced in varying levels of sweetness, and so there's something for everyone! Start your Gewurztraminer exploration on the dry side and work your way into more opulent styles. It is produced internationally, with excellent examples coming from it's ancestral home of Alsace, France; and countries like Austria, Italy, Australia, Germany and the United States. Makes for an excellent aperitif.
Autumn Wine Pairing: Stinky Cheese (Alsatian Menuster is the classic); spicy food from Asia, North Africa, India or Latin America. Rich dishes like curry, or bisque. Think desserts with cinnamon, dried nuts and dried fruits.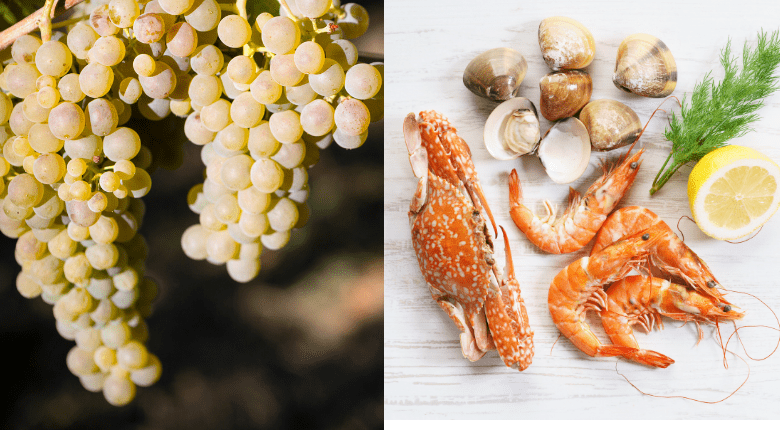 Viognier
Viognier originated in France's Northern Rhone – and can be made in varying styles depending on the winemaker's approach. From light and aromatic to bold and textured. It boasts aromas of stone fruit, sweet citrus and honeysuckle, Viognier can also be aged in oak, giving it a creamy texture and hints of vanilla. If you're a fan of the Chardonnay spectrum, you'll have even more fun here. It's known for its weightiness and texture and spice – and pairs very well with food. It's produced internationally, but it's very popular in the Northern Rhone – it's the only grape permitted in the wines from the appellation of Condrieu. It's also popular in South Australia and the United States, among others.
Autumn Wine Pairing reccomendations: Roast chicken & turkey; cream sauces; baked camembert with herbs and honey; seafood & shellfish.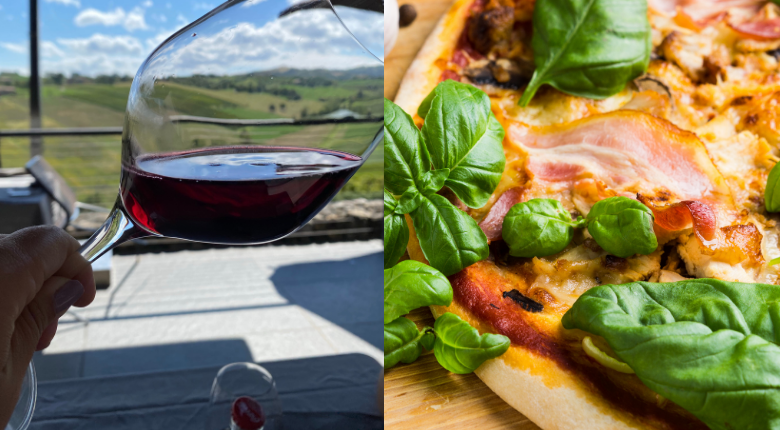 Lambrusco
Yes, I am absolutely telling you to go out and buy that Sparkling Italian RED. But skip the supermarket and go straight to your local wine shop – they're likely to have the good stuff. Skip the flutes too – these wines, made from several varieties of the grape of the same family in parts of Emilia-Romagna and Lombardy in northern Italy – they perform best in an AP wine glass. The dry styles are making a comeback. With attention to natural farming and production methods, combined with low-alcohol levels for sessionable sipping – we've got a festive crowd pleaser here. Pairing-wise there's a lot to work with, I featured this wine as a Steak Night pairing recently. Proper Lambrusco is an Italian original, but you can find international examples of sparkling red wines the world over.
Autumn Wine Pairingrecommendations: Hard Italian cheeses, steak (filet), PIZZA, pasta with meat ragu, Sunday roast, braised short ribs & pork.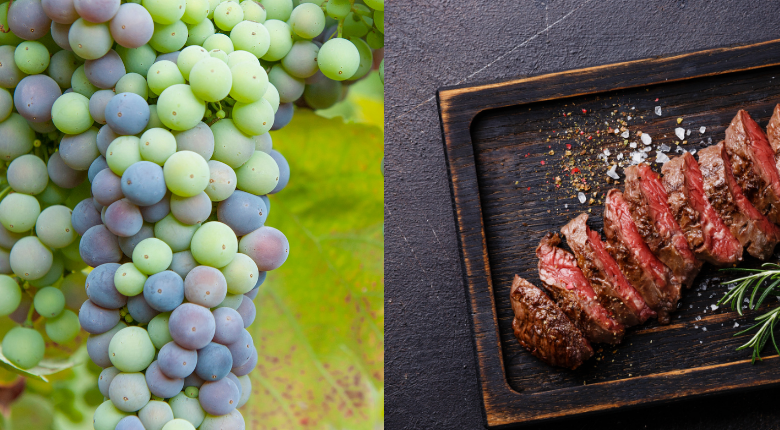 Zinfandel
Zinfandel is a fascinating grape. We've learned that it originates in Croatia where it is called Crljenak Kaštelanski. You also know it as Primitivo in Italy! It's new-world home is surely California, boasting some of the state's oldest continually producing vines. You may have heard of 'White Zin' – which isn't white, it's Rosé! That's the cheap bulk stuff. Proper Zin is seductive, juicy, ripe, rustic and dangerously drinkable. Black fruits and candied spices turn to tobacco and smoke. This wine brings the bass notes!
Autumn Wine Pairing ecommendations: Cheddars, smoked meats and BBQ – anything with a sweet sticky sauce – beef dishes, pizza, or hell, just a fireplace, a bearskin rug and some Luther Vandross.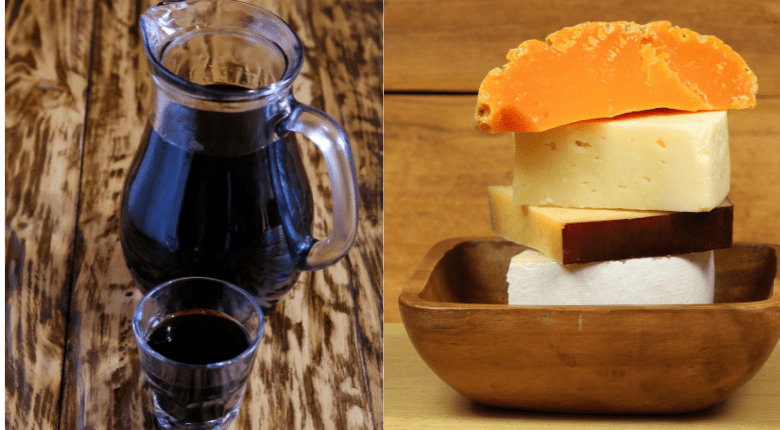 Saperavi
Have you ever tried Saperavi? It's a unique grape that originated in the country of Georgia in Eastern Europe. It's what's referred to as a Teinturier grape. While most grapes have no pigment in its juice and pulp (where all the colour in the resulting wines come from contact with the skins of the wines); Teinturier grapes have pigment across the board, resulting in deeply coloured wines from rosé styles to fully-fledged deep dark inky wines. Georgia still leads in production of this grape, and can be found in varying quality levels, and ranging from conventional to natural production methods. Cassis and spice, earthy and smoky, blackberries and plum, dance with leather, licorice, chocolate, coffee and tobacco. A popular winemaking vessel here is called a Kvevri – large earthenware vessels used for the fermentation, storage and ageing of traditional Georgian wine, often buried in the ground or set into the floor. It's rare to find Saperavi outside of Georgia, but it's also grown in Australia, and surprisingly, it's gaining popularity in the Finger Lakes region of Western New York, where it's been growing there for over 50 years!
Autumn Wine Pairing recommendations: Rich stews, mushrooms, lamb and game meats, roast pork, hard cheeses, fondue, smoked sausages.
Dan Belmont, AWE (American Wine Expert, WSET L3) is Liebherr's UK Wine Ambassador and the proprietor of goodwinexgoodpeople.com. He is a former education manager for Murray's Cheese in NYC (the largest artisan cheese retails in the United States), and former education manager for Beadles of Borough, based in the heart of London's Borough Market.
At GWxGP, Dan is constantly experimenting with new ways to share his love of wine. The Personal Somm Questionnaire is our flagship product – a UK first, (often imitated but never duplicated), it quickly collects all the info Dan needs to confidently introduce you to wines that you'll love. No Artificial Intelligence or Algorithms, just real people who love wine.
Prefer to choose your own adventure? You can now shop all 250 wines
by-the-bottle! Each featuring tasting notes from Dan, you can search, sort and filter to find your new favourite wine from one of the most exciting portfolios in the UK.