Fiercely passionate, boisterous male singing and environmentally challenging conditions… and that's just in a busy Welsh kitchen. When one thinks of Wales – specifically traditional Welsh food – there will always be the usual suspects including, of course, the treasured leek, along with Welsh rarebit and lesser-known cawl. Here, we've put together a brief guide to country's most cherished dishes, some of which you may nod fondly at in wistful recognition, whilst there may be some you've not encountered yet or even heard of. We also spring a little surprise in at the end…
For more in this series, check out our brief guides to traditional English, Scottish and Australian food.
Welsh rarebit
If you ask anyone above a certain age what Wales' national or most traditional dish is, this would probably be the answer, or at least feature in the top three. For those who don't know, Welsh rarebit is made with a savoury sauce of melted cheese, beer (stout or ale), butter, flour, Worcestershire sauce and/or mustard and black pepper. This sauce is poured onto a good quality toasted bread with a decent crust that will allow the sauce to sit atop and not become soggy.
Welsh rarebit has been popular since at least the 1500s when it was known as 'caws pobi'. Around 200 years later the first recorded reference to the dish referred to it as 'Welsh rabbit' in 1725, and finally 'Welsh rarebit' at the end of the 18th century. Whilst there are some theories, it appears unclear quite how this unusual name has been arrived at.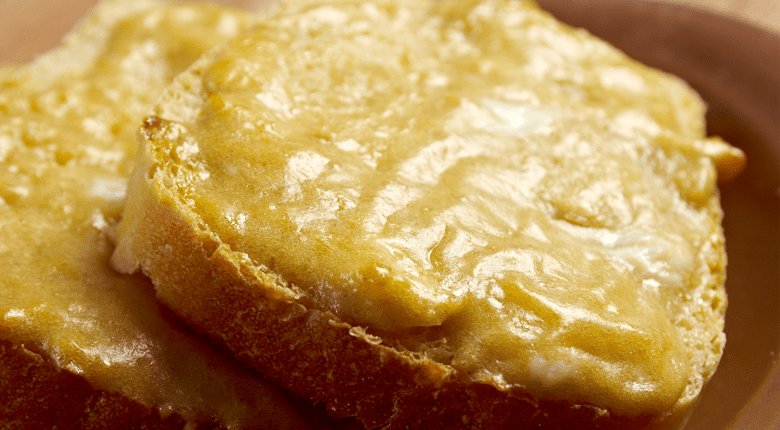 Laverbread: 'Welsh caviar'
The first thing to be said about this traditional Welsh snack or breakfast item is that it doesn't actually contain any bread. Known locally as bara lawr, Laverbread is actually a nutritious edible seaweed which is boiled and then minced or puréed and can also be rolled in oatmeal before being fried and served with seafood, toast or with a cooked breakfast. It can, on first glance, appear somewhat unappetising, but who wouldn't want to sample a food lovingly referred to by Richard Burton and others as 'Welsh caviar'?
Glamorgan sausage
Long before the Greggs vegan sausage roll was trending, a vegetarian sausage was devised in the county of Glamorgan in South Wales, probably sometime in the 19th century. The Glamorgan sausage was revived during the Second World War due to rationing of meat and is now widely available. As with so many traditional recipes, the ingredients vary, but typically a Glamorgan sausage consists of breadcrumbs, cheese and leek, eggs, and various herbs.
The Leek: symbol of Wales
The true origins of Wales' national symbol, the leek, are now somewhat lost in myth and legend but certainly stretch back several hundred years. The Bard alludes to it and, way back in the 14th century, the Welsh archers had uniforms of green and white, paying homage to the Welsh leek. According to Historic UK, the connection may go back even further still, to a time when people worshipped nature, perhaps helped by the leek's medicinal reputation and its inclusion in cawl (see below for more on that). However it came to be, the Welsh proudly wear representations of the leek, especially during national sporting and military events.
Lovers of this vegetable can enjoy it fresher for even longer if they have a Liebherr fridge-freezer with a BioFresh compartment where a leek will remain fresh for up to 29 days (compared with 15 days in the fridge).

Welsh crempog
Welsh crempog (or 'Ffroes') are the Welsh version of pancakes and traditionally eaten on (shock!) Shrove Tuesday. Traditionally, they are made from self-raising flour, salt, eggs, milk and butter. They are actually more like American pancakes and can be made with or without yeast, with buttermilk, oats, or even raisins or currants. The Welsh love to stack 'em up high like their American counterparts and they make a great teatime satisfier. Traditional Welsh pikelets are very similar to Welsh pancakes, but are heavier and thicker.
In yesteryear, Welsh crempog would have been cooked on a cast iron bakestone (or 'planc') but are now usually cooked in a frying pan,
Conwy mussels and other seafood
According to BBC Good Food, these juicy and attractive molluscs are a carefully-bred seasonal delicacy, best eaten only during months containing the letter 'r'. The village of Conwy lies on an estuary where its eponymous river meets the Irish Sea, allowing freshwater and seawater combine to create perfectly plump and uniquely delicious Conwy mussels. Also on the seafood front, sewin (or 'sea trout') is worth a mention too, pairing up nicely with samphire which is abundant along the coast at Carmarthen Bay. Seabass, grey mullet, John Dory and mackerel are all much-loved as well.
Welsh cakes
The largest Welsh cake in history was cooked in 2014 on St David's Day in the North Wales town of Bala. The monumental accomplishment measured 1.5m wide, weighing in at a hefty 21.7kg. 200 hungry punters ate a piece of history that day.
When they're not breaking records, the Welsh enjoy various standard sized 'teisens' (cakes) including lap (a shallow moist fruit cake), carawe (caraway seed cake), sinamon (cinnamon cake) and mêl (honey cake).
Griddle cakes are also popular, including scones, pancakes, cakes, breads, turnovers and oatcakes.
Welsh cheese
The importance of Welsh cheese in culture cannot be underestimated. In fact, according to various sources, Welsh cheeses were considered so good that they were once an integral part of divorce settlements!
Caerphilly cheese is probably the most famous and loved worldwide. It also has protected status (more on that later). What's more, Black Bomber was voted at the number one cheese brand for the fourth time in five years by the Guild of Fine Food publication.
Bara brith
Bara brith ('speckled bread') is a yeast bread either enriched with dried fruit or made with self-raising flour (no yeast). Traditionally flavoured with tea, dried fruits and mixed spices, it is best enjoyed smothered with butter and accompanied with a cup of tea. It is so ingrained in the culture of Wales that it has even become a championship sport. Well, sort of. The World Bara Brith Championships take place annually and are fiercely competitive apparently…
Welsh cawl
Also known as 'lobsgows' in North Wales, Welsh cawl is regarded by many as the national dish of Wales. What is it, though? Traditional Welsh cawl is a kind of soup or stew; recipes and ingredients for it vary but it is typically made with salted bacon, beef or lamb, swede, carrots, leeks and potatoes. It is regarded as some to be even more delicious the day after cooking when the flavours have had time to develop.

Protected Status
Below is a list of Welsh foods and drinks that have had protected status bestowed upon them, including many that we have already touched on. The EUPFN Scheme was introduced to protect food and drink products on a
geographical or recipe basis. Wales currently has 14 products in total that have protected status, all of which are regarded as iconic and strongly linked to their place of origin and their traditional methods of production.
Conwy mussels
Carmarthen ham
Welsh lamb
Welsh beef
Traditional Welsh cider and perry
West Wales Coracle Caught Sewin
Anglesey sea salt/halen môn
Traditionally reared pedigree Welsh pork
Laverbread
Welsh wine
Pembrokeshire Early Potatoes
Guinness
And finally, a word on Guinness. OK, it's an undeniably Irish stout and you're probably wondering why on earth it appears on this list. Well, there are actually a couple of theories that suggest it was inspired by or even directly originates from Cymru. The first theory is that Mr Guinness had sampled many-a-dark brew during his visits to London via Wales which led to the creation of the famous bitter. The other theory espouses the idea that the recipe was created in Cardiganshire and made its way to Ireland in the 18th century where it was given to Arthur Guinness after the supposed inventor's passing. We'll just leave that with you…
We hope you enjoyed this article. Did we miss your favourite traditional Welsh food or do you have a family Welsh dish you'd like to share? Let us know… you can get in touch with and follow us on Twitter, Facebook, Instagram and Pinterest! To receive a monthly compilation of our latest articles why not subscribe to our newsletter?