Valentine's Menu, Starter:
Mackerel escabèche with coronation crème fraîche served with a skin contact Pinot Gris
Here's a striking, sharing-style starter that is sure to impress. It can be made the day before if you wish, and simply plated to serve. It's best mopped up with warm focaccia and washed down with a glass of Pinot Gris.
Mackerel is a fantastically healthy, oily fish, which pairs well with bold flavours. Here we've paired it with some sweet curried spices, and plenty of acidity from the escabèche pickling liquor. Escabèche traditionally hails from Portugal and Spain; it is a dish of marinated meat, chicken or fish, which is cooked in an acidic sauce.
And the pairing? We recommend a faintly off-dry, skin-contact Pinot Gris from Alsace. This perfumed grape not only has high acidity which can handle the inherent acidity of the dish, it also has a soft, peachy, honeyed sweetness to echo the sweeter notes in the dish – the carrots and honey in the escabèche pickle, and the apricot in the coronation sauce.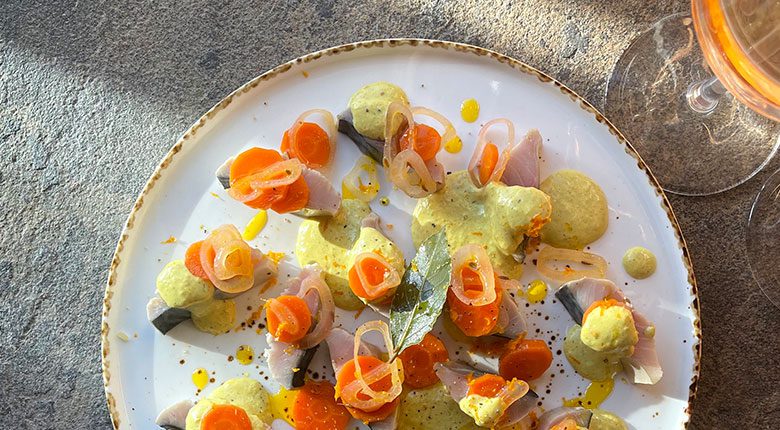 Prep time: 45
Cook time: 2 hours+
This recipe serves 2.
Ingredients: for the escabèche:
2 mackerel fillets
2 round shallots
2 small carrots
1 tbsp olive oil
2 bay leaves
½ tsp flakey sea salt
¼ cup white wine
⅓ cup white wine vinegar
⅓ cup water
1 tbsp honey
½ tsp coriander seeds
½ tsp cumin seeds
For the coronation crème fraîche:
1 tbsp olive oil
1 small onion
1 small thumb ginger
1 clove garlic
2 tsp mild curry powder
4 tbsp crème fraîche
1 tbsp mayonnaise
1 tbsp apricot jam
To serve:
fresh focaccia
extra virgin olive oil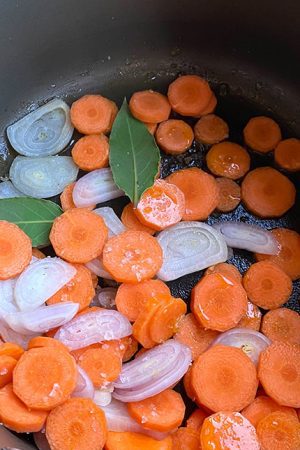 Method:
Start by preparing the escabèche pickle. In your smallest frying pan dry-toast the cumin and coriander seeds for 2 minutes or just until fragrant. Remove from the heat and tip from the hot pan.
Peel and finely slice the carrots and the shallots into rounds.
In a medium saucepan, heat 1 tablespoon of olive oil over a low heat, and gently fry the carrots, shallots and bay leaves with a pinch of salt.
After 4 minutes add the white wine and allow this to simmer until almost entirely reduced, then add the white wine vinegar, water, honey and toasted spices and bring to a gentle simmer.
Once simmering, add your mackerel fillets to the saucepan and turn off the heat. They will gently cook and pickle in the residual heat; allow the mackerel at least 2 hours in the pickle while chilling in the fridge, but the longer you leave them the more 'cooked' they will become.
To prepare the coronation crème fraîche, dice the onion as finely as possible, and mince the garlic and ginger.
Heat 1 tablespoon of olive oil in your smallest frying pan and very gently fry the diced onion for 8 minutes, stirring often.
After 8 minutes add the ginger, garlic and curry powder and fry for a further 4 minutes, stirring often to prevent things catching. Add another teaspoon of oil if needs be. After 4 minutes allow this to cool.
Once cool, tip your onions etc into a small blender along with the crème fraîche, mayonnaise and apricot jam. Whizz until smooth. Note, this will likely be more than you need for 2 people but any less is tricky to successfully make in a blender. Save any leftover sauce for coronation sandwiches later in the week.
When you are ready to eat, warm the focaccia in the oven, and slice the mackerel using your sharpest knife. Arrange the mackerel, shallots and carrots on a serving plate, followed by several spoonfuls of flavoursome escabeche liquor and coronation crème fraiche. Enjoy immediately with a well chilled glass of Pinot Gris.