Weet jij wat de meest ideale indeling van je koelkast is? Kieskeurig ging voor Liebherr de straat op en ontdekte dat er nog veel onduidelijkheid is over waar je je voedingsmiddelen in de koelkast bewaart. We zetten de opvallendste bevindingen onder de video voor je op een rij!
Wist je dat…
…de meeste mensen hun brood in de vriezer bewaren? Verstandig! Brood blijft in de vriezer wel een maand lang goed! Ontdooi per keer het aantal boterhammen dat je nodig hebt, dan blijft de rest van je brood lekker vers!
…appels meestal op de fruitschaal worden bewaard? Dit kan, maar het is verstandiger om je appels in de groentela te bewaren. Daar blijven ze wel 3 tot 7 weken goed! Buiten de koelkast is dit maar een paar dagen.
…maar weinig mensen veel aandacht besteden aan de indeling van hun koelkast? Jammer, want mede hierdoor gooien we onnodig veel eten weg. Wel 41 kilo per persoon, per jaar!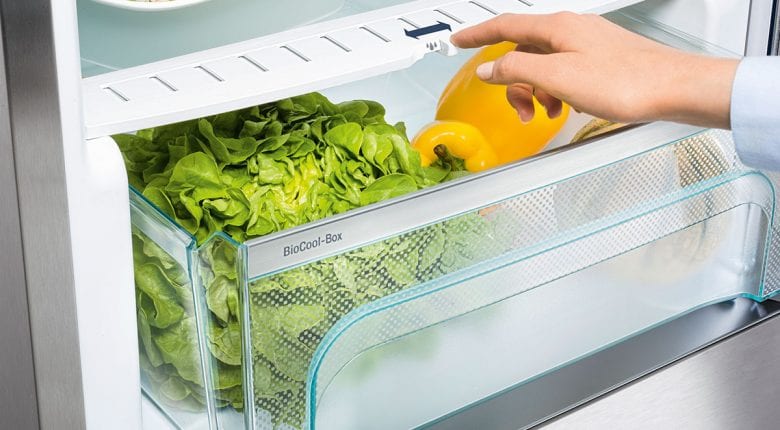 Zeg nee tegen verspilling
41 kilo voedsel gooien we per persoon per jaar weg. Dat is veel! Wil jij minder voedsel verspillen? Let dan op de indeling van je koelkast. Vitaminen en mineralen gaan sneller verloren als je producten klakkeloos in je koelkast gooit en niet op de juiste manier bewaart. Hierbij een aantal handige tips!
Leg groente en fruit in de groentela. Niet alle groente en fruit mag in de koelkast, zie de handige Liebherr koelkastguide voor een overzicht.
Groente en fruit kun je het beste onverpakt bewaren in de koelkast. Zo bestaan bijvoorbeeld champignons en sla voor het grootste deel uit vocht. Ze worden snel minder lekker door het verlies van vocht. Verpakt gaan ze condenseren, waardoor ze snel bederven. In een groentela met de juiste luchtvochtigheid blijft hun vochtgehalte op pijl.
Vlees, vis en zuivel moet je WEL luchtdicht verpakt bewaren.
Eieren bewaar je ook in de koelkast. De lage temperatuur remt de groei van bacteriën, waardoor ziekmakers als salmonella minder kans krijgen. Bewaar ze in hun doosje, dan drogen ze niet uit.
'Koel bewaren' is iets anders dan 'gekoeld bewaren'. Items die onder de eerste groep vallen, kun je op een donkere, droge plek tussen 15 – 20 graden bewaren. 'Gekoeld bewaren' betekent wel in de koelkast bewaren.
BioFresh helpt!
Een groot aantal Liebherr-koelkasten is uitgerust met een BioFresh-zone. In deze zone is de temperatuur nog iets lager dan in de rest van de koelkast, namelijk 0°C. Perfect voor het nog langer bewaren van groente, fruit, vlees, zuivel en verse vis.
Ook kun je hierbij zelf instellen of de luchtvochtigheid hoog of laag moet zijn. In lades met een hoge luchtvochtigheid bewaar je groente en fruit. Lades met een lage luchtvochtigheid zijn perfect voor bijvoorbeeld vis, vlees en zuivel.
Heb je vragen over BioFresh of over het optimaal gebruiken van je koelkast? Schrijf ons! Laat een reactie achter onder dit bericht. Of discussieer met ons op Facebook.